Making your own bookcase. Ideal if you want to make the most of all the space in your room. In your own bookcase you can put all your creativity, but also all your books, LPs, video games and other possessions. Customise the bookcase according to your taste. In this article, we explain what to look out for in this DIY project.
You make your own custom-made bookcase if you want to give your books, DVDs, video games, LPs or other collectables a nice place in your home. The advantage of a made-to-measure bookcase is that it fits exactly where you want it. 
Making a beautiful bookcase is not difficult. But it does require good preparation. In this article, we will tell you exactly what to look out for and inspire you with examples from our handymen. Because they have already made a lot of bookcases. And you can benefit from this. 
Of course, you can order the material for your made-to-measure bookcase from TOSIZE.ie. We deliver the boards sawn to the nearest millimetre. That will save you a lot of work. 
If you are going to make a bookcase, you will need a number of materials. What exactly you need depends on your own project, of course. But, keep in mind the list below:
Cordless drill: for easily pre-drilling holes and turning the screws in your board material (tip: also use a depth stop or dowel drill set to limit the drilling depth)
Graph paper, pencil, eraser, ruler: to make a drawing of your bookcase
Wood glue and glue tongs: can be used to glue different boards together as required
Dowels, corner joints or lamellas: it all depends on how you want to connect the different shelves of your bookcase together
Lamello cutter: you will need this if you are using lamellos
Primer, edge sealer, lacquer: most timbers from TOSIZE.ie have yet to be finished
Screws: to connect the different parts
Filler: can be used to neatly cover screw holes
Sandpaper: always handy to have on hand, to smooth away unevenness or neatly sand your drill holes
Tape measure or folding rule: to measure out your cupboard exactly and order the right size of sheet material from us
Spirit level: to build everything neatly straight
You can make your bookcase as deep as you like. It might be useful to use the deepest book in your collection as a yardstick. There is no standard norm for the depth of a bookcase, but on average many of our handymen see a depth of 20.0 cm to 30.0 cm.
For shelf height, you can use the following indications. Small books, such as pocket books, often have a height of around 22.0 cm. An average book with a hard or soft cover is about 25.0 cm high, and large books such as comics, art books and folders are sometimes as high as 34.0 cm.
An important first step in your building process is to make a good drawing for your bookcase. This way, you will think carefully about the design, materials and supplies for your job in advance. 
Also, after you have made a drawing, you will know exactly how big the sheet materials you order from TOSIZE.ie should be. 
For a drawing, get started with a pencil, graph paper, a ruler and an eraser. Sketch a rough design first and then decide on the exact measurements of your cupboard. Do you want a symmetrical cupboard or are you going for a playful character? By sketching different designs you will find out what you like. 
You can also create a working drawing with online programmes, such as SketchUp or FreeCAD. 
If you want to know how big your cupboard will eventually be, you can tape the outside measurements of your cupboard to the wall. This way you can make the whole thing tangible and you can adjust your design if it turns out to be larger or smaller than you thought. 
It is important that you calculate the exact measurements of all materials needed in your drawing. Also take into account the external and internal dimensions. 
Are you going to build your bookcase inside? Then remember that no house is completely straight. Measure in several places, between the ceiling and the floor, for example. This is essential for a built-in cupboard to avoid unpleasant surprises later. 
Tip: in our web shop, you can mark each shelf in your order with a label of your choice. That way, once your wood is delivered, you know exactly which board belongs where in your design. That saves puzzling. 
There are a few other things to look out for when making your own bookcase.
If you literally fill your cupboard with books, remember not to make your compartments too wide. About 70.0 cm is long enough. Otherwise, the shelves may sag and that would be a shame.
Is your surface not completely level? Use a pair of leveling feet to easily straighten the cupboard.
Is your cupboard against a neat wall? Or do you prefer to make a back wall in your bookcase? Then choose a thin material such as hardboard. You attach this with small screws, for example.
A bookcase is often high. Then it is safer to anchor the cupboard to the wall at the top. This prevents the cupboard from falling over and someone from getting underneath it. Especially with children in the house, this is recommended. 
There are several ways to anchor the cupboard to the wall. You can use ordinary screws, impact plugs or wedge bolts. Do you use an ordinary screw? Then put a wide washer under the screw head. This way it will not be pulled through the wood of your back wall.
Remember to anchor your cupboard in several places if it is very wide. Consider 1 anchor point per running metre. 
Do you already know how you will connect your bookshelves to the uprights? You can do that in several ways.
You can place wooden slats on which you attach the shelves. To attach these laths, first determine the location of the drill holes. Use a drill stop or a piece of tape on your drill bit so you don't drill through the support.
You can fix the sheet materials with screws. First pre-drill the wood. It is a good idea to finish the screw holes with putty, so you won't see any ugly screw heads. 
If you make a somewhat larger cupboard, it is better to choose one of the methods below.
With corner joints, you screw several shelves firmly together. It's not the prettiest way for your bookcase.
Draw the drill holes carefully and use a dowel drill set to drill the holes in the wood. Use a little wood glue to firmly connect the dowels and boards. A beautiful and rock-solid method.
Lamellos have a larger gluing surface than dowels. This allows you to create even sturdier joints. To do this, however, you will need a special milling machine.
We can also mitre-cut the sheet material for you. This can be nice for the outer shelves of your bookcase, for example. See our finishing options  for more information.
For a bookcase, it's important to choose a sturdy type of wood. Fortunately, we have plenty of that in stock at TOSIZE.ie. You have a wide choice of different types of wood, such as MDF, plywood, plywood, OSB, Phenolic Plywood, furniture panels and carpentry panels.
Among our handymen, we often see the use of the following materials in DIY bookcase projects. 
Plywood are ideal for bookcases because they are so versatile and strong. Moreover, you can order this type of wood in many variants in our webshop. Plywood panels have a natural appearance, just like solid wood. Plywood consists of several layers of wood veneer. Because the layers are glued together crosswise, a strong board is created.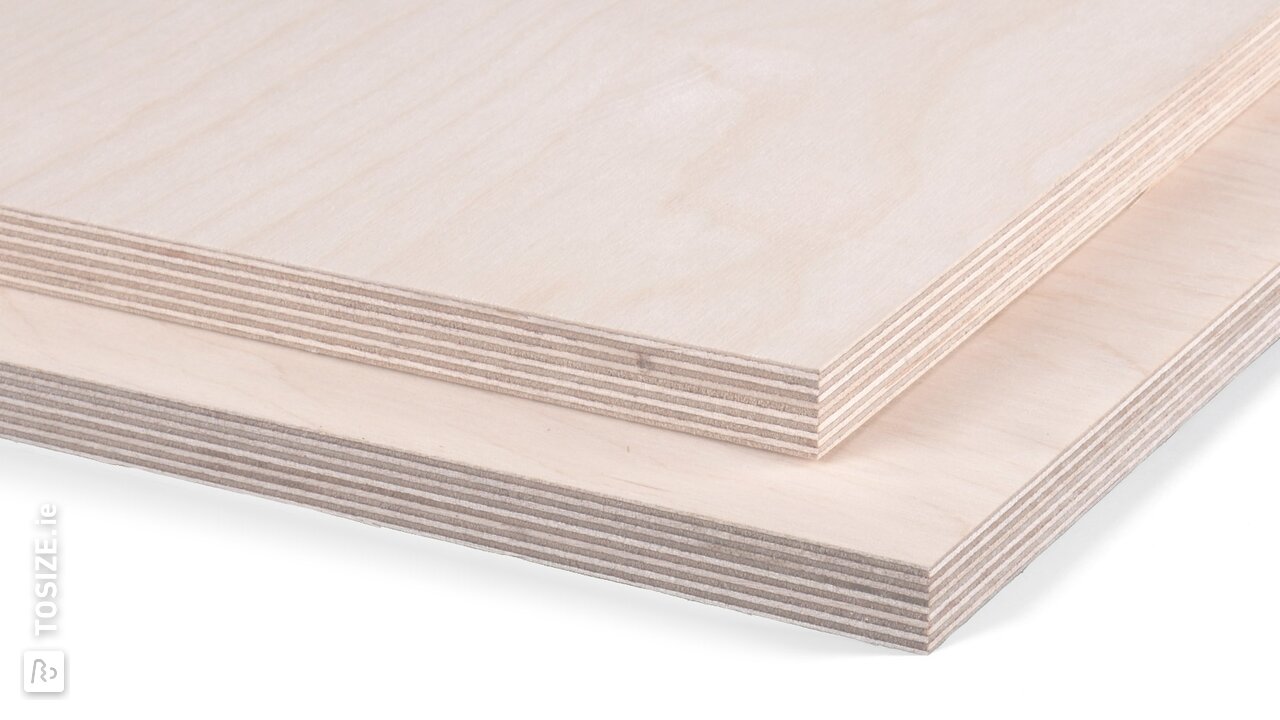 MDF is a great material that is very suitable for making a bookcase. MDF boards belong to the family of fibreboards. The board consists of wood fibres compressed under high pressure. This makes the material easy to work with. 
It makes MDF a budget-friendly board material. Available in several variants, including with a lacquer carrier film. This eliminates the need to prime the boards. That saves a lot of time!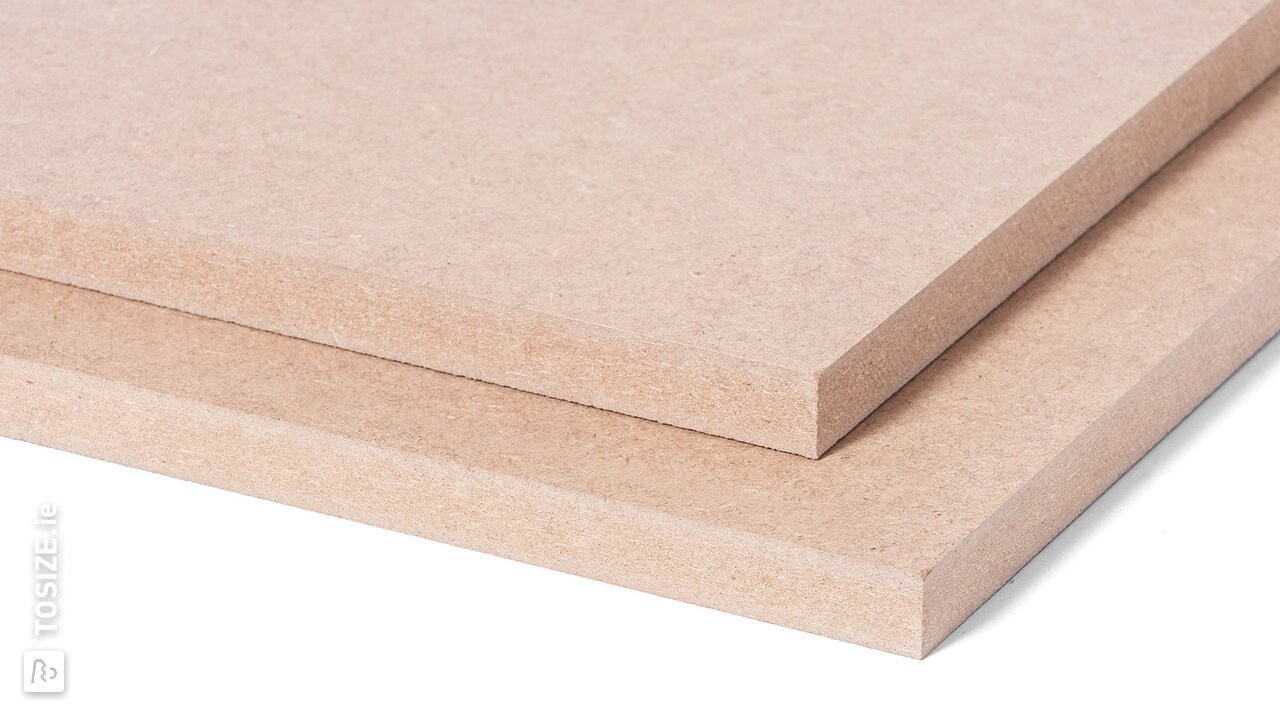 A special material is phenolic plywood. It consists of plywood with a plastic coating that serves as a top layer. This top layer is on the top and bottom. You still have to treat the edges yourself. Because of the hard epoxy coating, you don't need to treat the large surfaces of this plywood.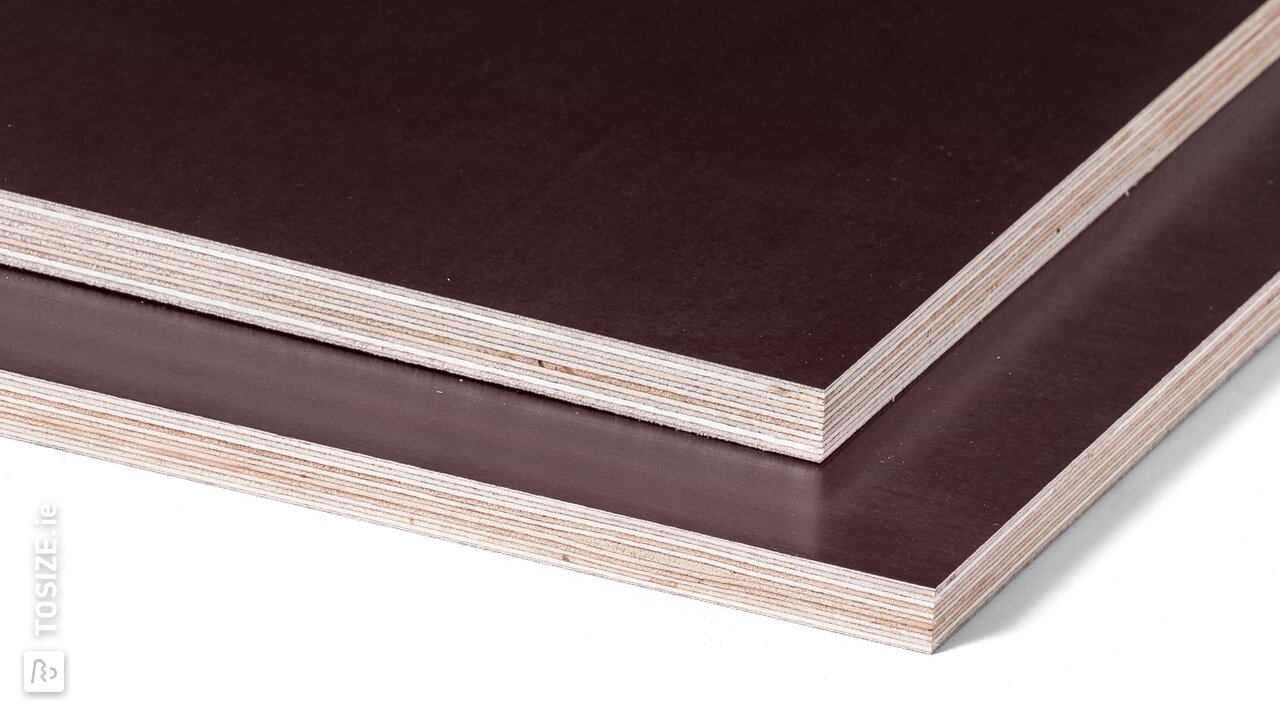 Bookcases come in many shapes and sizes. Our handymen know all about that. They created the most practical, creative and large bookcases. Take a look and get inspired by these DIY projects!
Anneke used more than 100 Phenolic Plywood birch planks for a gigantic bookcase. A big job, but with a truly beautiful result.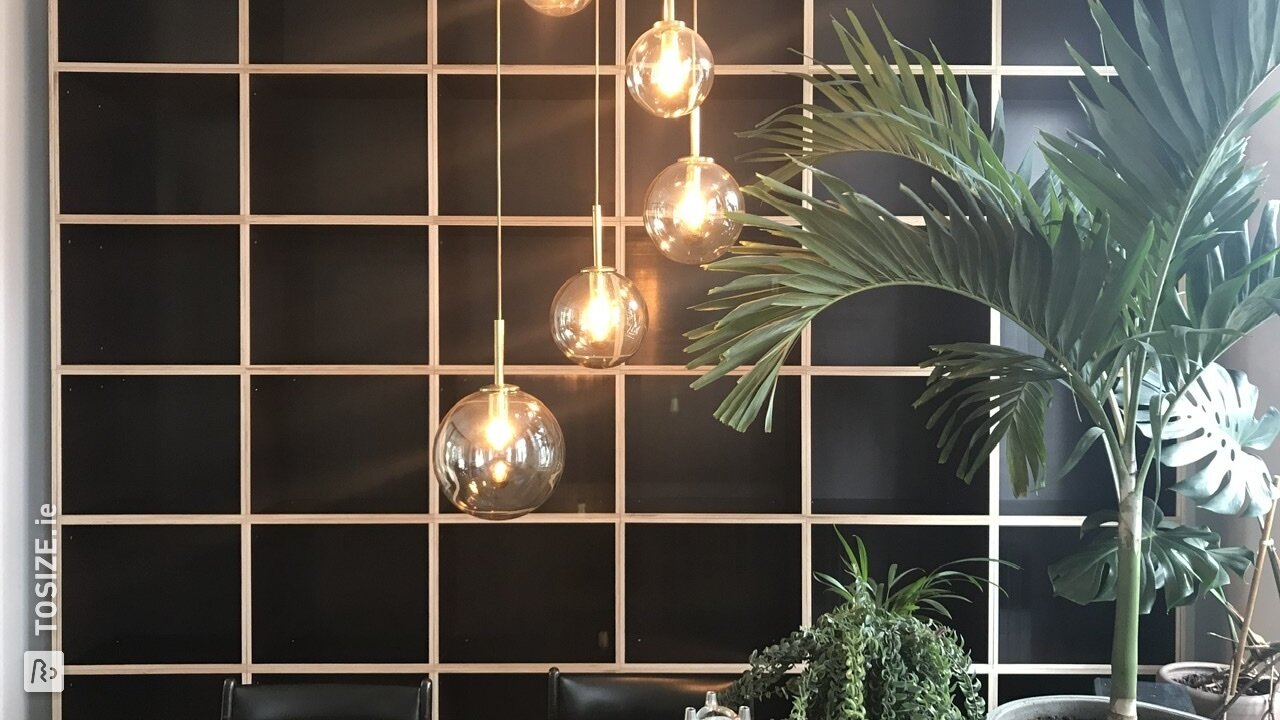 4 bookcases, made of 30 mm MDF. Frank created this veritable walk-in library and painted the whole thing neatly.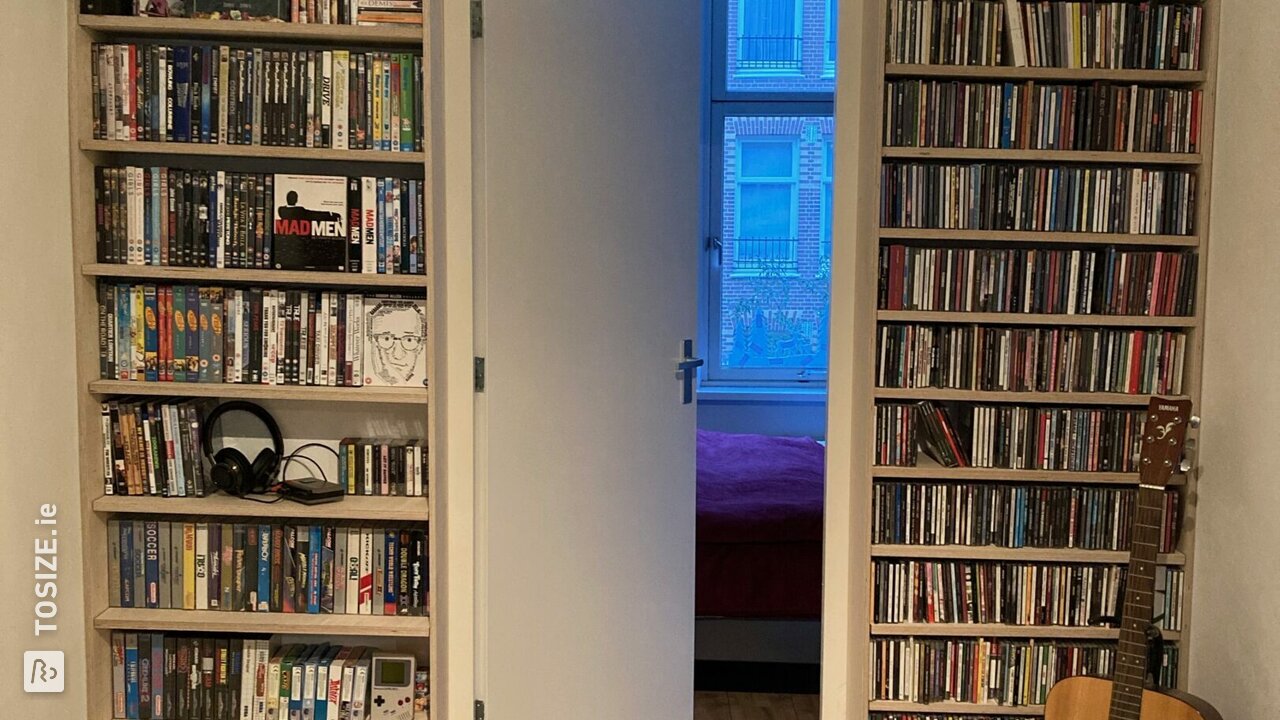 A cabinet for all types of media, built around a door. Built in a house that is a tad crooked and anchored to the wall with drywall plugs. Nicely done, Yorick!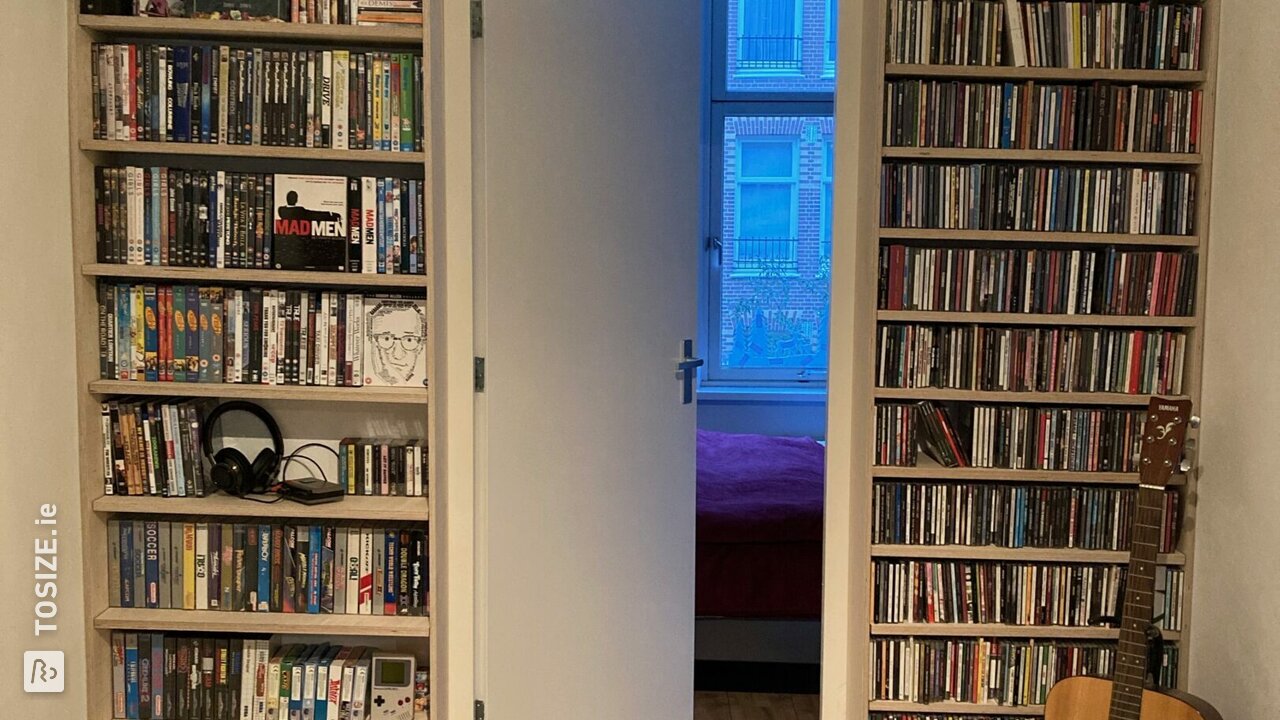 Rick used horizontal MDF boards 30 mm thick for a large built-in to size bookcase. He also used a dash of mounting kit for extra strength.
Jacques converted an old IKEA cupboard using material from TOSIZE.ie. It is a playful unit with plenty of space for books, games and other items.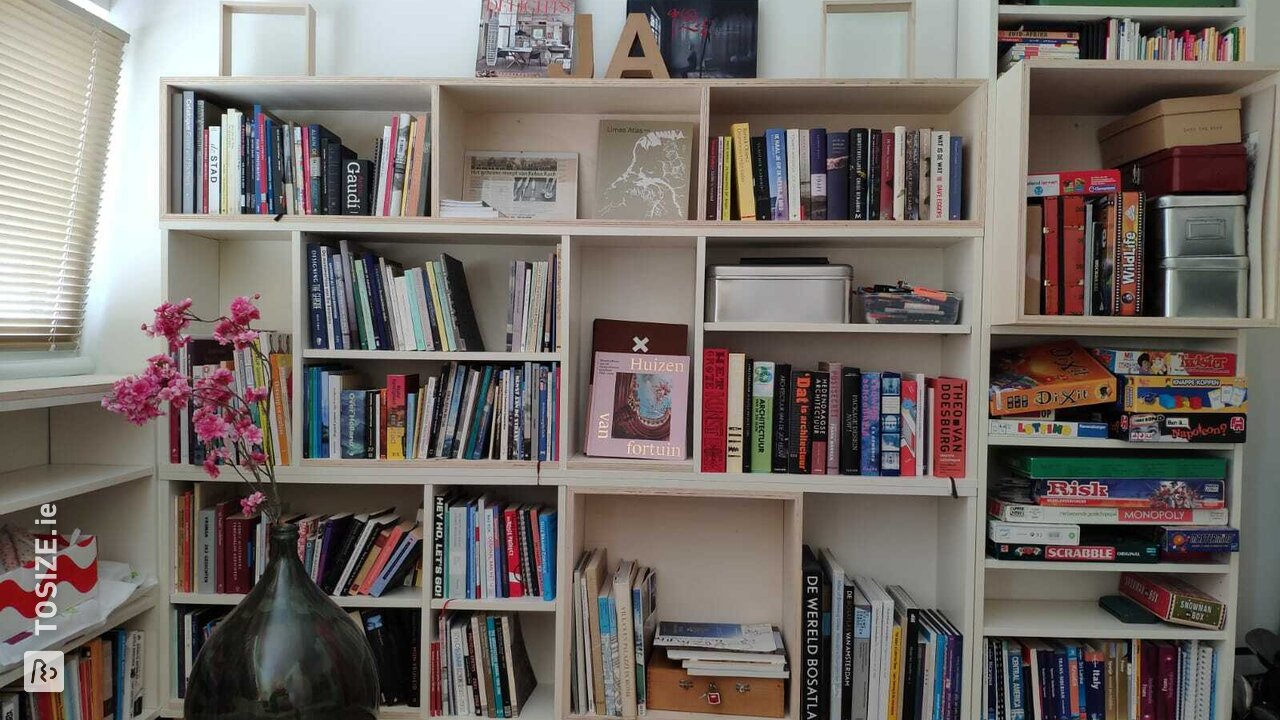 This bookcase has no less than 45 compartments of different sizes. The cabinet is symmetrical with a wide compartment in the middle for decorations. A beautiful specimen!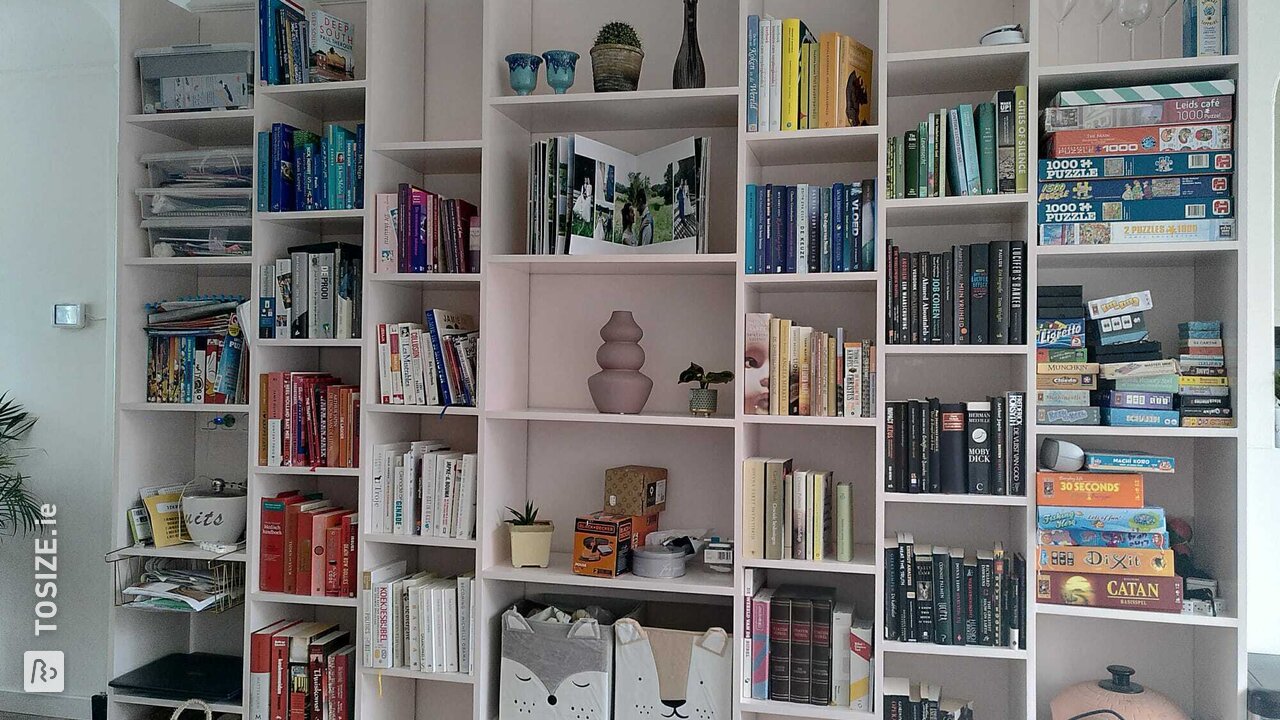 What do you put under a sloping wall? Jelle knows: a playful bookcase made of MDF. The cubes give it a playful character.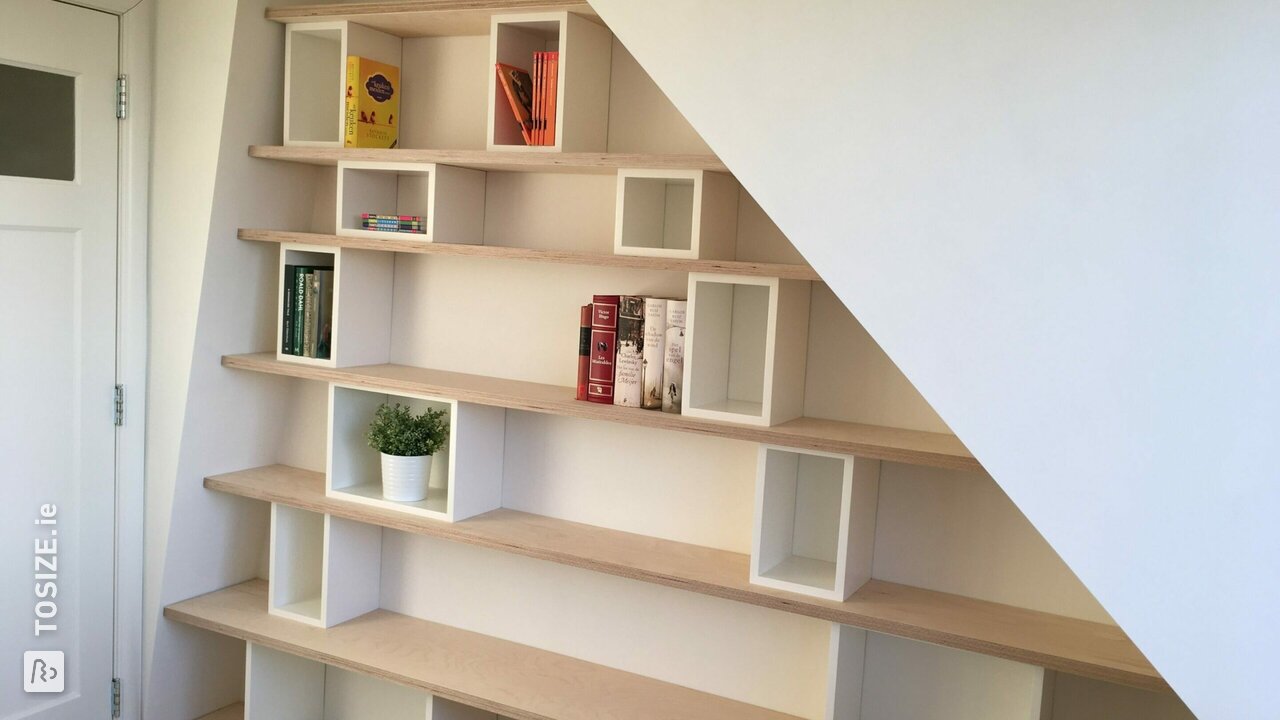 For a bit of creativity, handyman Pascal is the place to be. He drew this unique bookcase with Sketchup and used only glue and dowels for assembly.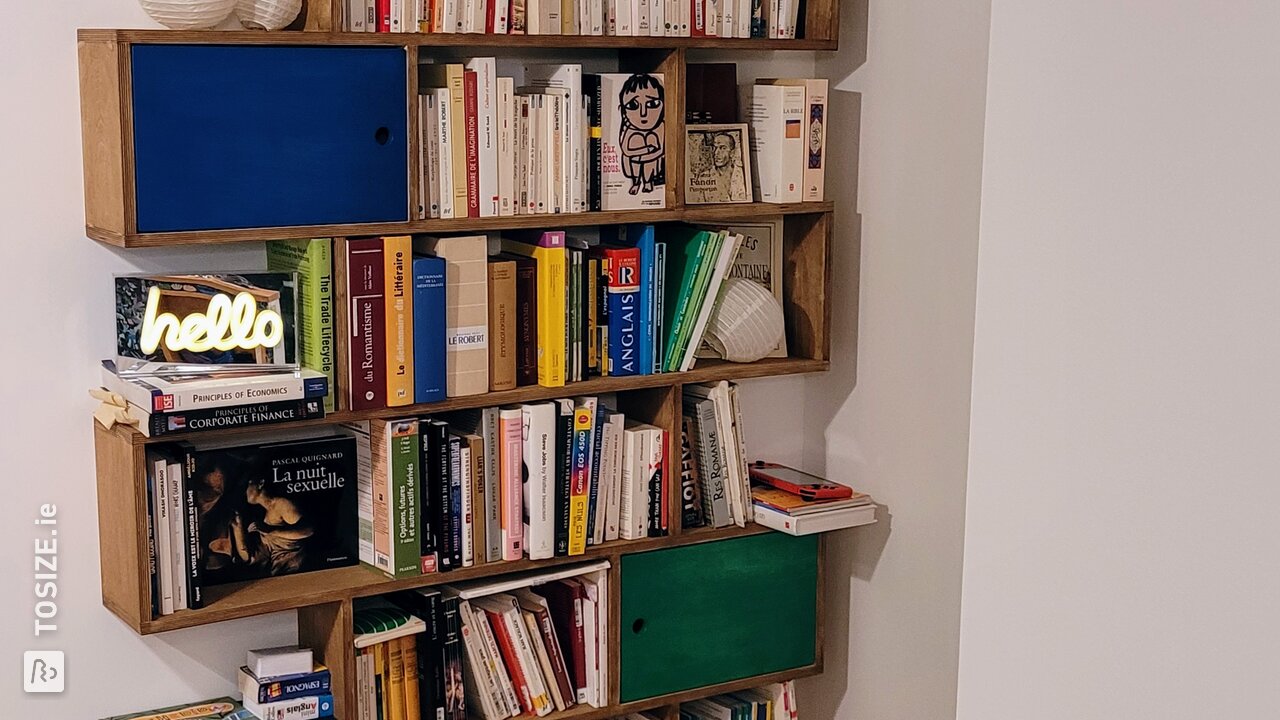 In handyman Jeroen's Amsterdam flat, every square metre counts. Although he describes himself as 'not very handy', the result is a really spacious, sturdy bookcase!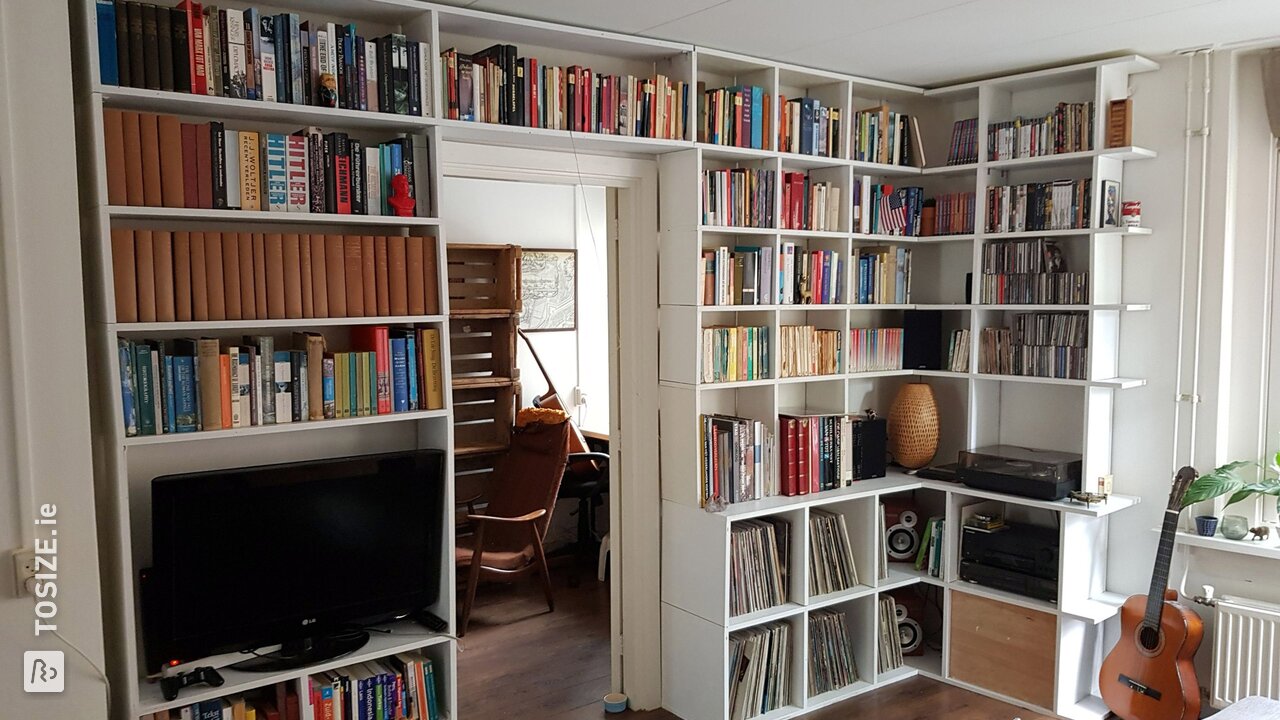 Are you ready to start your own bookcase? A bespoke bookcase is a great DIY project for both beginners and advanced handymen. You can make it as beautiful, creative, simple and difficult as you want! 
At least don't make it too difficult for yourself, by ordering your wood at TOSIZE.ie. We will cut your boards to the millimetre and deliver them to your door. That saves you a lot of work and a lot of sawdust. Moreover, you avoid accidentally sawing boards too big, too small or too crooked. 
Will you send us pictures of your project? Good luck with making your own bookcase!