Making your own staircase cupboard
Want to make your own staircase cupboard? Close the open space under your stairs and turn it into a cupboard. Or rearrange your existing staircase cupboard more efficiently with a new cabinet layout. Another form of a staircase cupboard is a stand-alone cupboard that you can also use as a staircase. Whatever your plan, in this article we will explain how to make your own staircase cupboard and share inspiring DIY projects with you for this job!
In this article:
The space under the stairs is ideal for turning it into a cupboard. In many houses, we see a staircase cupboard to store household items, food and, for example, the hoover. But, a staircase cupboard can also be a stand-alone staircase with a cupboard inside.
In this article, we will explain how to make your own stairs cupboard and share inspiration from our handymen. After all, they went before you with similar DIY projects.
Order the wood for your staircase cupboard cut-to-size precisely at TOSIZE.ie. In our webshop, you will find a wide range of wood material for every job. Think MDF, plywood, plywood, OSB, concrete plywood and much more. The great advantage of wood from TOSIZE.ie is that we deliver it to your door cut to the millimetre. This allows you to concentrate fully on assembling the wood for your staircase cupboard.
Before you get started on your staircase cupboard, it's useful to get a few items ready. Consider the following materials:
Checkered paper, pencil, eraser, ruler: for an accurate sketch of the staircase cupboard 
Cordless drill: to easily pre-drill holes and turn the screws into your materials
Wood glue and possibly dowels or lamellas: may be needed to glue various parts of your staircase cupboard firmly together
Primer and varnish: almost all TOSIZE.ie wood still needs to be finished - primer first, then varnish
Sandpaper: always handy to have with you, with a coarse or small grain
Tape measure: needed to measure and mark your wood
Spirit level: to make the shelves in the staircase neatly level
Screws: to join the different wood materials together
Don't have everything you need yet? Check out the accessories you can order along with your project.
Do you already have an idea of what your staircase cupboard should look like? And do you already know roughly how you want the construction to look? For a cupboard under the stairs, you can think of a construction with shelves and a door, but you can also consider a mobile cupboard. 
Is your staircase cupboard also meant to be used as a staircase Then take into account the load-bearing capacity of the structure. We will go into that in more detail later in this article.
So by making a sketch first, you get a better understanding of such matters and think carefully about your DIY project. The sketch is finally worked out into a drawing, including the dimensions of all materials down to the last millimetre. 
You will need these exact measurements to order the wood in exactly the right size from TOSIZE.ie. Also give each board a unique ID, which will save you a lot of puzzling once the wood is delivered to your home.
You can make a drawing simply on paper. With a pencil, a ruler and an eraser. But, you can also use a 3D programme such as SketchUp or FreeCAD.
In our handymen's DIY projects, we see two types of staircase cabinets recurring: the pantry under the stairs and the loose staircase cabinet with storage compartments. The first variant is made under an existing staircase. The second variant is a staircase on its own. Which one will you make?
In many houses, the space under the stairs is unused. You could nicely turn that into a pantry. That provides a lot of storage space. The obvious thing to do would be to mount some shelves in your stairs cupboard. Read the best way to do this in our article on making shelves.
Do you want to close your stairs cupboard with a door, so you don't have to face the stuff inside? The first step in making a door is to accurately measure the opening of the stairs cupboard. Do leave a little play (say 2 mm on all sides) so that the door can definitely close. To be sure, get someone to check your measurement to ensure you don't make a costly mistake. 
With the exact measurements, you can have a door cut-to-size with us. You can have wood cut into many shapes with us, including, for example, a triangle. Ideal for the small openings under the stairs. 
Make sure you finish the inside of the stairs cupboard neatly with battens for the door to fall against. Then you can attach the door to the stairs cupboard with hinges. Fit a handle and finish the door neatly.
You can also make a staircase that acts as a closet at the same time. For example, to access a loft or a loft bed. In that case, you need to consider the load-bearing capacity and anchoring of the stairs cupboard.
If you need to be able to walk on stairs, you want to make sure your staircase has sufficient load-bearing capacity. You can find several calculation tools online that allow you to calculate the load-bearing capacity of your structure.
Sometimes common sense is also enough, but that assessment is best made by yourself. In any case, make sure you firmly connect the different parts of the staircase using screws, dowels and line. In any case, use a type of wood with sufficient structural strength, such as plywood or underlayment.
An important part of a loose staircase is the anchoring in the wall. Make sure that the staircase cannot fall over and fix it to the wall with, for example, sturdy bolts. You can do this in several places.
What wood do you use for a staircase cupboard? At TOSIZE.ie you can find an extensive Assortment with different types of wood, such as concrete plywood, MDF, plywood, OSB and timber and furniture boards.
We often see the following materials in staircases from our handymen:
MDF is very versatile and easy to work with. MDF boards belong to the fibreboard family: the board consists of wood fibres compressed under high pressure. MDF can be beautifully finished for a sleek end result.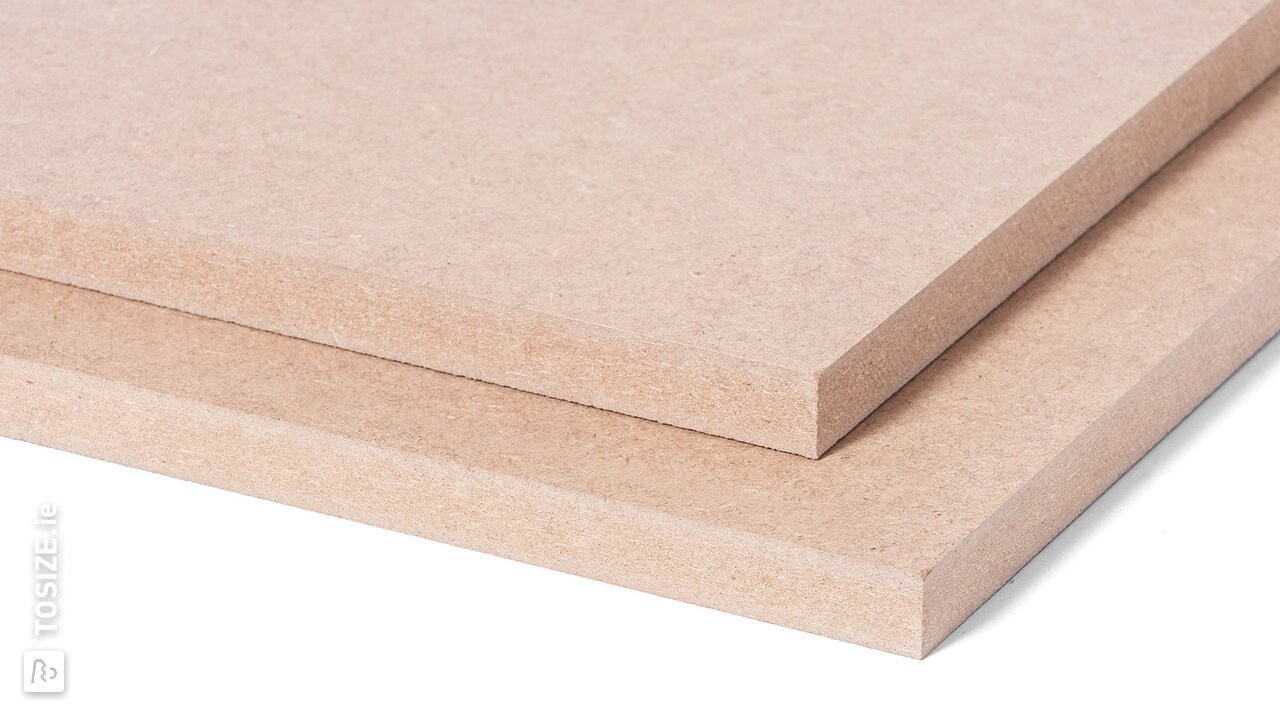 Plywood is suitable for decorative as well as structural purposes. You can therefore use this material perfectly well for a staircase cupboard. Plywood panels consist of several layers of wood veneer. These layers are glued together crosswise, making the panel very strong. As a result, the end edges of this material are beautiful to look at and can easily be kept in sight.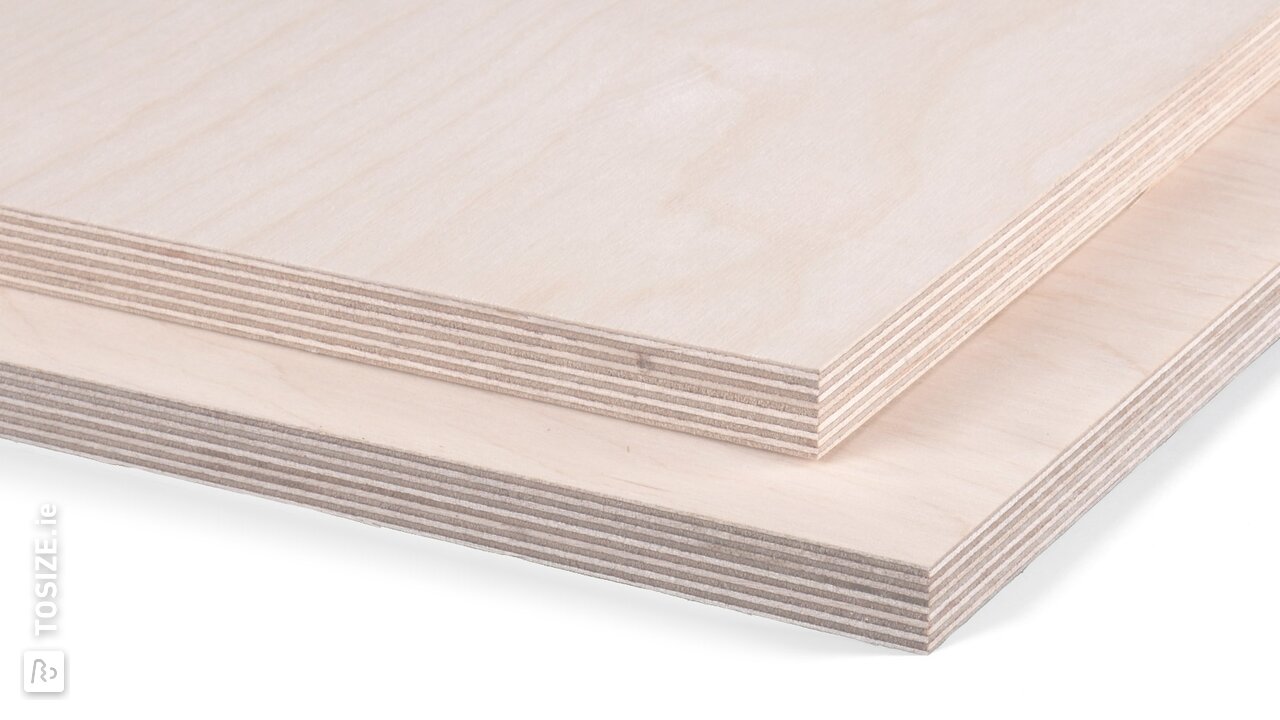 To properly join the wood in your staircase cupboard, you can use different techniques. We discuss four common methods here.
Materials can simply be screwed together. Remember to pre-drill the wood first and finish the screw holes neatly with putty.
By using corner joints, you quickly screw different ways together. It is a practical solution that is a little less attractive. And therefore especially recommended if the construction is out of sight, such as in an enclosed staircase cupboard.
Using dowels is especially recommended when your staircase cupboard needs to be structurally strong. With dowels, you create invisible connections that are incredibly strong. You first mark out the holes and drill holes in the wood with a dowel drill set. Then you use a little wood glue to connect the dowels and the boards.
Lamellos are larger than dowels and provide an even stronger joint. You do need a milling machine to cut the slots for the dowels in the wood.
For a nice blind attachment, you can have your timber material mitred by us. Check out our finishing options for more information.
Our handymen already have some experience making staircases. They shared their projects with us and here you can be nicely inspired again.
Handyman Linda made this beautiful staircase cupboard with door drawers from plywood birch. Her approach was practical and smart. First, she ordered the floorboards cut-to-size and put wheels under them. From this base, she used cardboard to measure out the dimensions of the other wood materials needed. Clever! And the result is very nice!
Jimme made this pantry under the stairs. He created many different compartments of different heights and even a bottle rack. The space is used perfectly this way!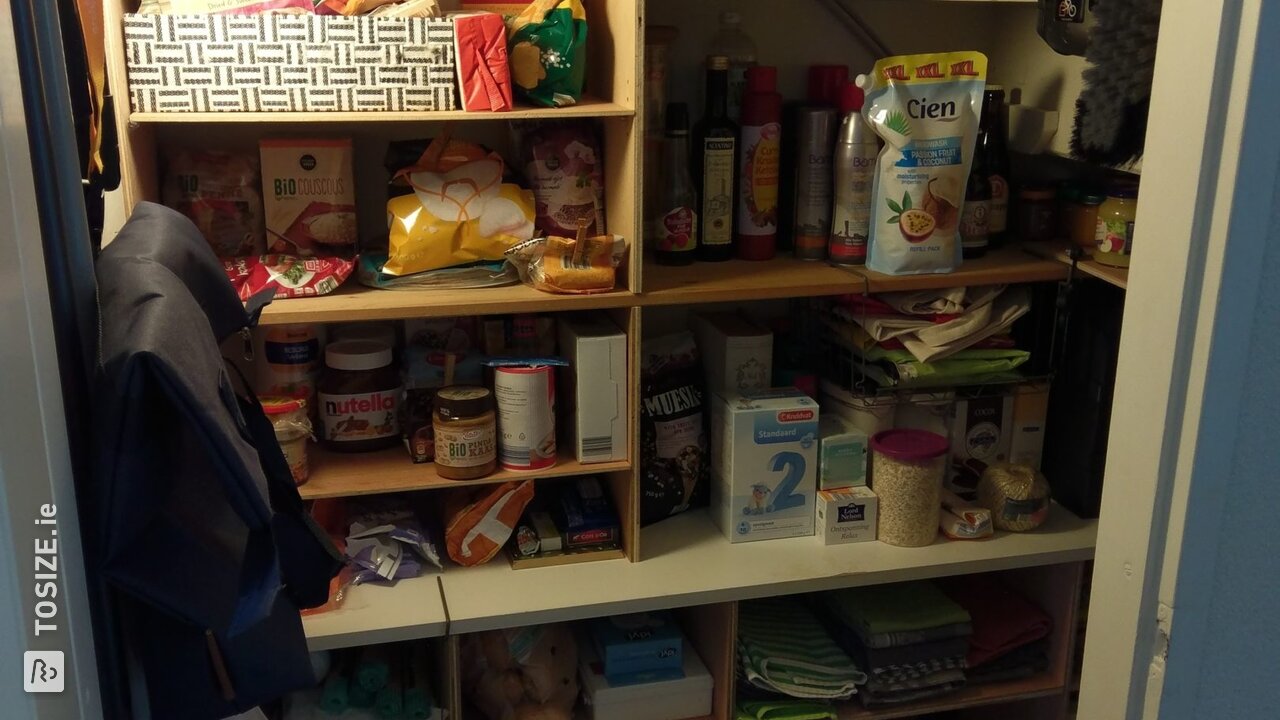 Handyman Martin was hiccupping this DIY project for years. But, he did manage to cobble together a beautiful staircase cupboard. He used an MDF backing board with slats on top, onto which the shelves (mitred by us) were placed. It even has a hatch for camp gear!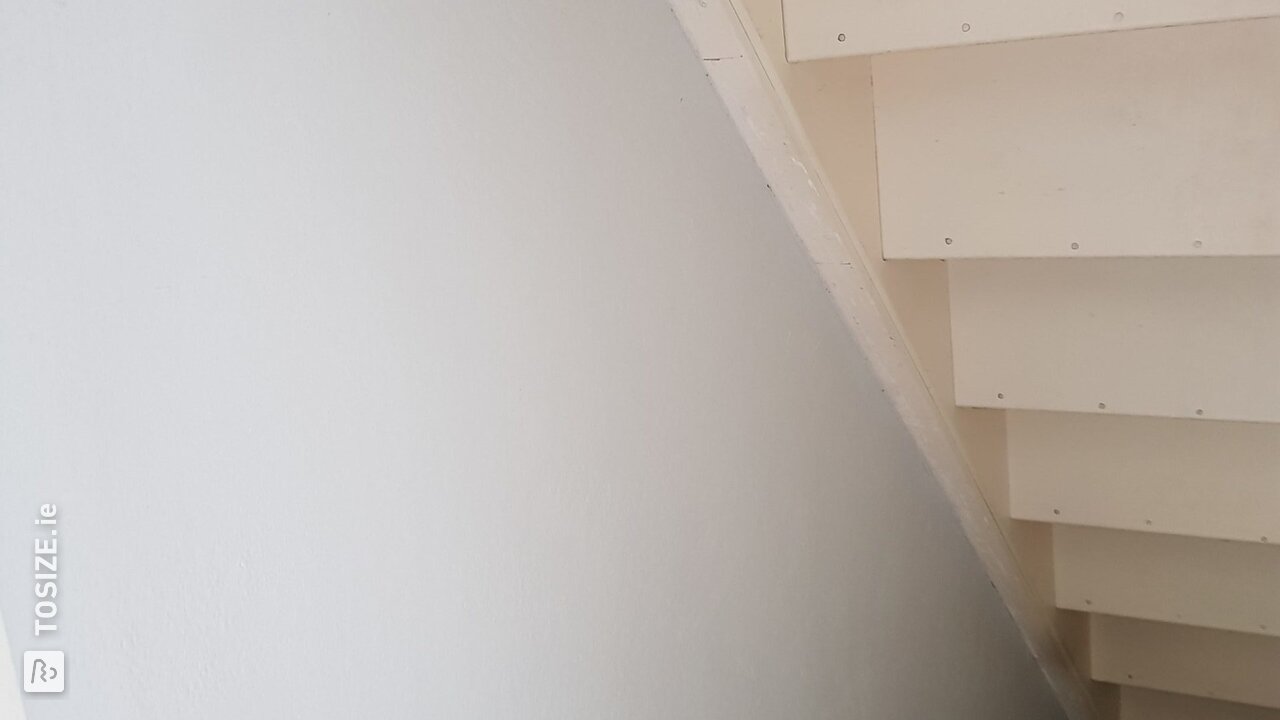 This beautiful staircase was made by handyman Rutger to get to the loft. The storage compartments in the cupboard are of different sizes, but such that a standard IKEA drawer or basket fits everywhere.
Thanks to the use of dowels and screws, the cabinet is strong enough to stand on. The whole thing is neatly finished and looks sleek!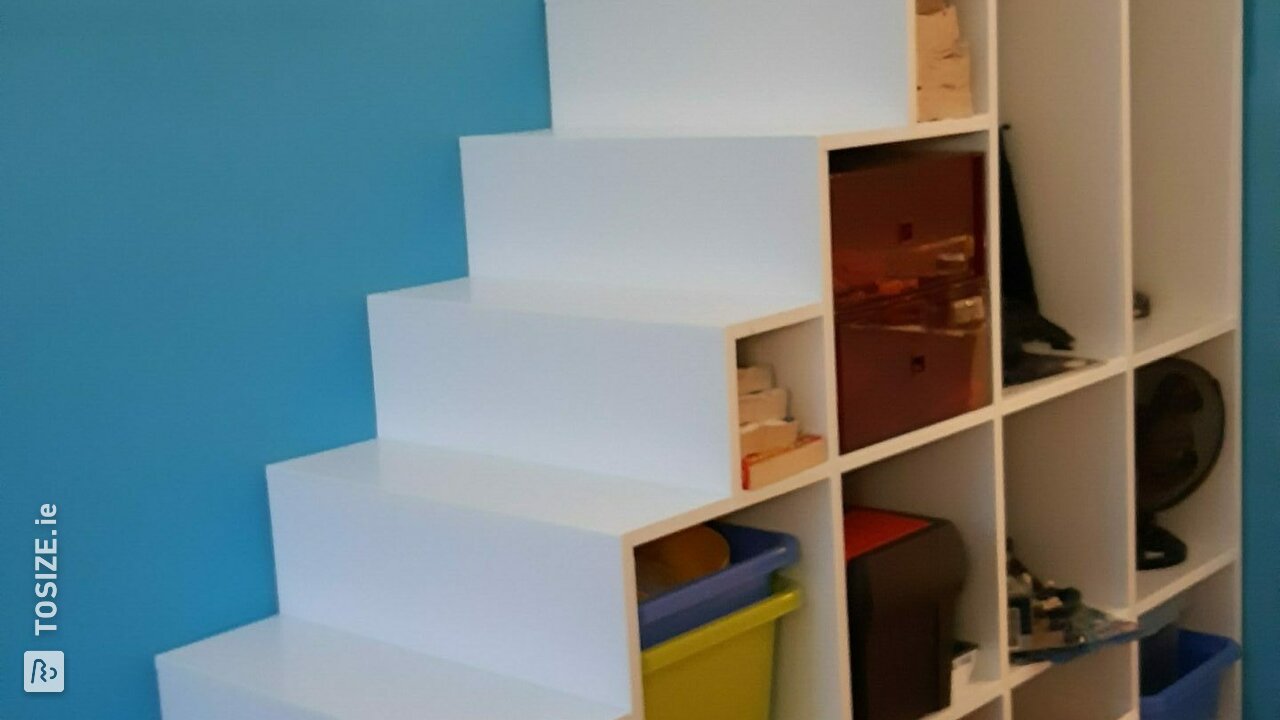 This beautiful staircase cupboard, equipped with drawer and door, is by handyman Menno. Be sure to read his DIY project to get an insight into how he tackled this lovely job.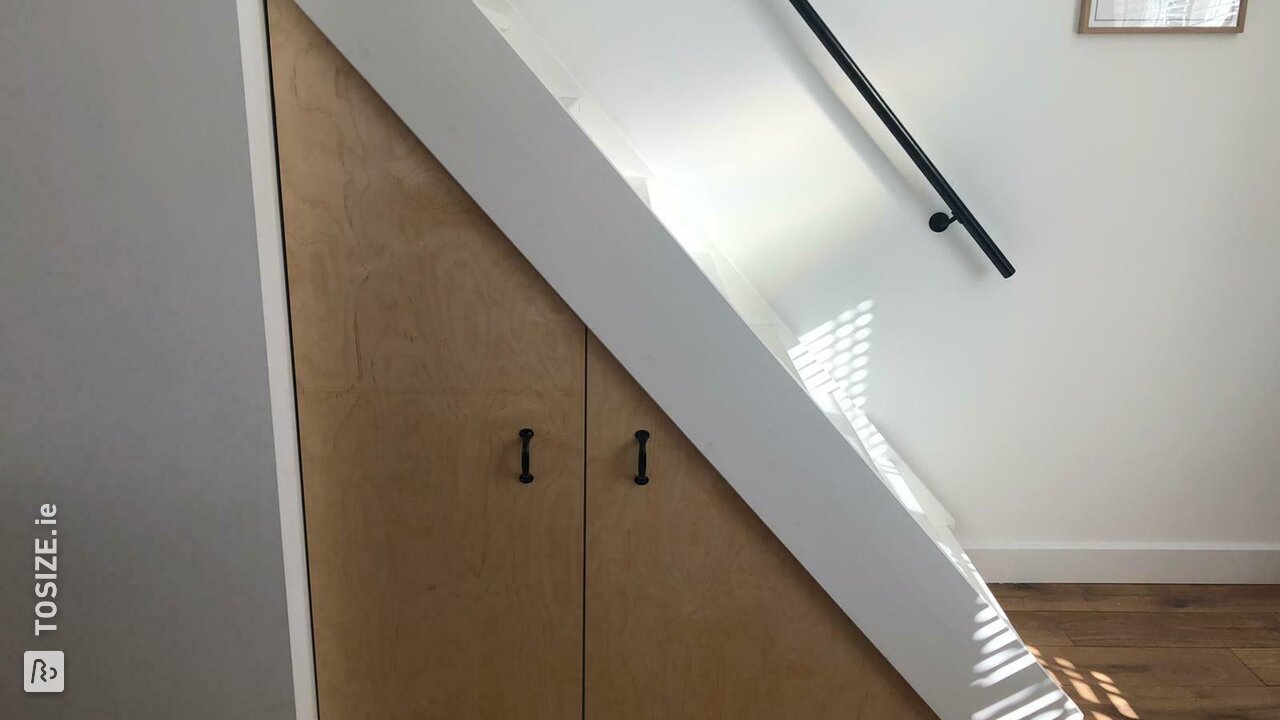 This stairs cupboard is a sight to behold. It makes it easy for handyman Wouter's children to climb into their bunk beds and creates a lot of storage space. Wouter used plywood birch and mounted it with dowels and screws. In his working drawing (shown in the project), he took into account force transmission.
Do you have one of those little corners left under your stairs? Then do what handyman Patrick did and make a little door for it. Of course, with a nice cut-to-size MDF triangle from TOSIZE.ie!
In this article, we explained to you how to make a cut-to-size staircase wardrobe. We also shared with you inspiration from our handymen. Hopefully, you can now get started thinking, drawing and assembling your own staircase cupboard.
Order the wood for this job cut to the nearest mm from TOSIZE.ie. Will you choose MDF, plywood or go for the tough OSB? Have fun creating a cut-to-size staircase wardrobe!