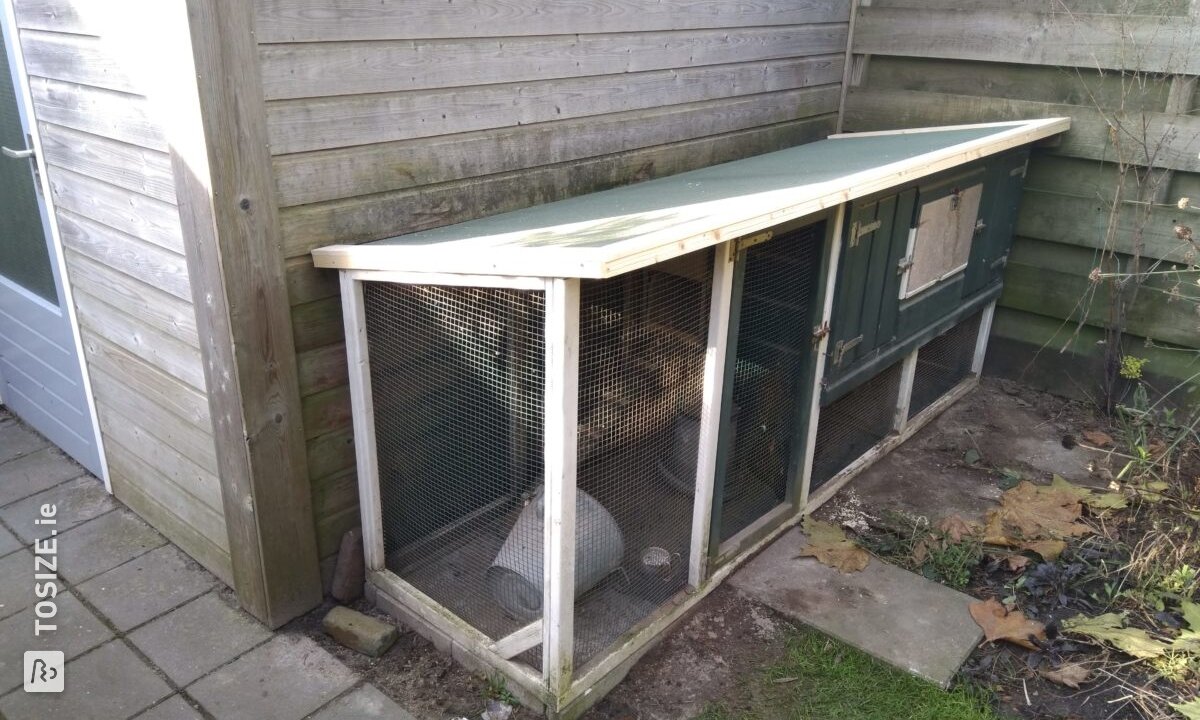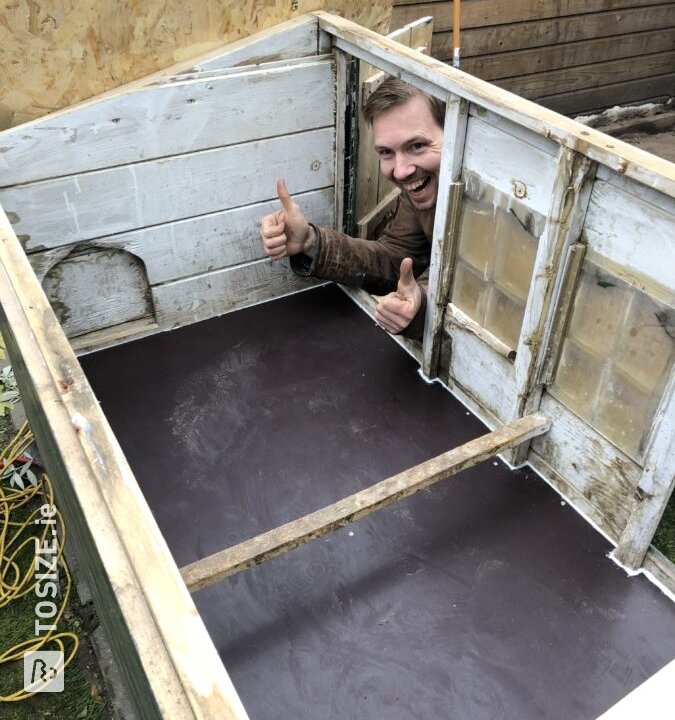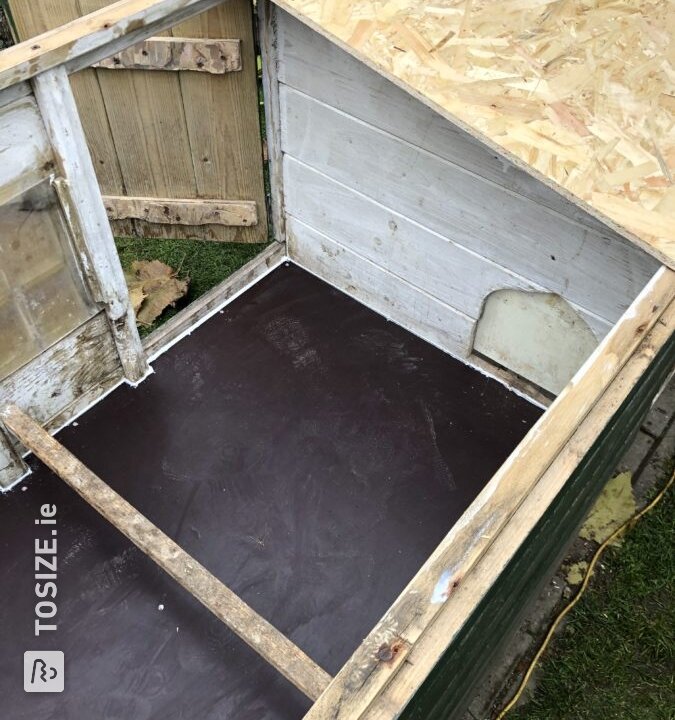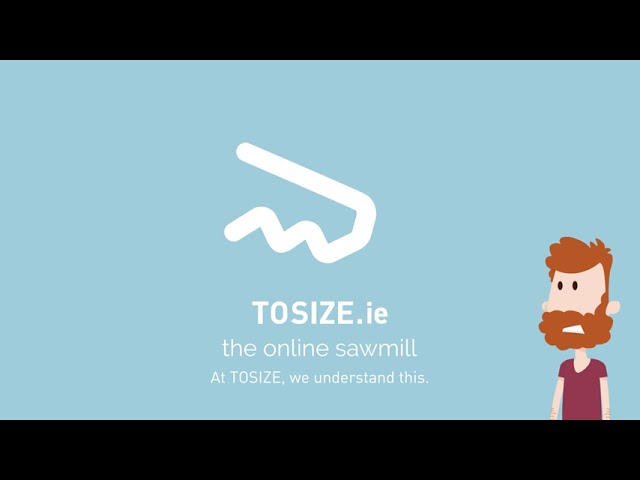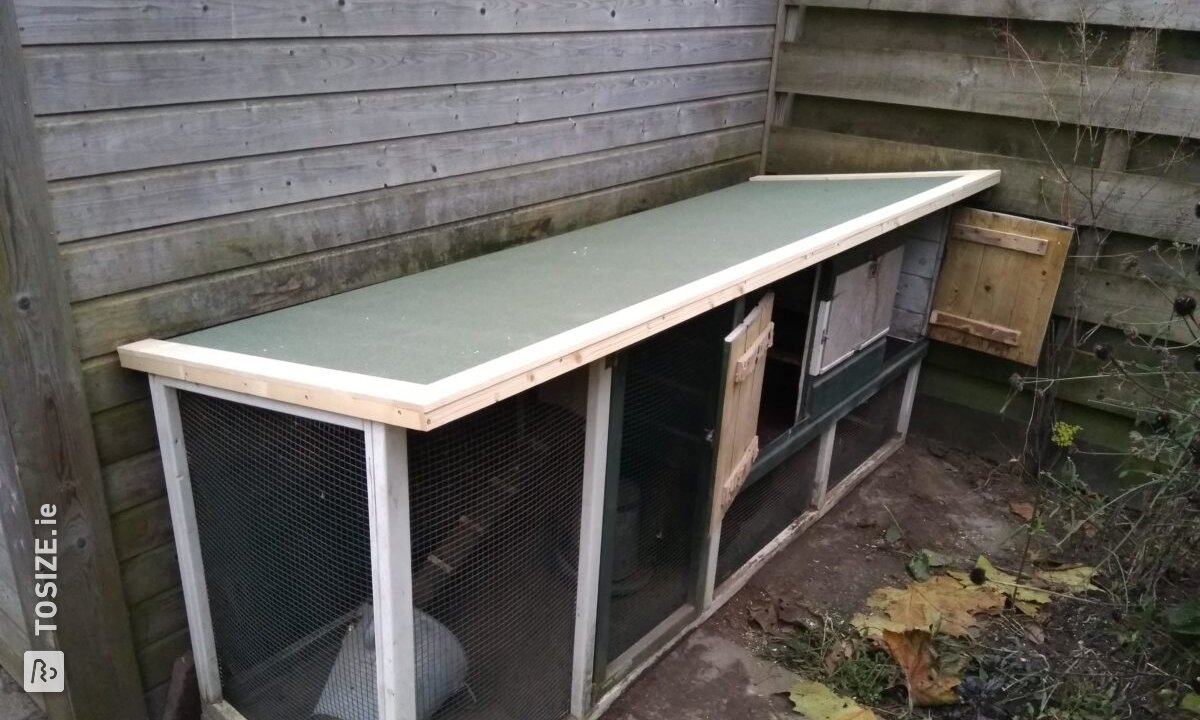 Create this project yourself with sheet material cut to size by TOSIZE.ie!
Description
Due to leakage and wear on the roof and floor of the chicken coop, it was cost effective to repair this. Framing and walls are in such good condition that a new loft is not yet necessary. Floor made of one piece of 12 mm concrete plywood and roof made of 11 mm OSB plate which is covered with adhesive nail roll roofing felt with slate.
How did you create your project?
To replace the floor, the roof had to be removed anyway, so we started removing the old roof and roofing felt. The floor has to sink into the loft from above for a seamless result. This is more pleasant with cleaning and prevents diseases and vermin in the loft. The plywood floor slab was delivered neatly to size and only needed a number of recesses. After applying this with the jigsaw I lowered the floor into place using a suction cup, ideal when working with plywood. The floor plate is mounted over the old (cleaned) floor and screwed to the old framework. After installation the floor is sealed all around. Then aligned the custom supplied OSB plates for a correct overhang at the front and rear. The OSB plates are fixed to the existing framework with screws of 3.5x30 and mutually connected with a piece of wood, so that the plates are evenly flat. Before mounting the roof covering mounting kit applied for extra adhesion. To be able to fold the roofing felt, lightly heated with a paint burner and secured with the supplied battens. Roof leather folded 90 degrees on the side, 180 degrees at the front and rear. In this way, no water can penetrate underneath the finish between the roofing felt and the sheets. To top it off, on the front and sides the battens applied as a finish and to keep the roofing felt in place. To top it off, the wood will eventually be put in the green stain, like the rest of the loft. At the moment the ladies are very happy with their dry and warm night loft.
What are the measurements?
The dimensions are 90.0 cm by 255.0 cm by 110.0 cm.
Experience with TOSIZE.com
Very happy with the tailor-made materials and the customer service that intervened correctly and on time with an item that was not in stock.
What others made with Beams and Battens, Phenolic Plywood and OSB