Create a room divider from wood
With a room divider, you can divide a room into two separate areas. This makes it easy to add atmosphere. Room dividers come in endless shapes and sizes. Do you make it yourself? Then you can tailor it specifically to the room! It's easy to make a wooden room divider yourself. Order your made-to-measure material from TOSIZE.ie and receive it home as a kit. All you have to do is put it together!
Material type wooden room divider
With the type of material, you can adapt a room divider to the style of your interior. At TOSIZE.ie we have a wide range of wood and board material. Be inspired; from scaffolding wood to plywood and from lumberboard to MDF. The choice is enormous. We have listed the top 3 types of material, a good option for every style!
View all our sheet material in our webshop
1. MDF - Modern
MDF falls into the category of fibreboards. It has a smooth, ready-to-use surface and high resistance to wear. You can make almost anything from MDF! Including a room divider with an austere, modern look. Then paint the wooden room divider in the desired colour. In the case of a light colour, choose MDF Paint Carrier as the base. With this variant, a lacquer-bearing film is pressed onto the board, which makes priming unnecessary. That saves a lot of time! However, it is important that you treat the ends of the MDF with an edge sealer for a smooth result. You can read how to do this in the DIY tip: Varnish the ends of MDF.
Are you going to paint the room divider in a dark colour? Then use MDF Black Water-resistant Finishing in the right colour takes little time, because the board is manufactured moisture-resistant and already has a dark colour. The wood fibres are mixed with a black pigment, so the board is coloured black right to the core. However, this does not mean that the board is jet black, the wood fibres give it a blended appearance. In order to get the room divider evenly covered in black, painting is still necessary. Again, pay attention to the treatment of the ends of the MDF.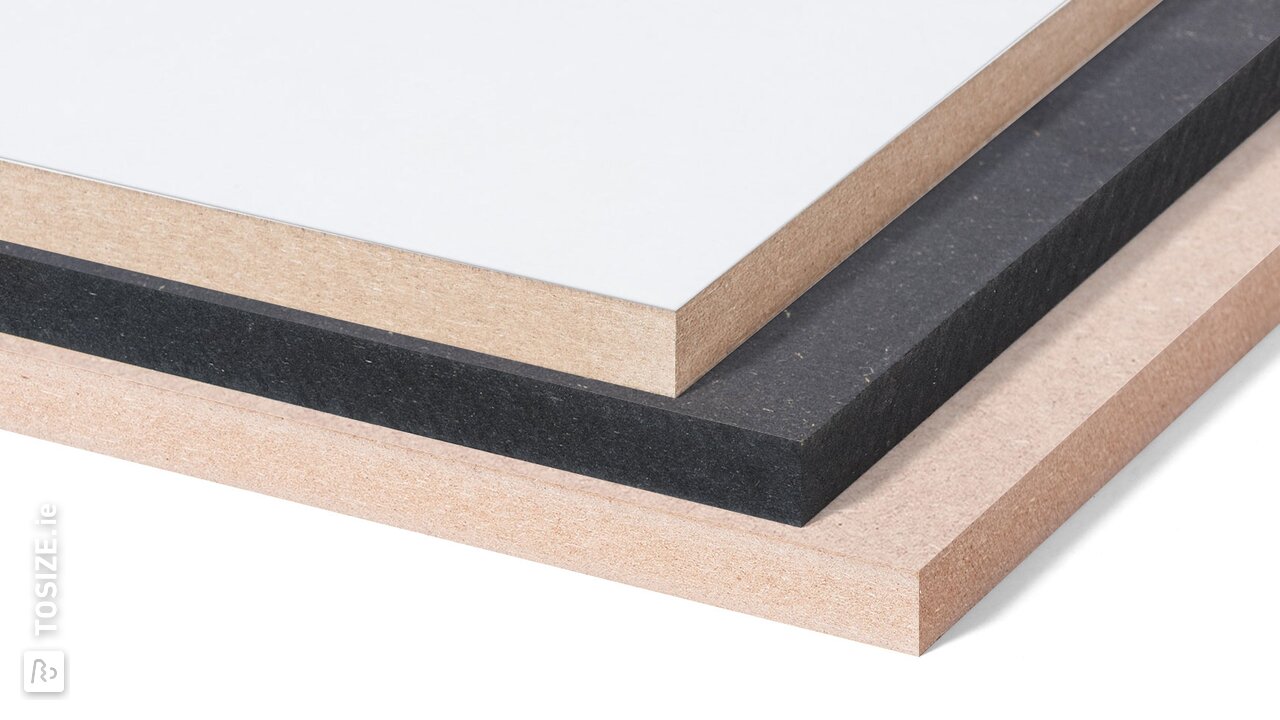 2. Underlayment - Contemporary
Underlayment is originally a construction material used for reinforcing endless types of projects. A room divider made from underlayment gives a contemporary look. It is made of Finnish pinewood, which gives the board a natural look thanks to the wood grain and the blank colour. The ends are attractive due to the layers and are often kept in sight. The only thing to consider when working with Finnish pine underlayment is the risk of splitting. Read how to prevent this in the DIY tip: Professional hole drilling in sheet metal.
Order customised underlayment now
Want to know more about Underlayment? Watch the video below.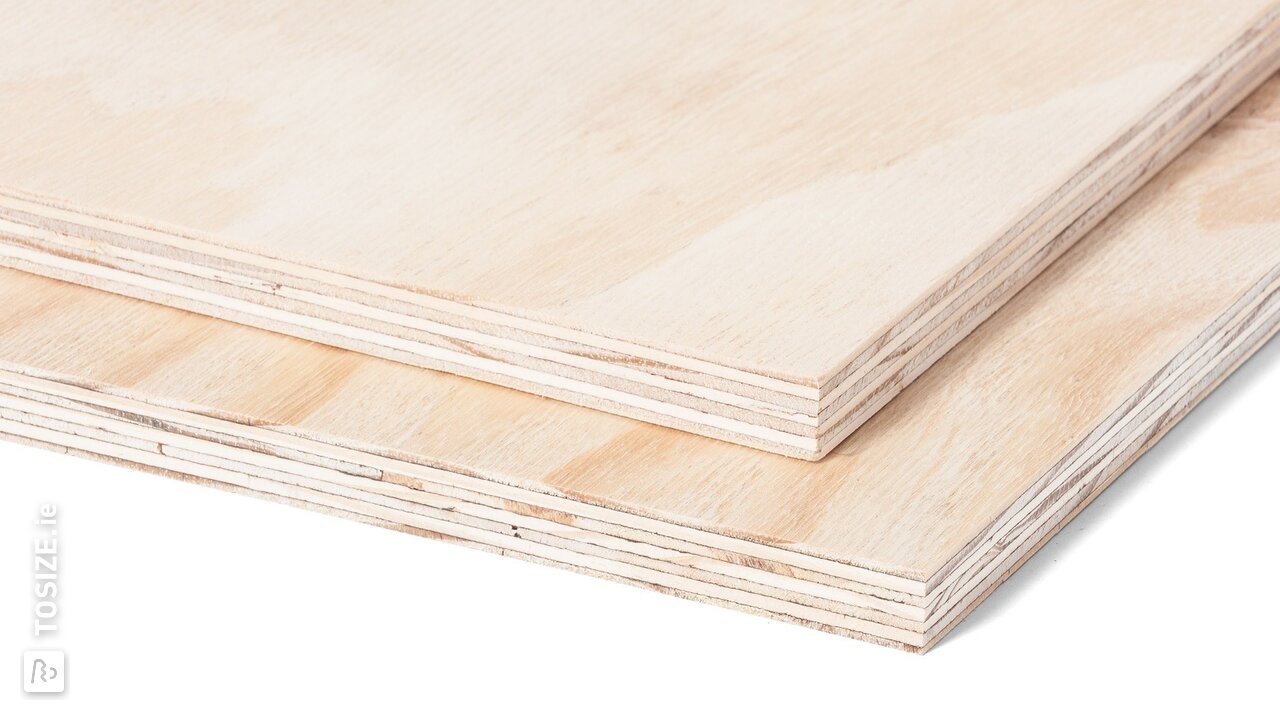 3. Multiplex - Naturel
Love the Scandinavian trend in living? Then go for Plywood Interior Poplar or Plywood Birch. The light and natural look of the wood makes the material trend-sensitive! Plywood consists of different layers of wood veneer. These layers are glued crosswise to each other, which makes the board very strong and hardly works. Because of the layers, the ends of plywood are beautiful to see and are often kept in sight. Treat the plywood with a transparent varnish to protect it from dirt and knocks.
View all plywood in our webshop
Differences in plywood
Birch plywood is the most popular form of interior plywood because it is the best quality choice. It is glued water-resistant as standard and has a clearer wood grain than poplar plywood. Moreover, birch is a wood species that is much harder than poplar. Poplar interior plywood is the lightweight variant of plywood. When weight plays a role in your project, this is the perfect choice!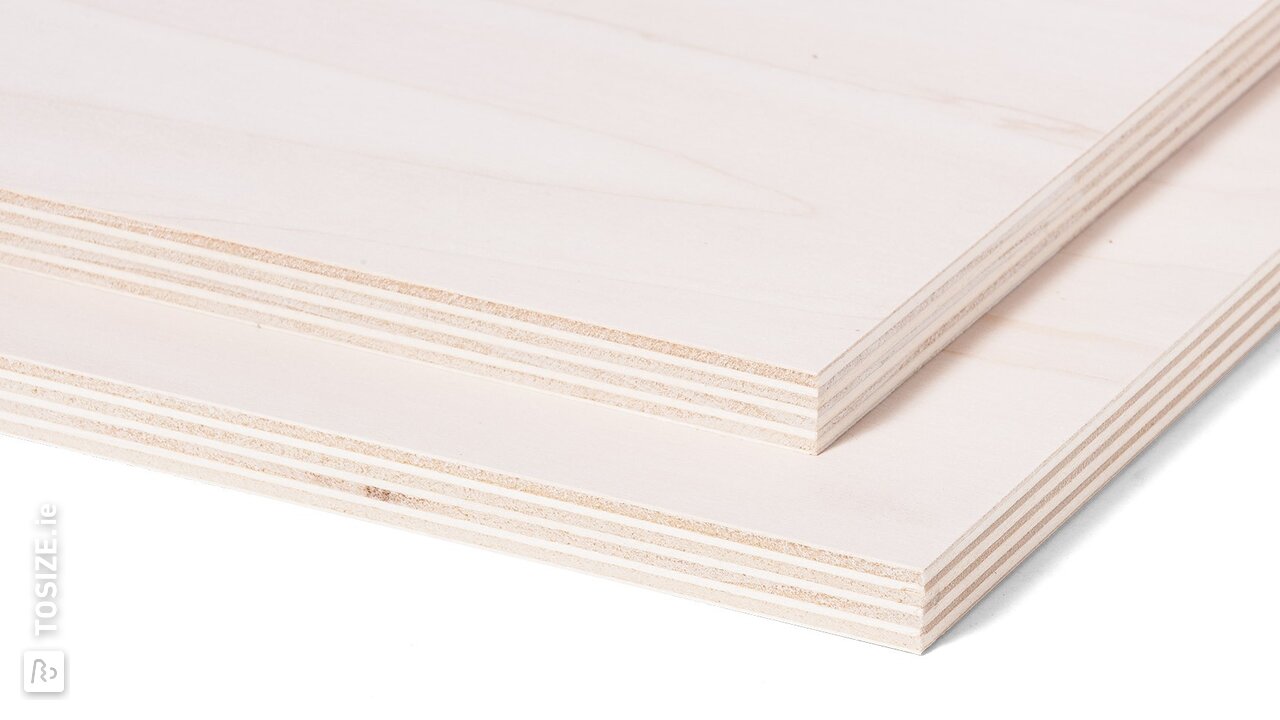 Drawing room divider
The customers of TOSIZE.ie make the most beautiful furniture. Aletta, for example, made a bed that is used directly as a room divider in the bedroom. Peter also made a unique room divider that divides the living room into two parts. Be inspired and get to work with a neat working drawing and create your own DIY room divider.
From idea to drawing
To come up with a good idea, it is best to look for beautiful examples. Try searching on Pinterest or via Google. Collect the most beautiful examples and use them to create your own design.
Shapes and finishes
At TOSIZE.ie, you can also have the material for your room divider sawn into shapes. This is handy, for example, when you have to deal with a sloping roof or when you want to give your room divider a unique shape. See all possible forms here.
Finishes are also possible, such as a mitre, a rounded edge, a bevelled edge or any other edge finish. Discover the edge finishes here.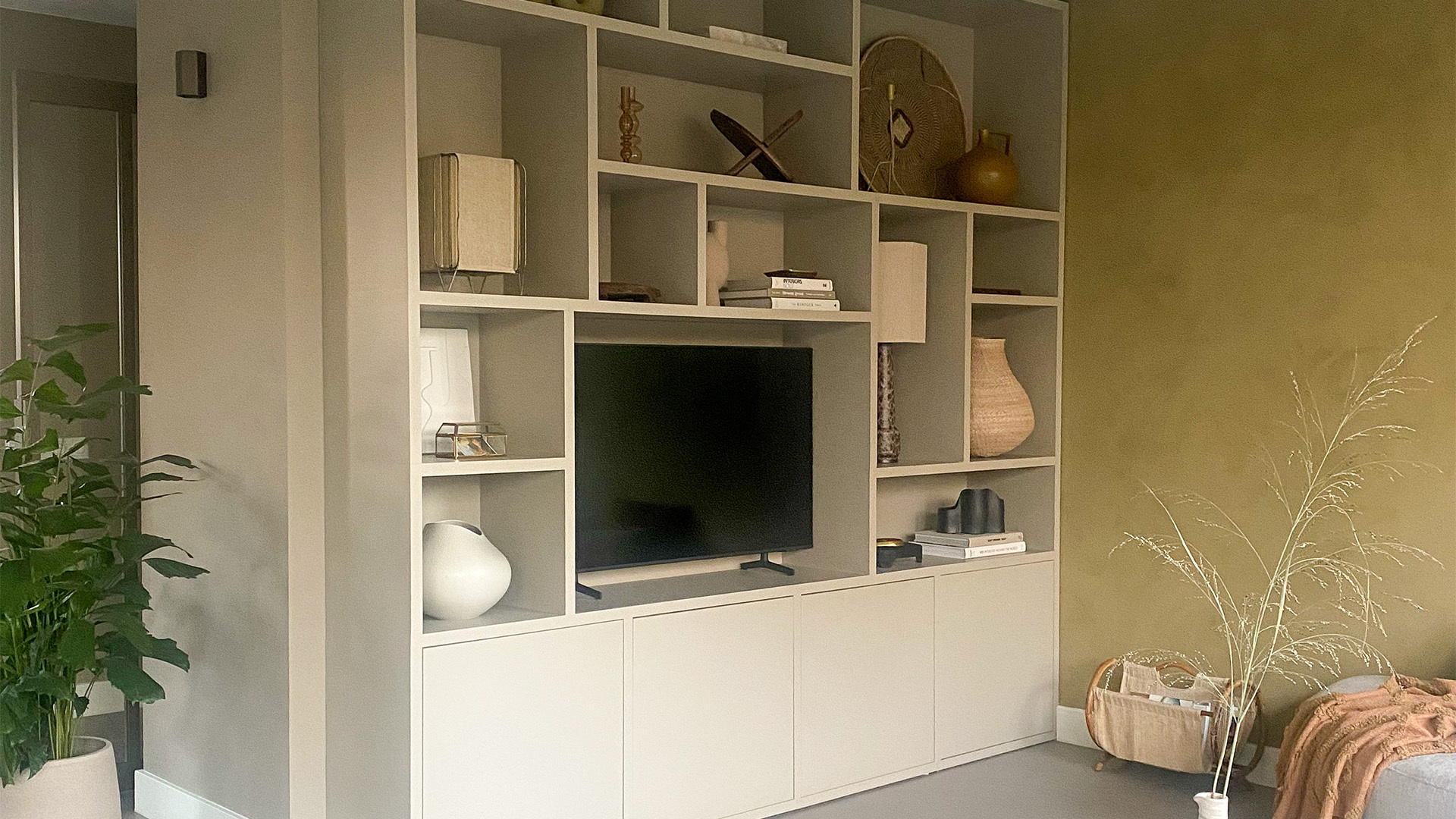 We make jobs even easier!
Easy as a kit at home.
Start designing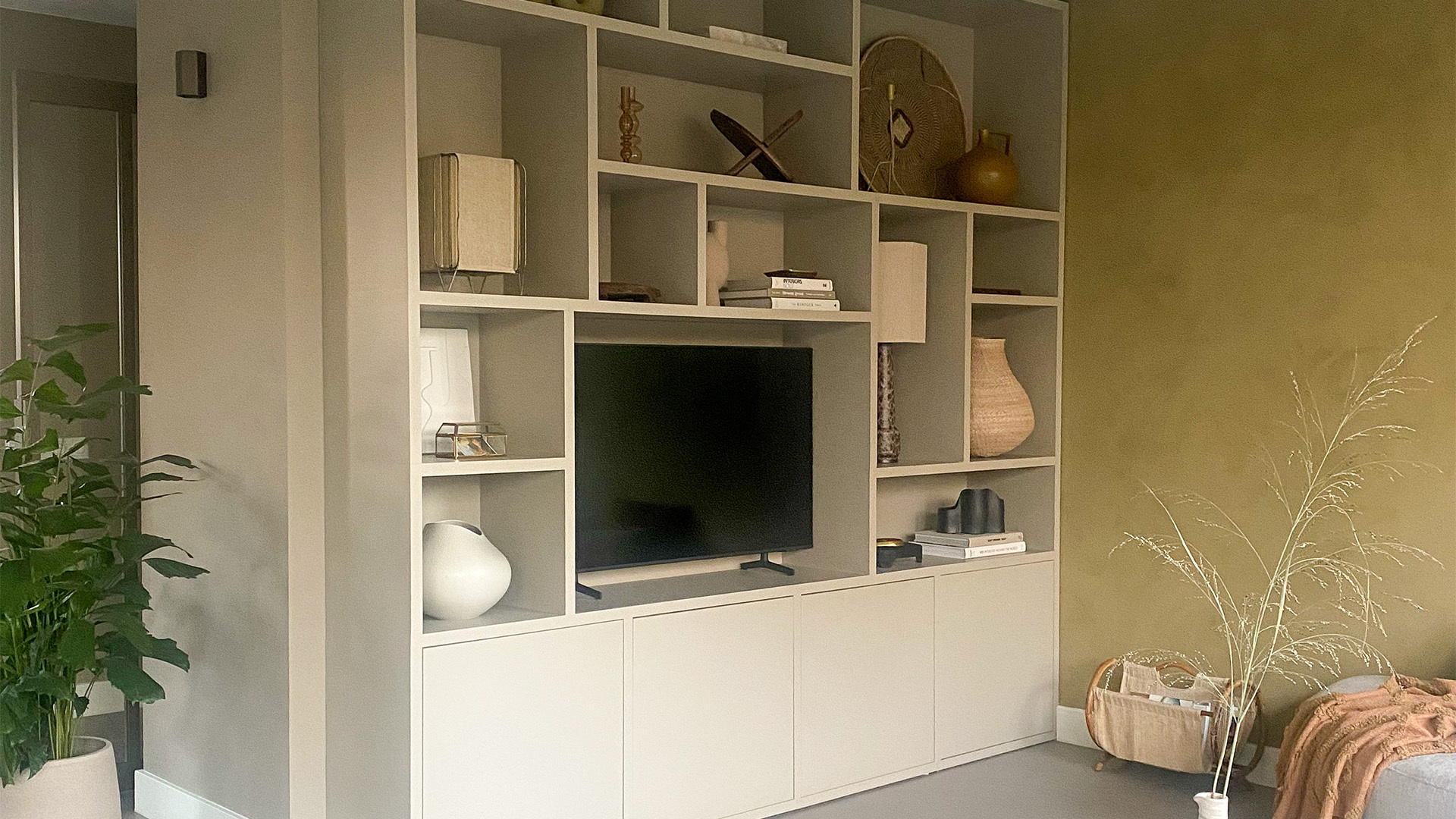 We make jobs even easier!

Start designing
Also check out these similar DIY tips