Making a customised wooden tabletop
Wooden table top made to measure? Do you opt for a solid wooden board, scaffolding wood or do you choose a sheet material such as Underlayment Finnish Spruce or OSB3? We are happy to tell you more about the possibilities that are available. Stand out with a homemade circular tabletop or make a tabletop with a herringbone pattern and finish it with a beautiful stain!
The design of the table
The creation of a custom-made table top starts with the design. In what style do you want to make the table top? What are the dimensions and do you have a clear idea of the legs to be fitted under the table top? Making your own tabletop is very satisfying, but it also requires patience. Therefore, prepare yourself well and avoid surprises at a later stage.
Start by making a design. It helps to visualise your idea by making a sketch with a pencil. Also pay attention to the right proportions, so that you get an objective picture of the table. Are you technically inclined? Then it is inspiring to transform your idea into a 3D design. You can use a digital drawing programme like SketchUp or AutoCAD.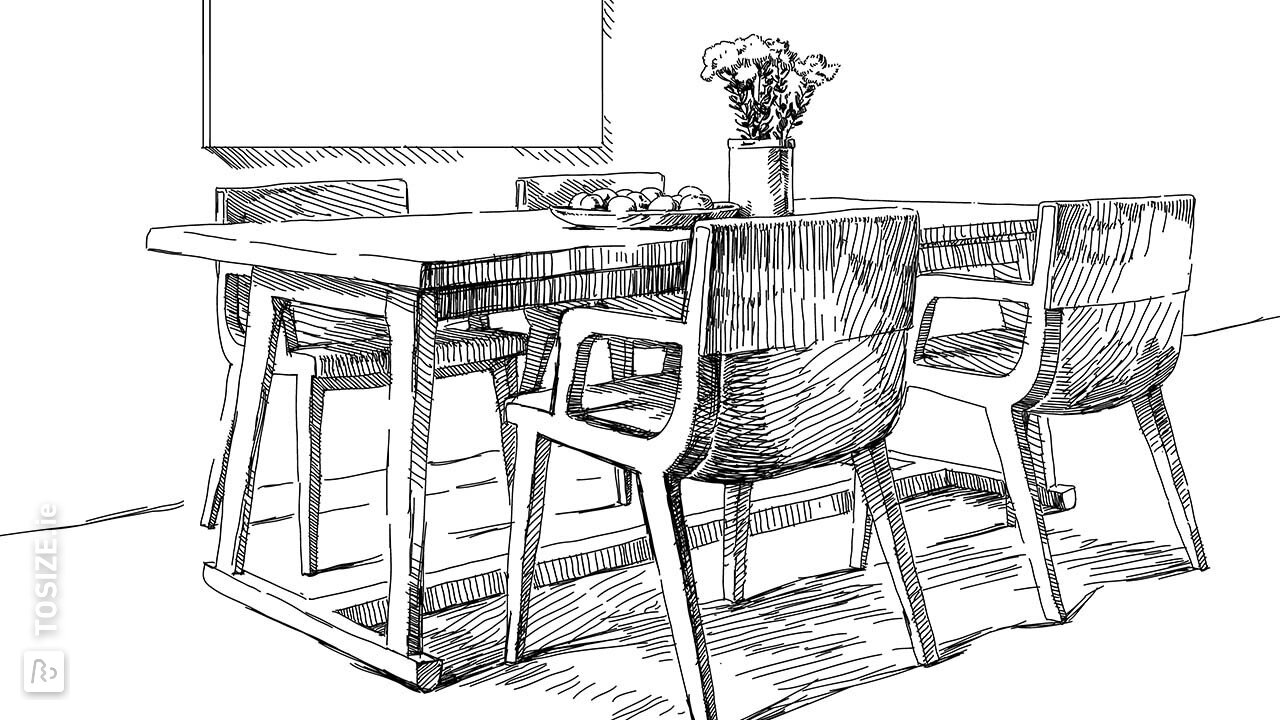 An evening of inspiration via Pinterest is also always a good idea. Pinterest is a digital pinboard where you can collect the most beautiful and inspiring furniture you see on a board by 'pinning' it.
Complete your design with the help of a checklist, which you can find later in this article!
Choice of material for the table top
The material of the table top determines the atmosphere of the room where it will be placed. Even the type of wood can influence the look of your interior. A custom-made solid oak tabletop, like a tree trunk, will give you a different feeling than a tabletop made of the popular and modern board material Underlayment Finnish Spruce. And old wood that is given a second life as a table, such as planks from a gym, does something to the room. Try to describe the atmosphere of your interior in a few words and then see which type of wood is best suited to it. We will give you some explanations.
Table top with classic look
An oak tree top is, of course, the ultimate table that is at home in every interior, from classic to modern! However, a solid table top also has a price tag and this is not for everyone. The 'tree trunk table' is made from the core of a tree that is wide enough at the time to make a table top of it. The tree trunk has also been drying for at least three years. If you would not do this, cracks would appear in the wood over time, due to changes in humidity and temperature. In order to create a tabletop with a classic look, you can use, for example, carpenter's panel:
Timber panel
Timber panel is a solid wood panel and has a warm and natural appearance because the wood grain is visible. It is available in pine or spruce. Pine has a light colour whereby the knots and flames are striking. In comparison to pine, pine is slightly more yellowish in colour and slightly heavier in weight. It is a somewhat tougher type of wood, making it easy to work with.
If you treat your Timmer panel as a tabletop with a classic stain, you can create the desired look of the wood yourself. You can also use teak oil to treat the Timmer panel table top. This will add colour and character to the Timmer panel and give it the classic look you are looking for.
Table top with robust appearance
Making your own table from scaffolding wood is a fun job! Scaffoldwood is an enduringly popular material with a robust appearance. It can be a rough material and requires some background information when it comes to processing.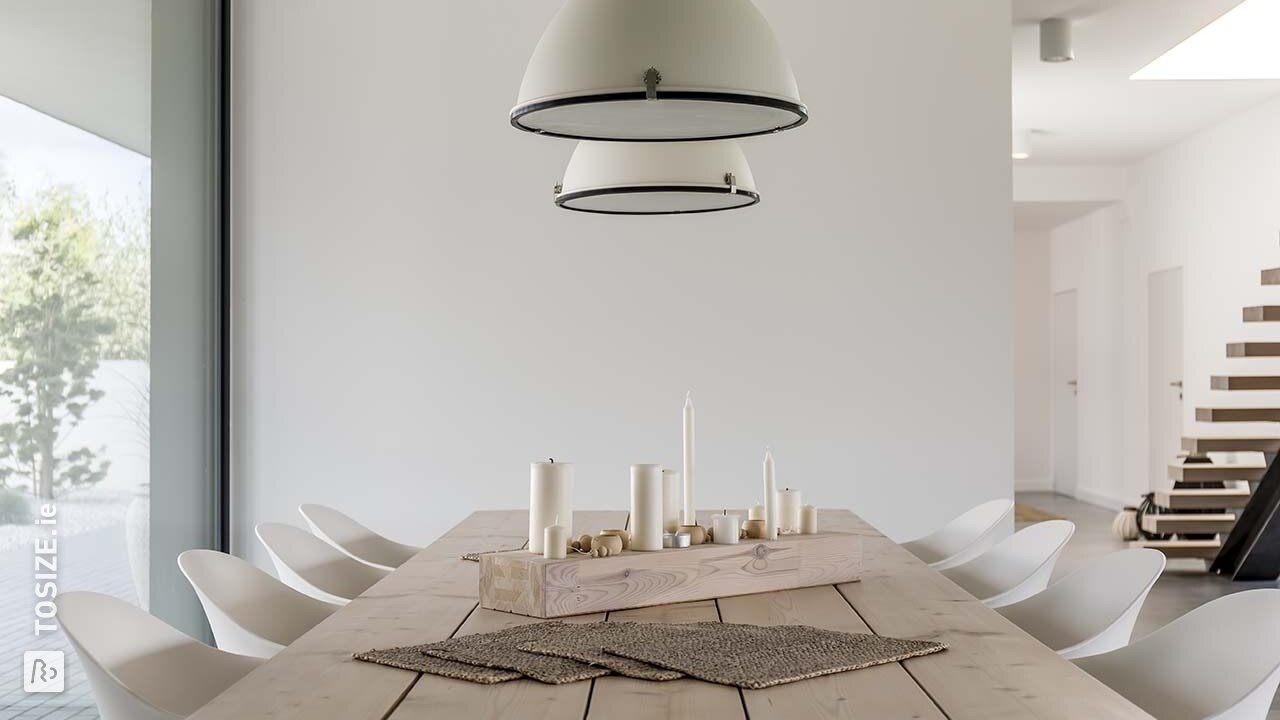 Scaffoldwood
Scaffolding boards are made from raw pinewood. This means that the planks have not been planed, which gives them a robust look. It also means that the planks are not entirely straight here and there and that the dimensions may vary somewhat. For a really tough look!
It is possible to reduce the roughness of the scaffolding planks by sanding them. Well as pleasant with a table top of scaffold wood planks. This is just not advisable for the scaffolding planks with a colour, because you will then sand off the colour! If you want to sand the planks, use Scaffoldwood or Scaffoldwood after-dry. You can of course still treat the plank with a scaffolding wood stain to get the right colour. This creates the robust appearance that a table of scaffolding wood should have.
Table top with modern look
The natural colour of many sheet materials is currently a popular interior design trend. It is a trend that comes from Scandinavia, where a lot of white is combined with light wood and pastel colours. Untreated wood is common, but in the case of a custom-made tabletop, it is advisable to treat the material properly. This ensures a longer life for the furniture. If you choose a transparent oil or varnish, you retain the natural look of the material and thus the contemporary atmosphere. Examples of sheet materials that are strong enough for a tabletop:
Underlayment Finnish Spruce
Underlayment is a structural board that is primarily used as a subfloor. This is where it gets its name, but nowadays it is used for many more applications. It has a nice neutral appearance which makes it a popular material for decorative applications, such as furniture and worktops.
Underlayment Finnish Spruce is a plywood consisting of 7 layers and is made from Finnish spruce. Just like other types of plywood, Underlayment Finnish Spruce consists of different layers of wood veneer. These layers are glued crosswise to each other, which makes the panel very strong and hardly works. These are also the advantages of Underlayment as a tabletop in comparison to solid wood.
OSB3
OSB is a structurally strong board that is widely used as a construction board, for example for floors, walls or panelling. Due to its industrial but natural appearance, OSB is also increasingly used for decorative applications such as furniture. Perfect material for a modern table top! OSB is made from compressed wood chips and therefore belongs, like MDF and chipboard, to the family of fibreboards. With OSB, the coarsest wood chips are used, which are all laid in the same direction and then pressed. An OSB board usually consists of 3 of these layers, with the inner layer lying crosswise on the outer two layers. This makes the board very strong. To make an OSB board, almost no waste is produced. The wood chips are already a recycled product. Therefore, OSB is becoming increasingly popular and is replacing plywood in many cases, because the production of OSB is more sustainable.
Multiplex
Plywood consists of different layers of wood veneer. These layers are glued crosswise to each other, which makes the panel very strong and hardly works. Because of the layers, the ends of plywood are beautiful to see and are often kept in sight. Beautiful when you see the tabletop from the side! With plywood, a wood grain is visible and this provides a warm and natural look. Plywood is an easy-to-process board and is available in birch, poplar, hardwood and okoumé. Birch plywood is perfect for use as a table top, choose a thickness of 40 mm. If you have a smaller budget, choose Poplar plywood.
MDF
You can also choose a table top made of MDF, but here it is necessary that you pre-treat and paint it in the desired colour, because untreated MDF is less attractive for a table top. Do you opt for a table top in MDF? Then make sure that it is at least 22 mm thick so that the table is strong enough. MDF belongs to the family of fibreboards. The board consists of wood fibres that are compressed under high pressure. This makes the material easy to process: when milling and sawing, the material does not splinter. The fibres are held together by resin. This makes it important to degrease the material well before painting You can find out how to paint nice and evenly in our handyman tip.
MDF can be finished very tightly and is a strong material. A good option, therefore, if you are looking for a modern and sleek table top.
The shape; from circle to triangle
A round wooden tabletop is a unique choice! In many homes, you see a table with a top in the shape of a rectangle. It is a practical choice, as you can easily fit many chairs around it. But if you want an eye-catcher in your home that will impress every guest, go for a wooden tabletop. Then go for a wooden table top in a different shape. At TOSIZE.ie you can easily order wood and board material in shapes and with different finishes Making a round table top has never been easier! A rectangle with rounded or bevelled edges is also a cool and contemporary alternative.
Are you looking for a particular shape or finish that is not among the options? Please let us know. We are developing all the time and maybe your request will lead to a new shape in our range! Send an e-mail to service@tosize.ie.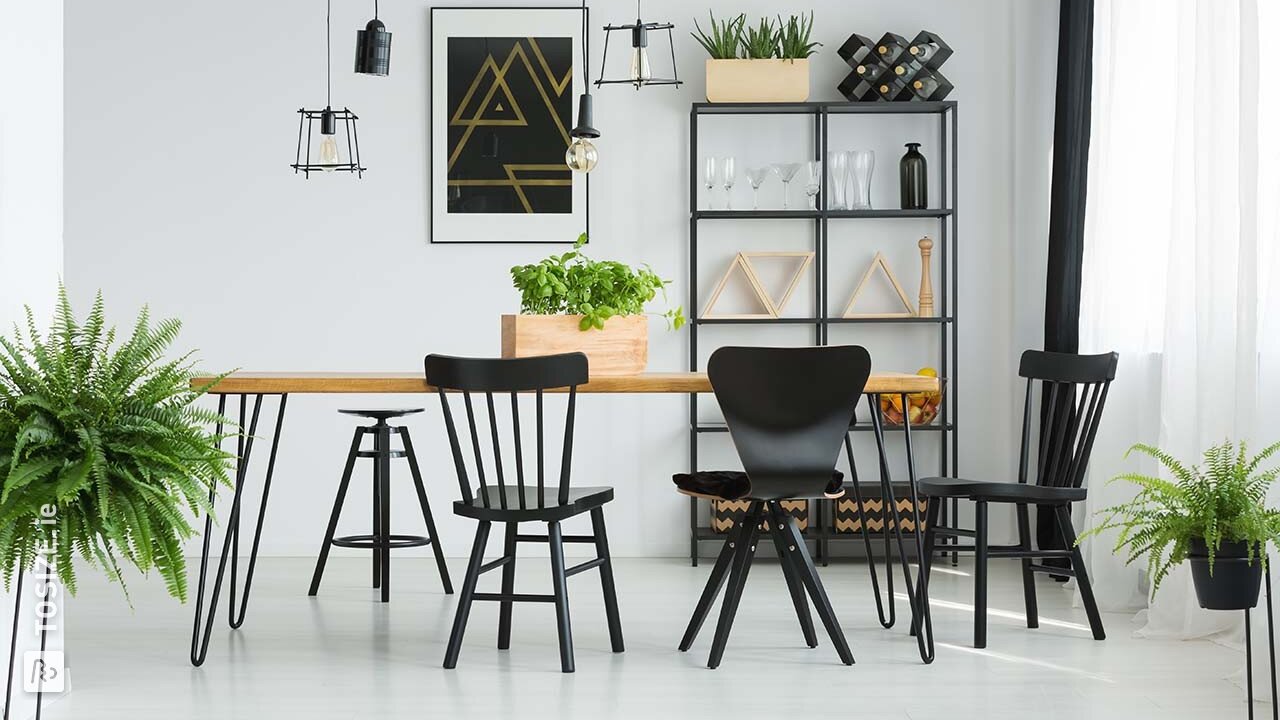 The chassis
Making a custom-made wooden tabletop is only the beginning. Then comes the assembly of the base to make it into a table. There are many table legs available that you can choose to fit under your wooden tabletop. Will you go for metal table legs, steel legs or a table with an iron base? Or do you prefer wood in the same material as the table top, or a more rugged combination? We once made a wastepaper basket of MDF Black V313 combined with OSB3. See the example of this combination here.
And what shape do you choose for the base? An 'X', a 'U', a butterfly foot, a cross foot or a monastery foot? And are you familiar with the hairpin legs as shown in the picture above?
Making your own base
Of course, you can also make your own base from wood. The TOSIZE.ie can help you with that! For example, choose the shape: rectangle with long bevel. This shape has two right angles. The two widths of the beveled long sides differ from each other.
Click here for an overview of the shapes we can cut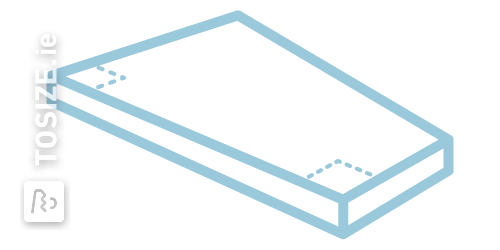 Wood table top treatment
A table top generally has to put up with a lot! An untreated table top that can take a beating and resist stains is not easy to find. So whatever material you choose, it is advisable to treat it with an Oil, stain or lacquer. Do you want to keep the original colour of the material? Then choose a transparent variant.
Checklist for a perfect wooden table top
Do you have enough information to make your own made-to-measure wooden tabletop? Go through this checklist before you start ordering wood or board.
Are you sure about the design?
What are the dimensions of the wooden tabletop? Have you checked whether this size fits into your interior? It helps to make a sketch of the room and reproduce the furniture in proportion. It takes some cutting and pasting, but it allows you to move around the furniture. You can then immediately see whether the size of the table top fits in with the other furniture in your interior.
Do you need any additional accessories to secure the wood of the table top together? Such as screws or wood glue?
What kind of support are you going to attach to the table top? Are you going to make it yourself from wood? Can this construction handle the weight of the table top?
Have you found an address that sells the desired table legs if you are not going to make them yourself? Do they fit proportionally under the table top you have made or are having made?
What are you going to treat the wooden table top with in order to extend the life of the furniture?
Have you thought about all the points? Then you are ready for the next step!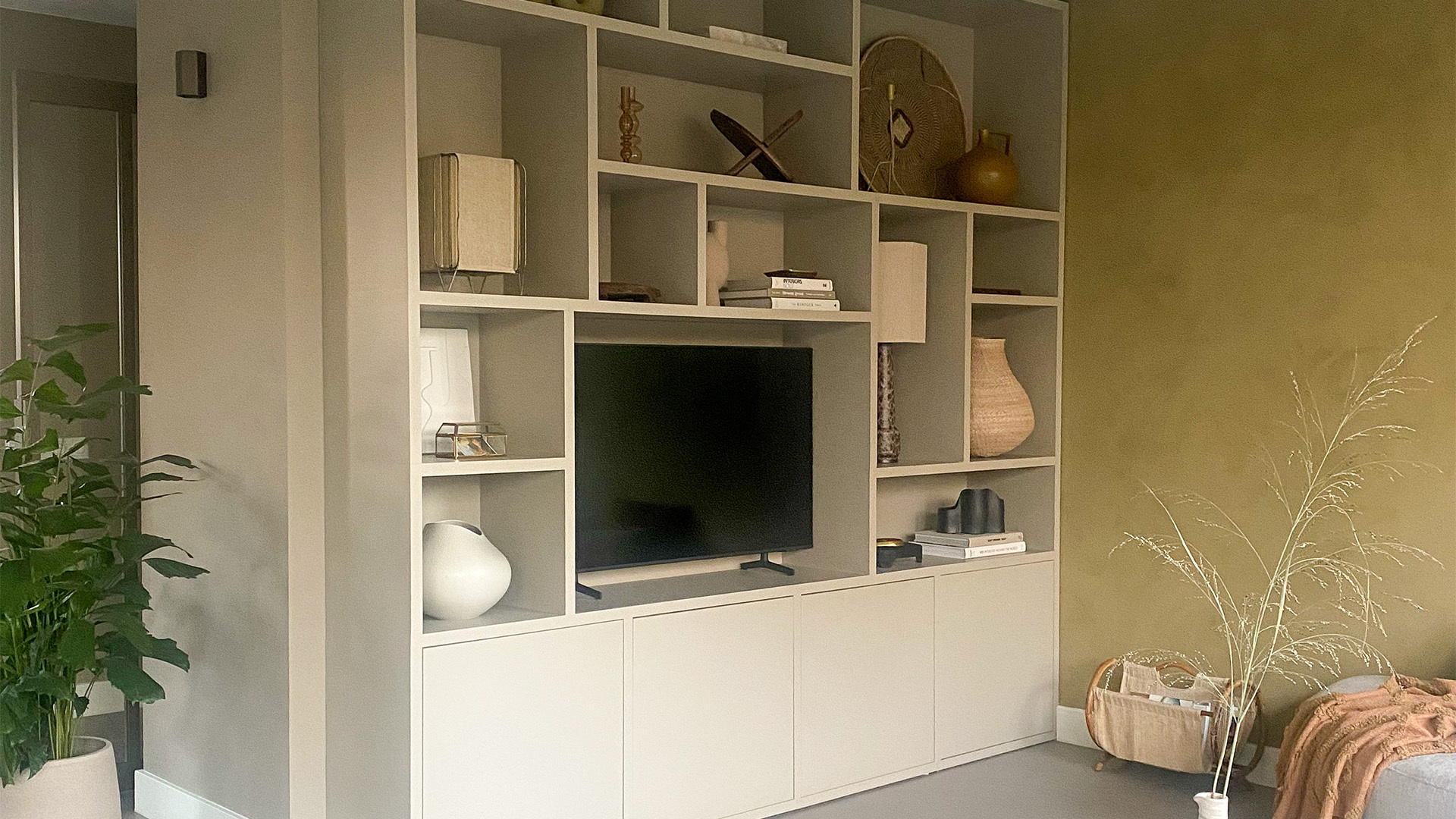 We make jobs even easier!
Easy as a kit at home.
Start designing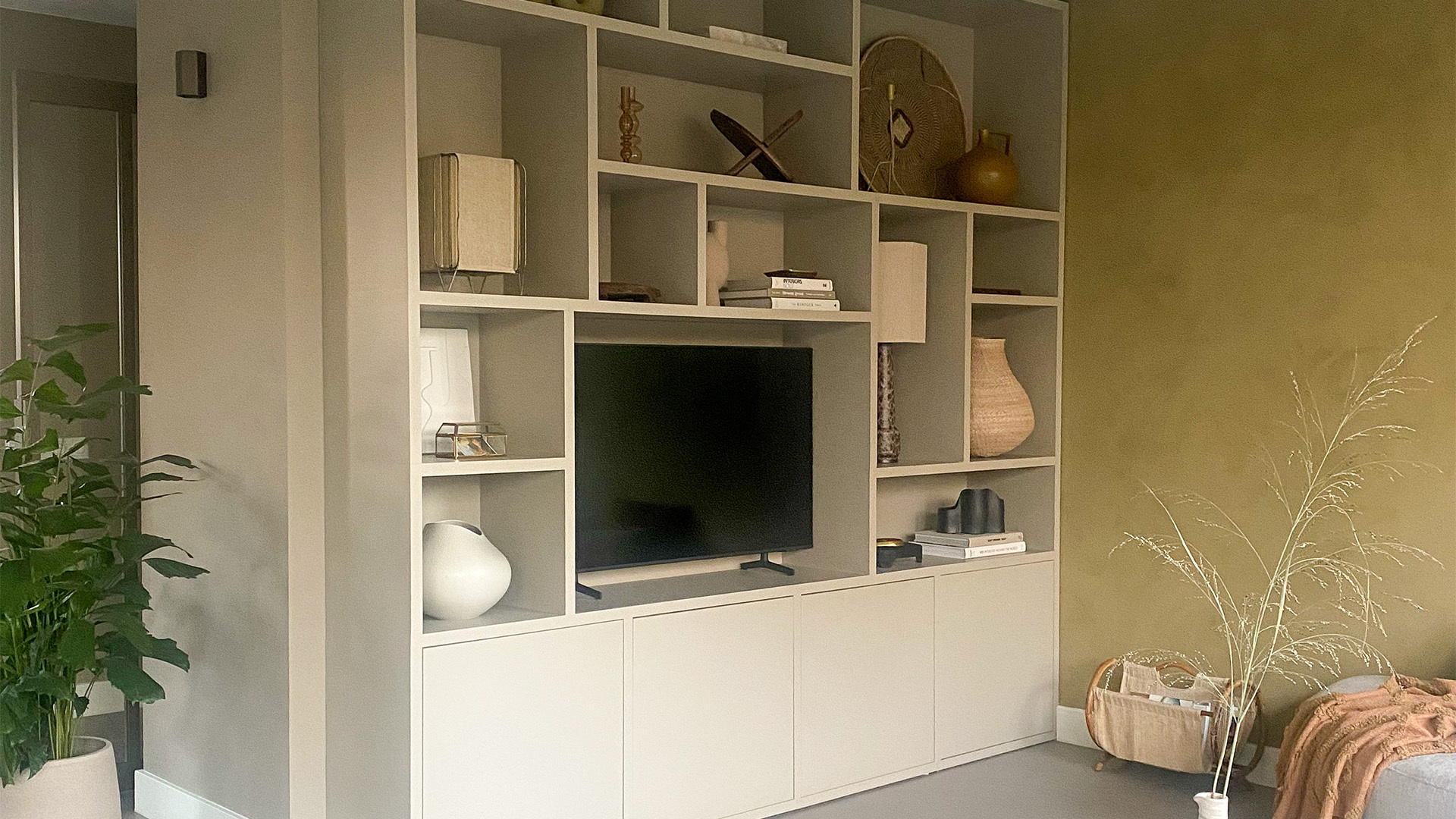 We make jobs even easier!

Start designing
Also check out these similar DIY tips