How to make a wooden magazine rack
Are you looking for a wooden magazine rack that you can easily make yourself? Then TOSIZE.ie is the place to be. With us, you order the wood directly to size and within a few days you will receive the millimetre-precisely sawn material at home. That is really handy! So you can start assembling the magazine rack right away. With this step-by-step plan, you know what to do!
Step-by-step plan for making your own wooden magazine rack
Do you already know exactly what the magazine rack should look like? There are countless variants to be found online, but which one is best suited to your interior? It depends on the material, the space where the magazine rack will be placed and of course, your style of living. If you place the rack in a public space, for example in a dentist's waiting room, it is also important that it fits in with the style of the space.
Step 1: Choose the material
The material of the magazine rack can vary from MDF to scaffold wood and from plywood to joinery board. Each wood or sheet material has its own characteristics, which allow you to make the magazine rack completely unique. We will briefly explain the various options so that you can make a targeted choice. We've put together a top 5 of the most popular materials for a magazine rack.
Top 5 materials magazine rack:
1. Poplar interior plywood
Plywood boards can be used for countless different projects. Plywood is currently widely used in interiors because of its light wood colour, wood grain and natural look. Plywood Interior Poplar is the lightweight variant of plywood. Plywood consists of several layers of wood veneer. These layers are glued crosswise to each other, which makes the board very strong and hardly works. Because of the layers, the ends of plywood are beautiful to see and are often kept in sight.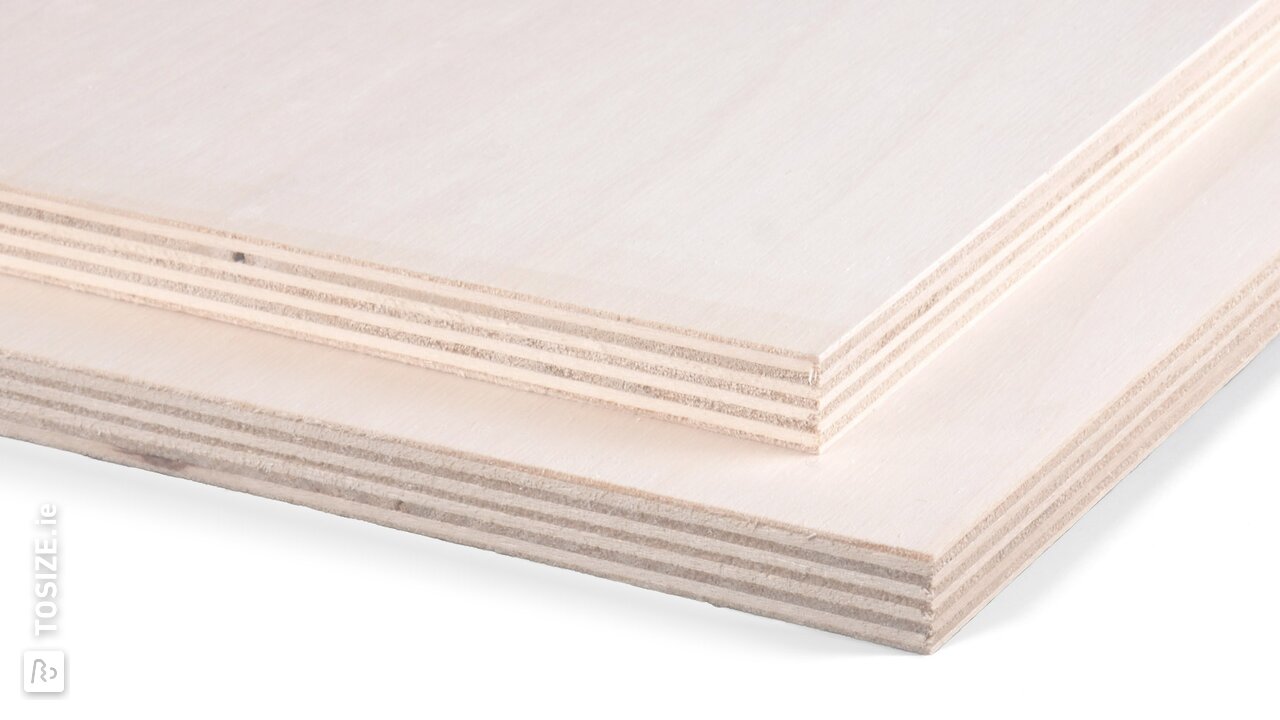 You can use plywood untreated or finish it with a transparent varnish. This way the material remains beautiful for a longer time and dirt has no chance to attach itself.
You can also choose to paint the plywood, except for the ends. This gives the magazine rack a special look, because the ends of plywood are very beautiful to see. In this case use Plywood Interior Poplar Primed. With this variant, a primer has already been pressed onto the plywood, so you can start painting straight away.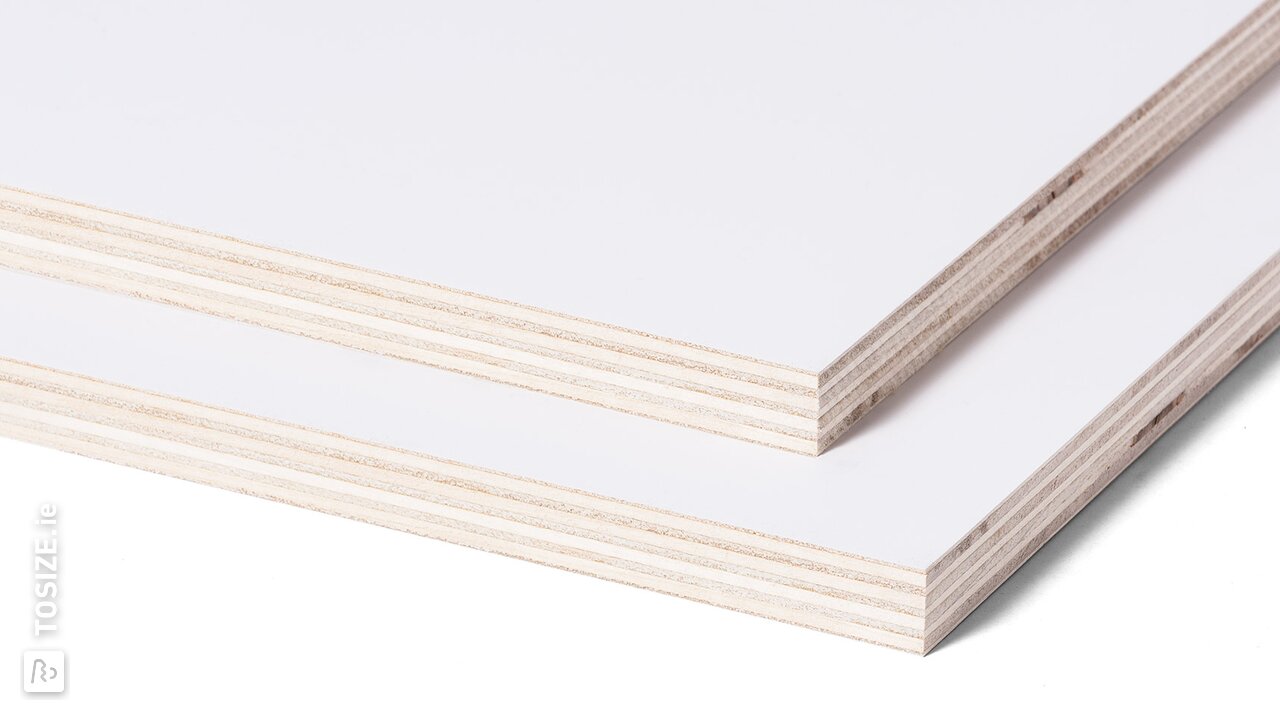 2. Finnish spruce underlayment
Underlayment Finnish Whitewood is similar to underlayment, only Underlayment Finnish Whitewood is of a better quality. Because of this good appearance quality, Underlayment Finnish Whitewood is also suitable for furniture and other decorative applications. It is made of Finnish spruce, which gives the board a natural look due to the wood grain and the bright colour. Here too, the board is built up of several layers, which makes the sides attractive to look at!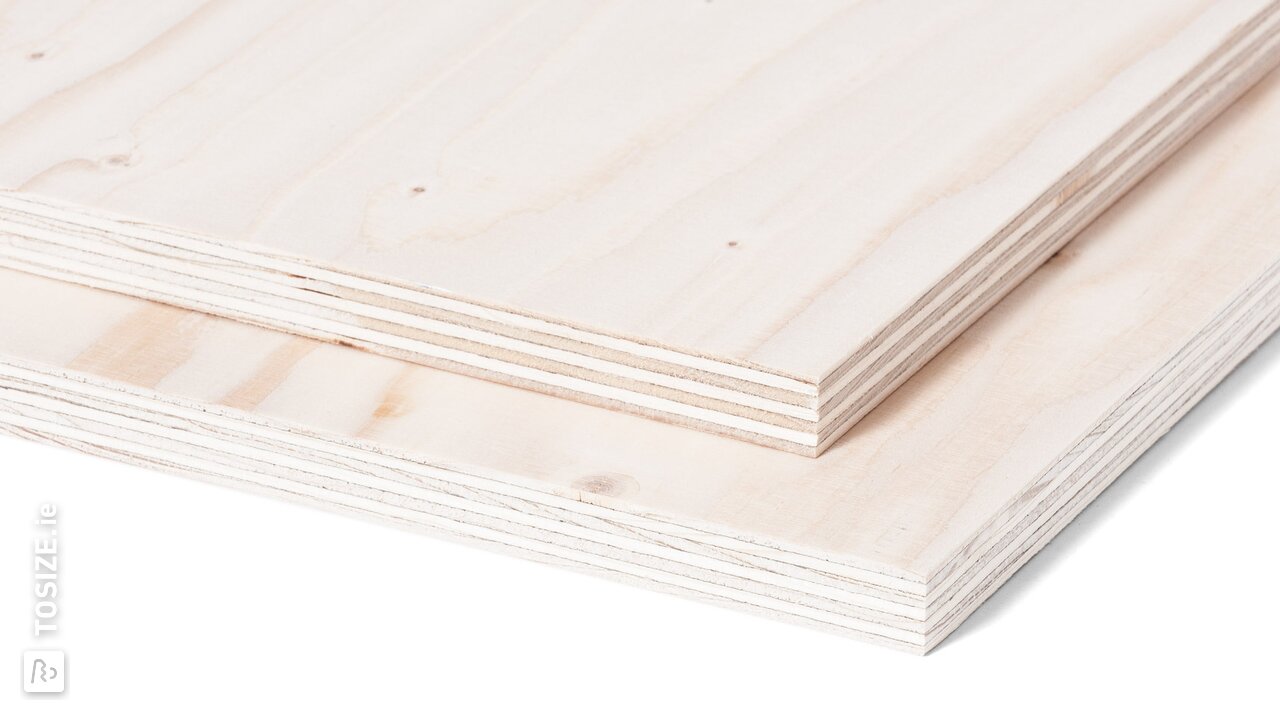 3. Scaffoldwood
Scaffold wood planks have a robust appearance. The planks in our range are new (not used in construction, so no nails in the planks) and made of rough (unplaned) pinewood. This also means that the boards are not entirely straight here and there and that the dimensions may vary somewhat. So for a real tough look! The width varies between 18 and 20 cm, the thickness varies between 30 and 32 mm. So when you order 20 cm wide or 30 mm thick from us, the dimensions may vary slightly. It is possible to reduce the roughness of the scaffolding boards by sanding them. You can then possibly treat the plank with a stain to give it a colour.
Unique details
In some magazine racks, the loose planks of the scaffolding wood have been sawn into the shape of houses at the top. This gives a playful effect to the magazine rack. So you can also use forms targeted by a magazine rack for example, the nursery, where you replace the magazines by the best children's books!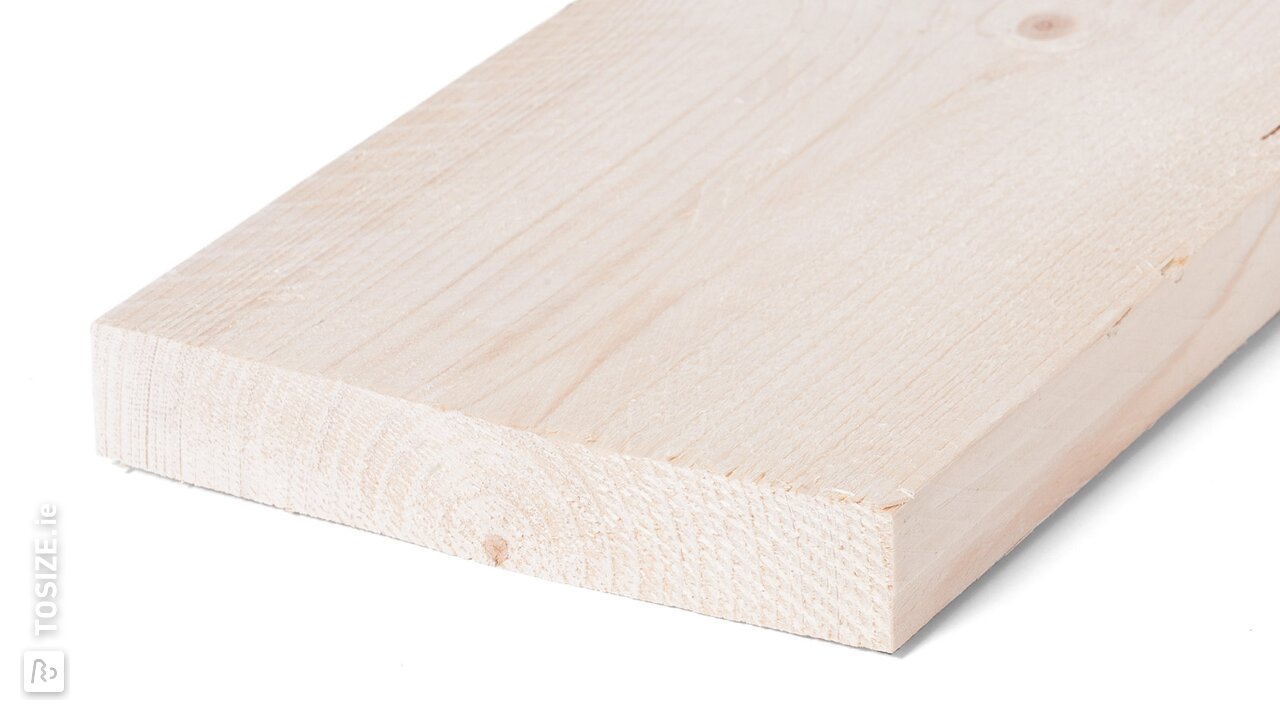 4. MDF
If you want to paint the magazine rack in the colour that suits your interior, the best way is to use MDF Paint Carrier. A lacquer-bearing film is pressed onto this fibreboard that makes priming the material unnecessary. Ideal if you choose to paint the magazine rack, for example, to match the colour of the wall in the living room.
The use of black and white is an interior design trend that is currently seen in many interiors. Does this appeal to you? Then use  MDF Black Water-resistant for a great result of your magazine rack. Curious about the features of this product?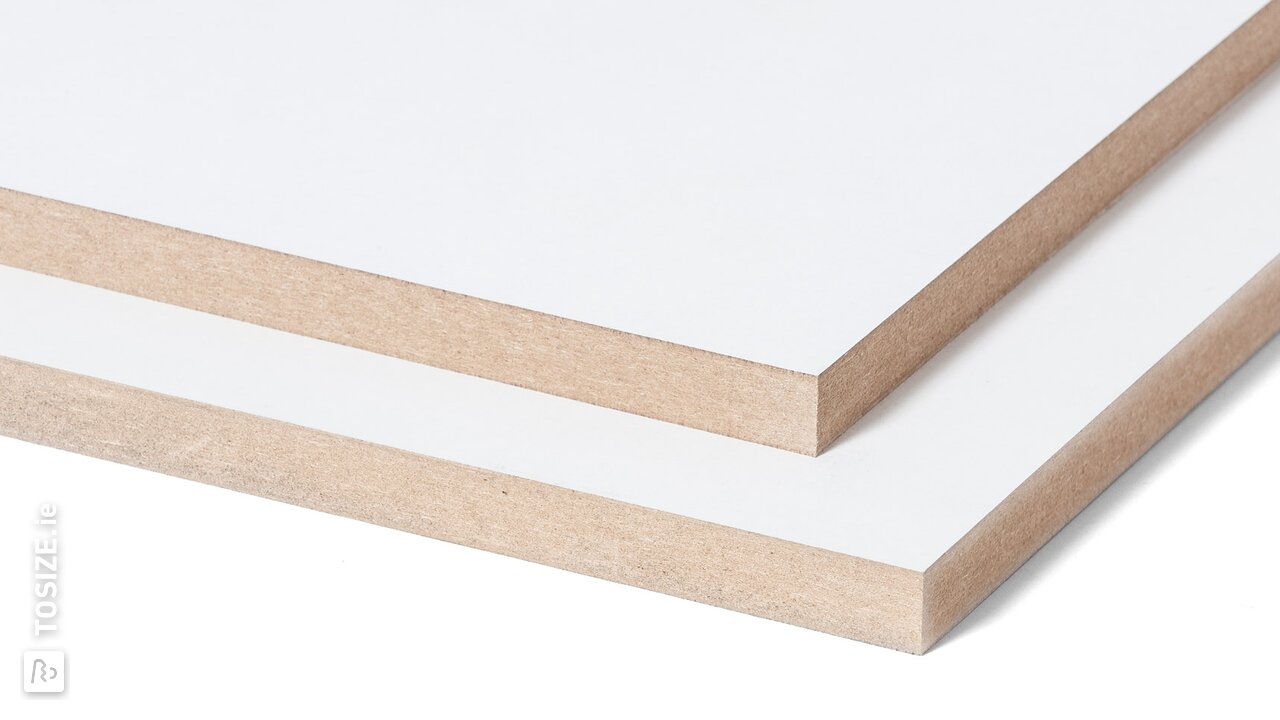 5. OSB
OSB is a structurally strong board, which is widely used as a construction board. Due to its industrial appearance, OSB is also increasingly used for decorative applications, for example for a magazine rack! OSB is made from compressed wood chips and is therefore a sustainable product. The wood chips are already recycled in the basis. The warm wood colour gives the material an atmospheric appearance and makes it a beautiful part of your interior.
Want to know more about the different materials? Then read the product descriptions at the specific material type.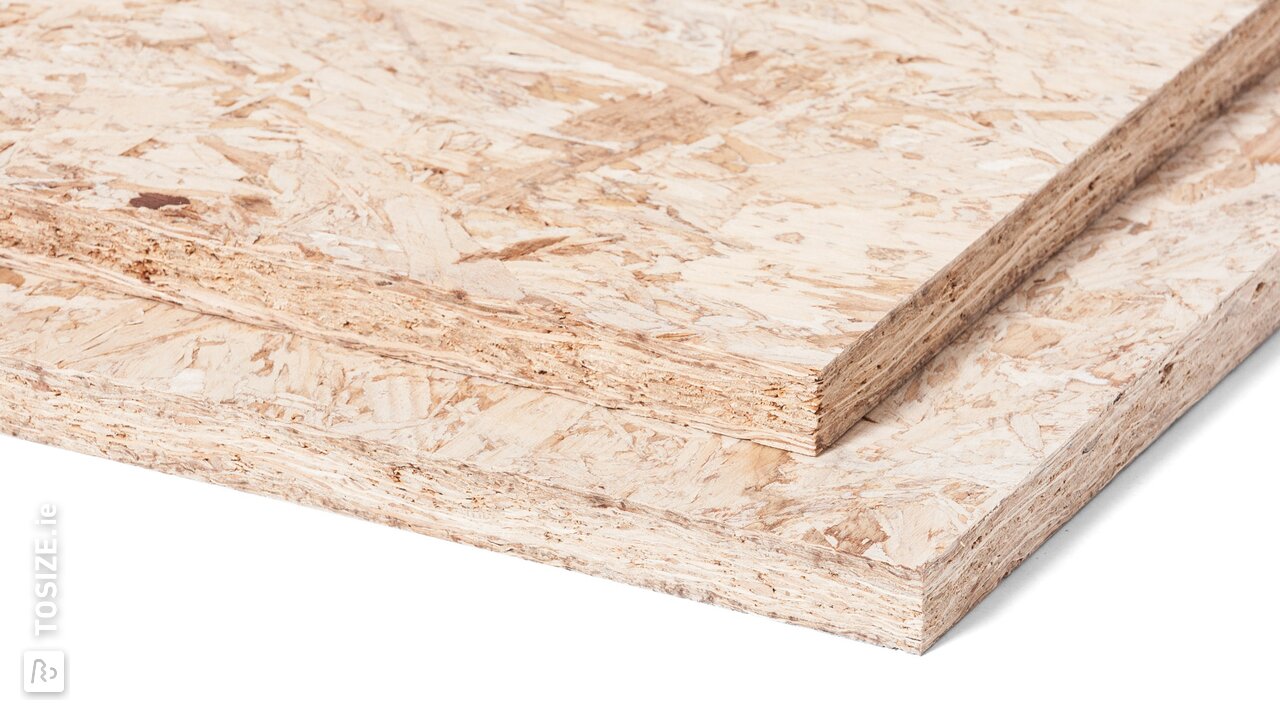 Step 2: Create a design
Have you been able to choose from the various types of material? Then it's time to get to work on a design that complements your interior. For example, will you choose a minimalist magazine rack or will you go for a variant that looks robust and atmospheric? In a large living room, a magazine rack might look better than a small, compact one. In short, think carefully about the size you want and, depending partly on the material, what you want the rack to look like. At TOSIZE.ie you can also have wood and sheet material sawn directly into shapes For example, mitred edges can be very nice to make an invisible joint, and edge finishes  are also possible. Think out-of-the-box, i.e. do not be limited in your design by the sawing possibilities or tools you need for something. At TOSIZE.ie, more is possible than you think!
Collect examples
Go online and look for examples of styles and materials that you like. Pinterest is full of them! Then create the ideal design for you and make a sketch of it. A visualisation of your idea will help you to discover whether the design is feasible, what the dimensions are and how you can build the structure. Do you have a clear picture of all these things? Then you can start ordering the materials.
Step 3: Material cut to size
Based on your design, enter the desired dimensions on our website TOSIZE.ie. In this way, you can create a clear cut list online. You can also give the parts of the magazine rack a reference during the ordering process. This is very handy so that you know exactly which part is which for your project when you receive the material at home.
Order accessories directly
Did you know that at TOSIZE.ie you can also directly order the necessary Accessories such as wood glue, screws, sandpaper or paint. We add this to the ordered wood or plate material and upon receipt you can start building the job. In no time, your magazine rack will be showing off in your living or study room.
Step 4: Share your result!
As you can imagine, we're dying to see what your magazine rack looks like. We hope that this guide has helped you to create a stunning magazine rack of your own. Your idea might inspire others. So why not share your design online with TOSIZE.ie. We'd love to!