Step-by-step plan; How to make a TV cabinet from wood in 5 steps
Are you itching to get started with a piece of wood TV furniture? Making your own TV furniture is certainly not an impossible task, even for a beginner. We are happy to help you on your way! In 5 steps, you can make your own wooden TV stand.
Step 1: Make a blueprint
Do you already have a clear design in mind? Will it be a TV cabinet or even a TV wall made of wood? Whatever the design looks like, it helps to make a simple working drawing of your idea. This asks you to think carefully about the feasibility of your design. Will you make the TV stand floating or will you put wheels under it, for example? Have you thought about the construction and which accessories you will need for this? And how do you arrange the TV cabinet conveniently?
If you are looking for inspiration to find a suitable construction plan or beautiful examples, Pinterest is your best friend. Here you can gather all your online inspiration to create a beautiful design.
Step 2: Determine the material
A TV unit made of scaffold wood or a TV unit made of MDF? The choice of material is enormous. See our full range of wood and board material here. Choose a material that matches the style of your interior for an attractive result!
Step 3: Collect your material as a kit in the shopping basket
Based on your drawing and the chosen material, you can easily compile a saw list. This is a list of the supplies in the right format; your own construction kit for the wooden TV furniture. At TOSIZE.ie we will saw the planks to the exact mm so that you can start building your TV furniture right away. You can create the sawing list directly online at TOSIZE.ie and give each plank its own characteristic. If you write this down on your working drawing, then you don't have to search for the different parts of the TV unit while you are working. That is handy!
Step 4: Add accessories
You cannot put together a TV unit with just the wood or sheet material. Accessories such as screws, hinges or handles are also indispensable for this job. Did you know that you can also find these accessories in our webshop? Click here to see the accessories.
Step 5: Order your kit and get it home in no time
Once you have thought the job through, calculated the materials you will need and filled your shopping basket, you will have put together your own building kit. And without too much effort! Do you want to double check your design? Then take a look at our TV furniture checklist below and adjust your order as necessary. As soon as you have ordered the wood or sheet material for your TV furniture, our sawing specialists will get to work. In no time at all you will receive your construction kit at home and you will be able to assemble your TV furniture by yourself.
Thought of everything? Do the check!
A TV stand has a specific function, namely to make watching TV as comfortable as possible and it should also be an attractive addition to your interior. A major annoyance with a TV cabinet is the mess of wiring in sight! To avoid this and other design errors, we have compiled this checklist:
Can you hide the cords?
Is there a compartment wide and deep enough to store the TV receiver?
Is the function of the other cabinets appropriate for the current dimensions?
Is the height for placing the TV adjusted to your desired 'viewing height'? To be able to watch TV in a relaxed manner, it is advisable to determine the viewing height on the basis of your height, the height of the sofa and the desired viewing position. If you don't do this, your neck or back may suffer.
Have you thought about invisible connections at the front of the TV unit?
Can you answer all questions with YES? Kudos to you! You have thought of everything.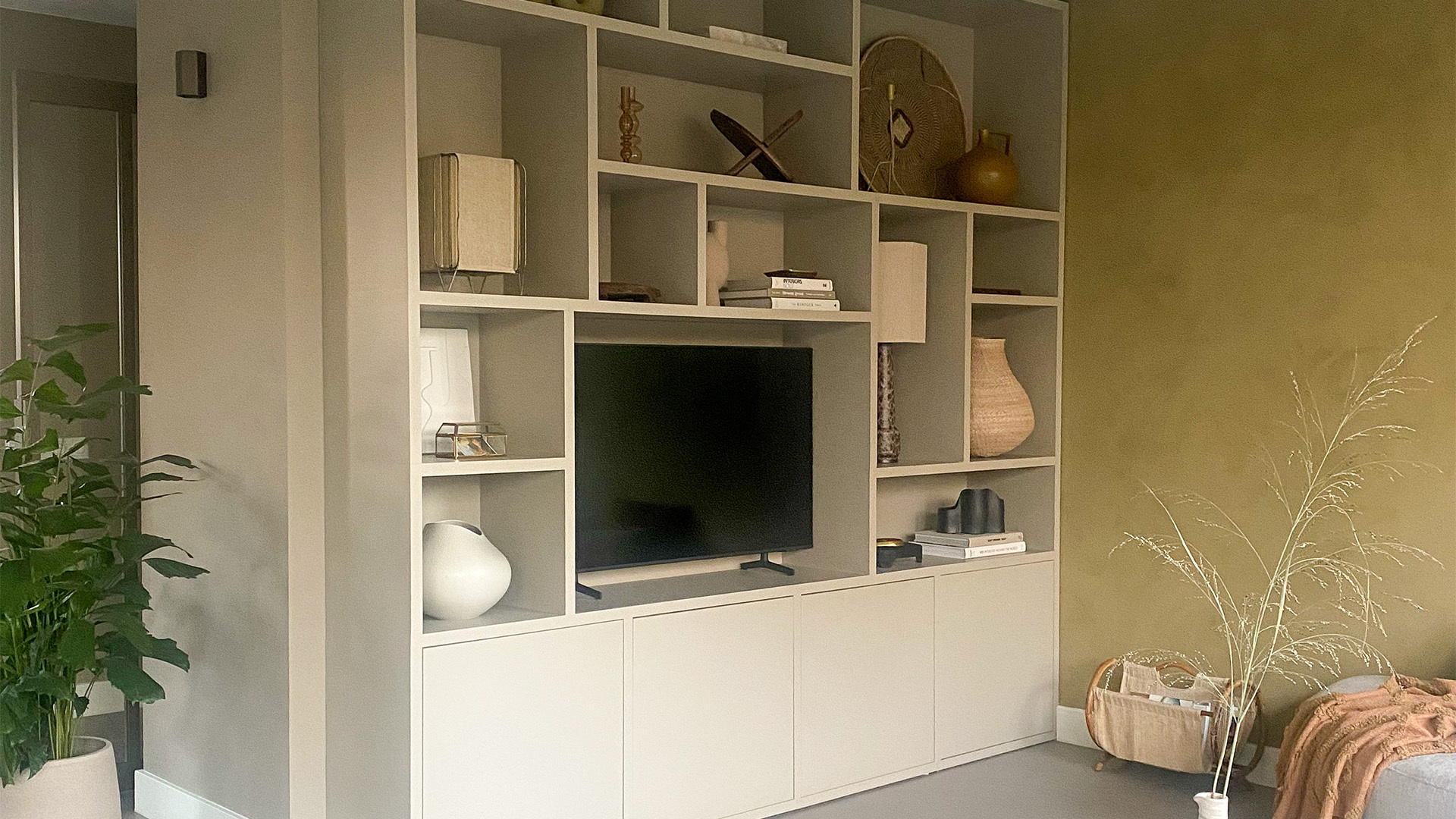 We make jobs even easier!
Easy as a kit at home.
Start designing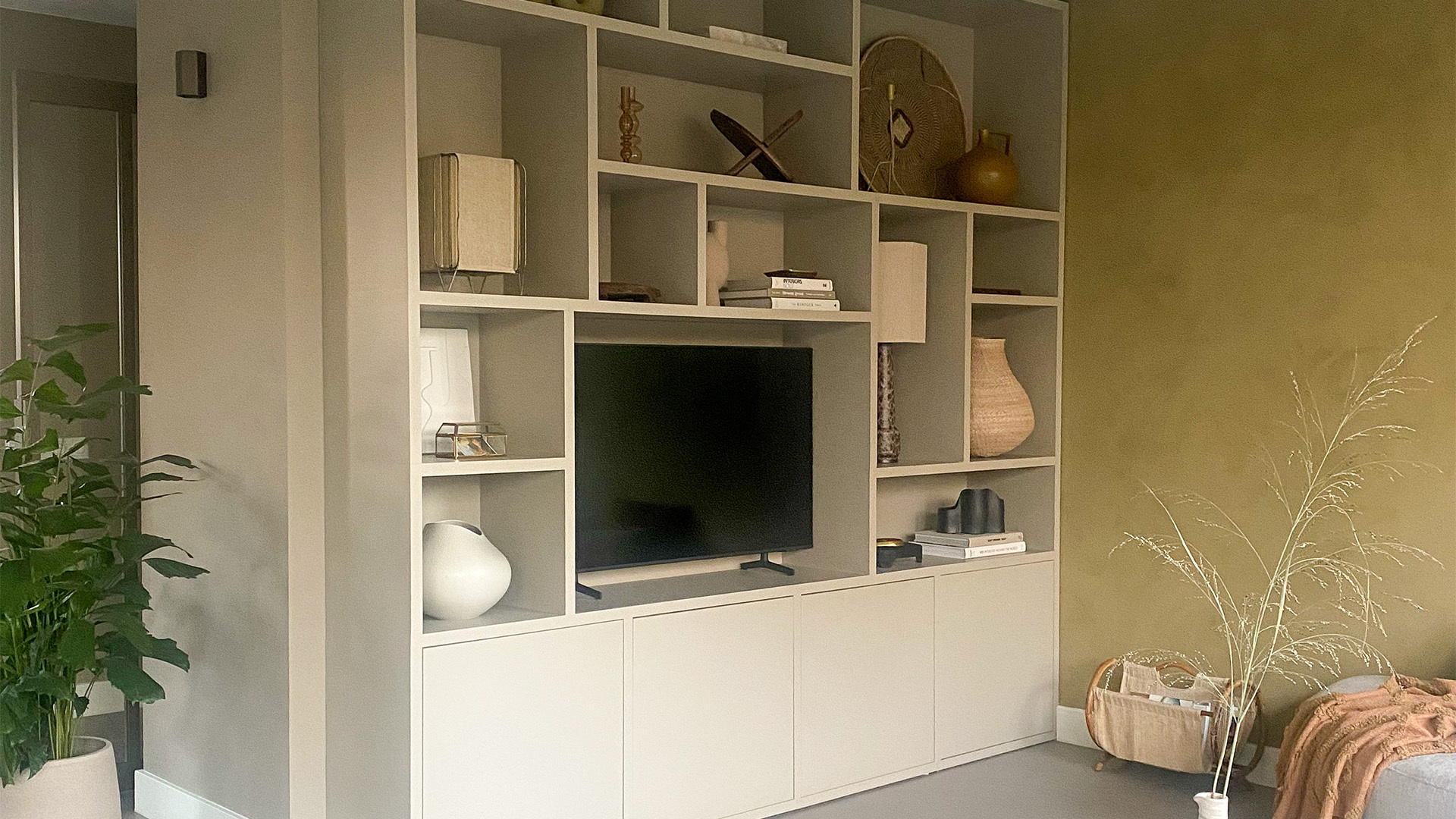 We make jobs even easier!

Start designing
Also check out these similar DIY tips