Make a sleeping and playing paradise, just like Hilde!
Hilde turned her cupboards into a bed and play platform with custom sawn Underlayment and MDF! Curious to see the result? Then read on!
Make something new with what you already have!
Giving your interior a new look does not always have to be done with new furniture. There are lots of things you can do with the furniture you already have! A fresh coat of paint on that old cupboard, new upholstery on that worn-out chair or even a whole new piece of furniture by converting your old furniture! This is what Hilde did with her cabinets and cut to size Underlayment and MDF. The end result? A great combination of bed and play platform!
The beauty of making something yourself
Thanks to large home furnishing shops and the Internet, the range of furniture is larger than it has ever been. As a consumer, you have a lot of choice. Nevertheless, it is difficult to find something that completely fulfils your wishes and requirements. Why is that? Because you are unique! You have a unique taste, unique wishes and a unique interior. It is very difficult to find something that meets all your criteria, so why not make it yourself? You decide on the shape, style and dimensions and you get something unique in your home. You don't have to make all the parts yourself, you can also use existing furniture and turn it into your unique project. This is what Hilde also did!
What Hilde has made
Hilde used IKEA cupboards as the basis for her project. This saves a lot of technical hassle during DIY and gives a new purpose to the cupboards! Of course, the cupboards aren't quite the right size - that's just how it is with ready-made furniture - but she cleverly solved that by placing MDF Natural  at the edges as padding. This is what Hilde had to say about it:als opvulling aan de randen te plaatsen.
Bed/play platform with storage made with 18mm sawn-to-measureUnderlayment Finnish Spruce from you in combination with IKEA Metod upper and lower cabinets. The fitting pieces on the left and right are also yours, made from 18mm MDF and have yet to be lacquered. The Underlayment remains natural. Our son is very happy with it!
Glad he is happy with it Hilde! We hope that he will enjoy it for a long time to come!
Go to work yourself!
Do you want to get started? That's great! You can think of something completely new and make it yourself, but you can also work with furniture you already have! Do you want to convert old cupboards into something new, make a new table top, or something completely different? It is all possible. We leave the idea up to you, but we have already made a small selection of plate material that can be a nice addition to your project.
Underlayment Finnish Spruce
Underlayment Finnish Spruce is the material that Hilde also used for her project. It is a panel material that is very similar to plywood. Just like plywood, it consists of multiple layers of wood veneer that are glued together crosswise, in this case the layers are made of pine. This pine wood is light in colour and has a clear wood structure, thanks to the visible wood grain and knots. With this material, you give your project a natural touch.
View Finnish Spruce underlayment in the webshop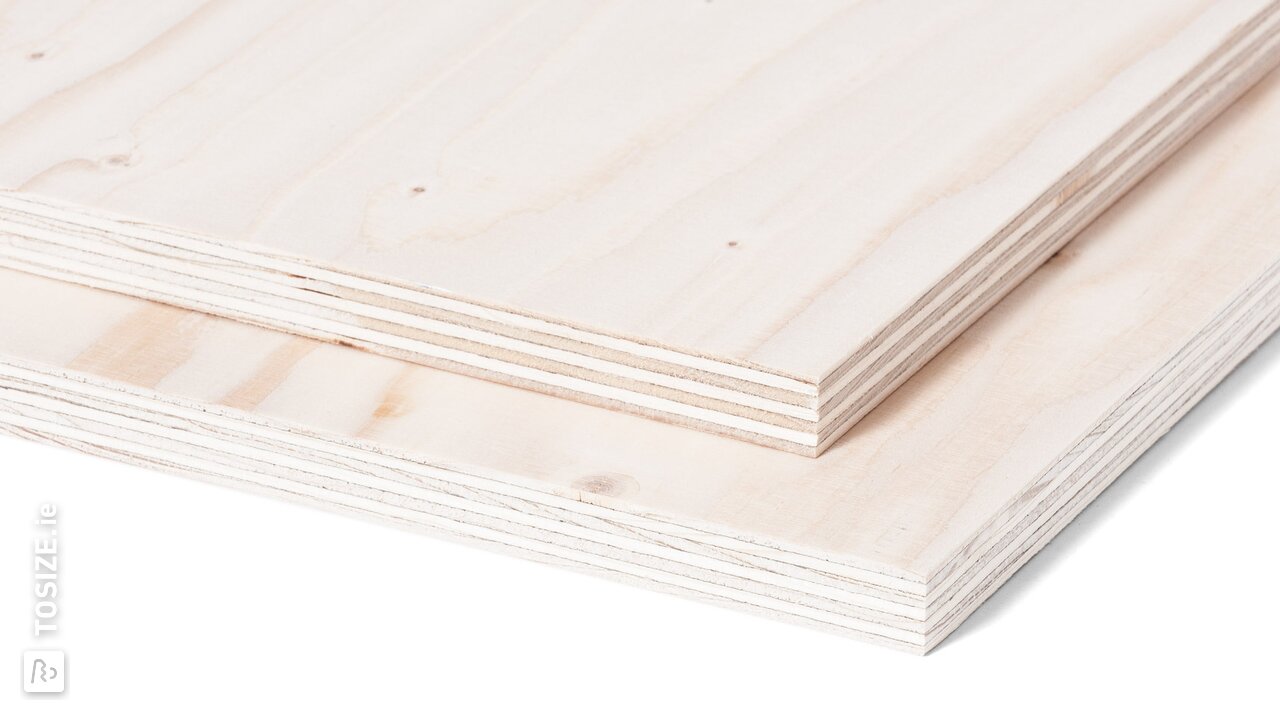 OSB 3
OSB 3 is a fibre board. This means that it consists of wood fibres pressed into a board. Wood chips are used for this in OSB 3 and you can see that! The visible wood chips give the material a tough appearance and ensure that it is super strong. OSB 3 fits well in an industrial style and contrasts beautifully with black components.
View OSB 3 in our webshop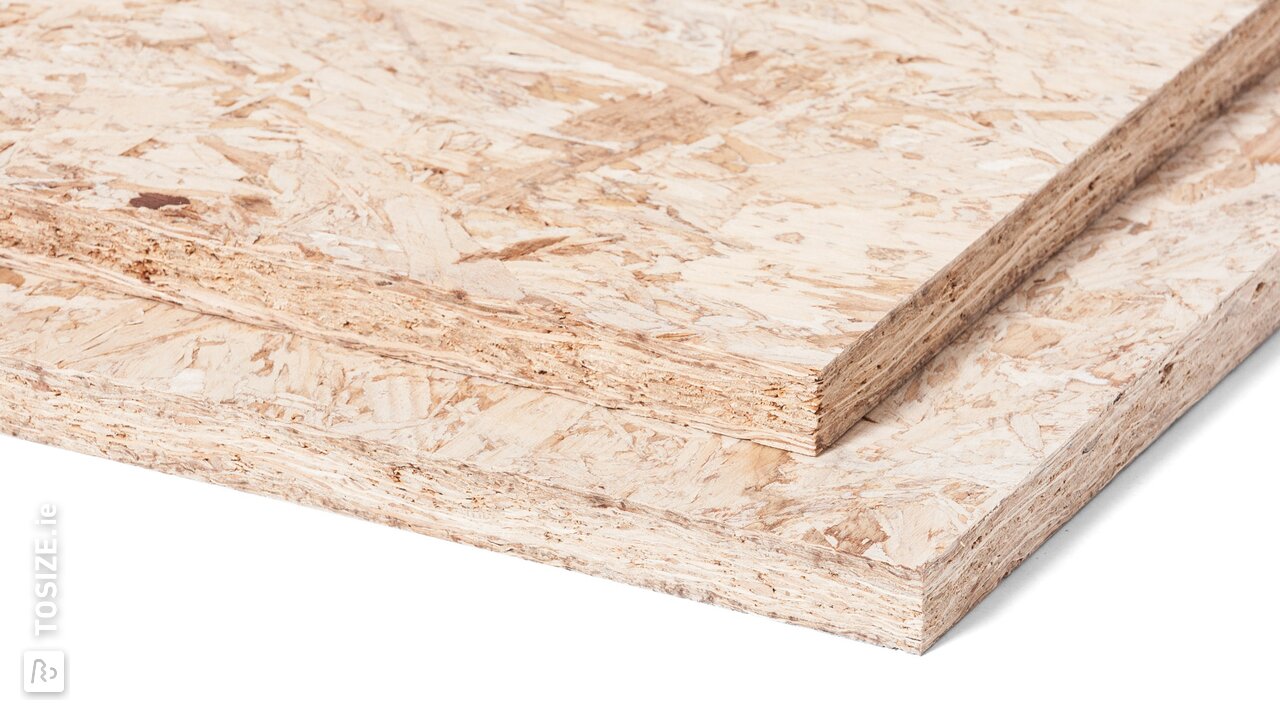 MDF Black
Speaking of black... MDF Black is an MDF board that is coloured black right to the core. Just like OSB, MDF is a fibre board, but where coarse wood chips are used in OSB, very small wood fibres are used in MDF. This gives the material a tighter appearance and it is also much flatter. In the case of MDF Black, a black pigment is added during the production process. As a result, the material is coloured black right to the core. You can still see some wood fibres here and there, which gives the material a blended appearance.
View MDF Black in our webshop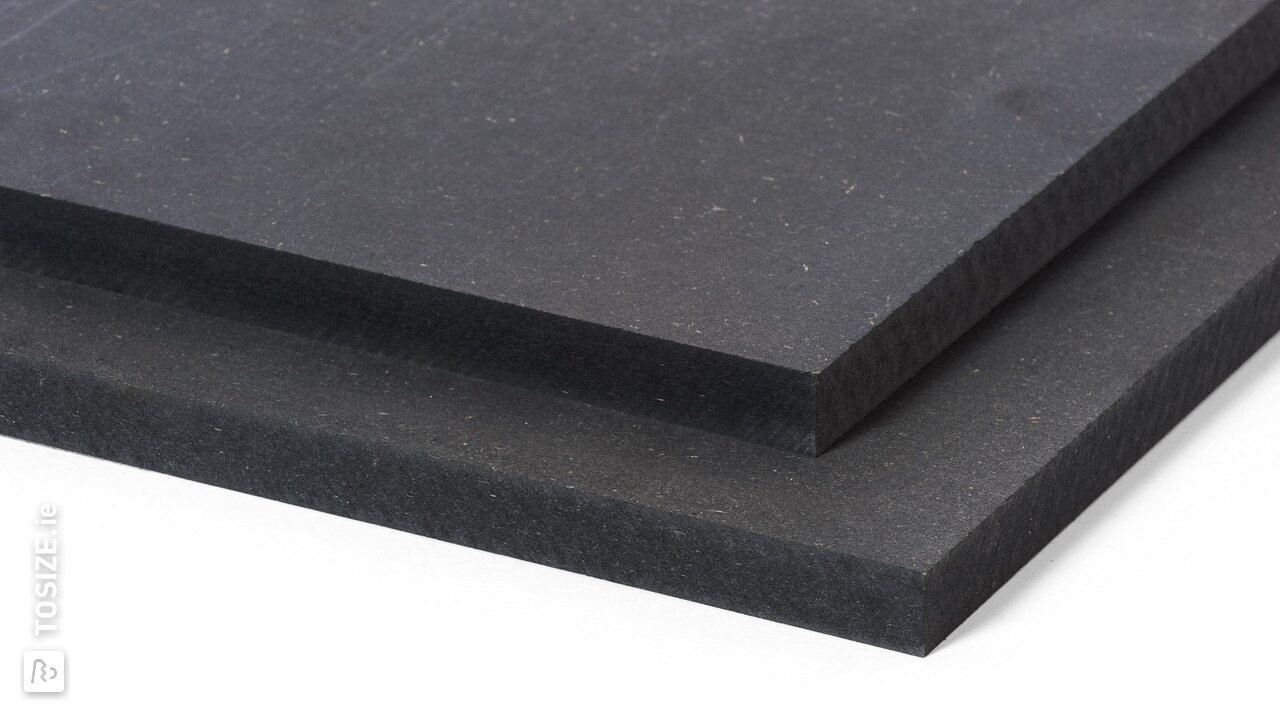 Multiplex Interior Poplar
Multiplex Interior Poplar is a light plywood board. Not only in colour, but also in weight! The poplar wood that has been used for this has a calm appearance because flames are much less noticeable and there are almost no knots. This is also the big difference with Underlayment Finnish Pine, which has a much wilder look. Interior Poplar plywood fits in well with a light and cheerful interior, for example with a Scandinavian style.
View Multiplex Interior Poplar in our webshop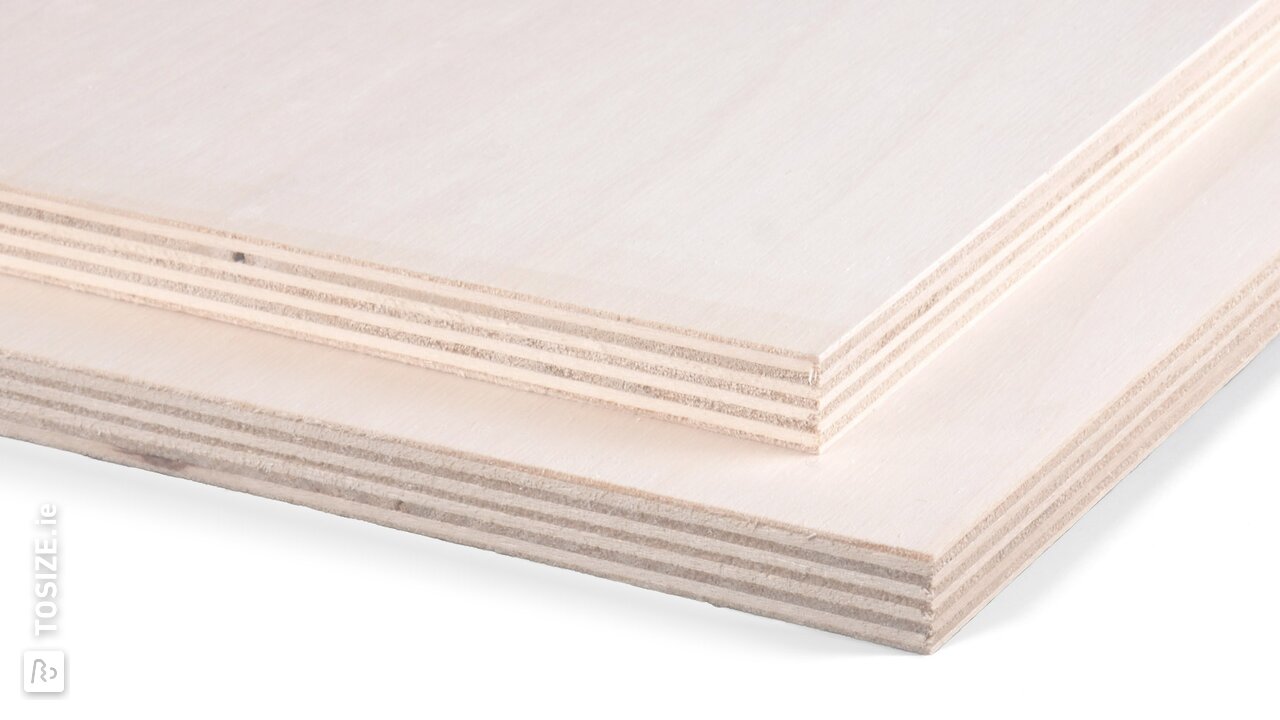 Pine joinery panel
If you want to create something that has a solid wood look and feel, look no further than joinery panel. Carpentry panels are made by gluing solid wood slats together. This creates a panel that looks like a solid wood panel, but in fact consists of several pieces of wood. This variant of lumber panel is made of pine. Pine is a somewhat tougher type of wood with a light colour. It looks a lot like pine wood, but has a slightly more orange colour. It therefore has a slightly warmer appearance.
View Pine joinery panel in our webshop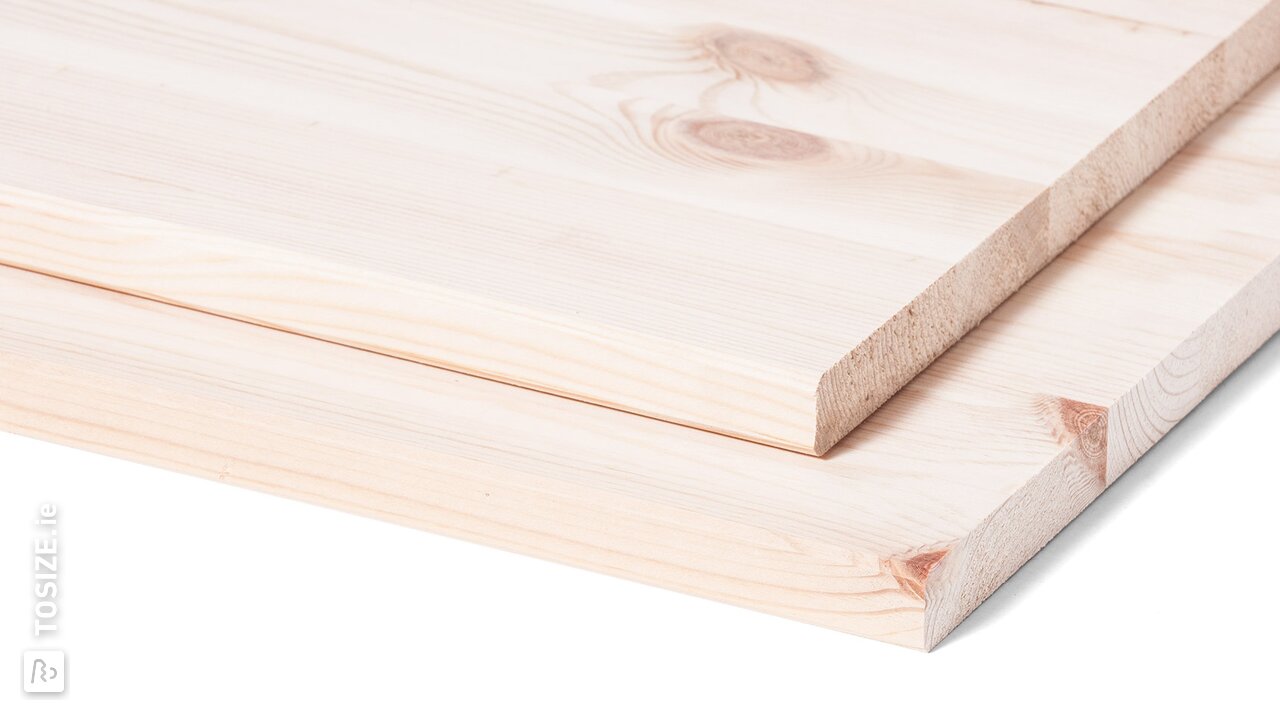 And much more!
The sheet material you see above is of course not all that we have in our assortment. For the full range you can look in our webshop, where we have different types of sheet material. For each product, you will find a description of the material, what you can use it for and how you should treat it. So feel free to take a look at the assortment and click on a sheet material that you like. You will soon see whether you can use it for your job!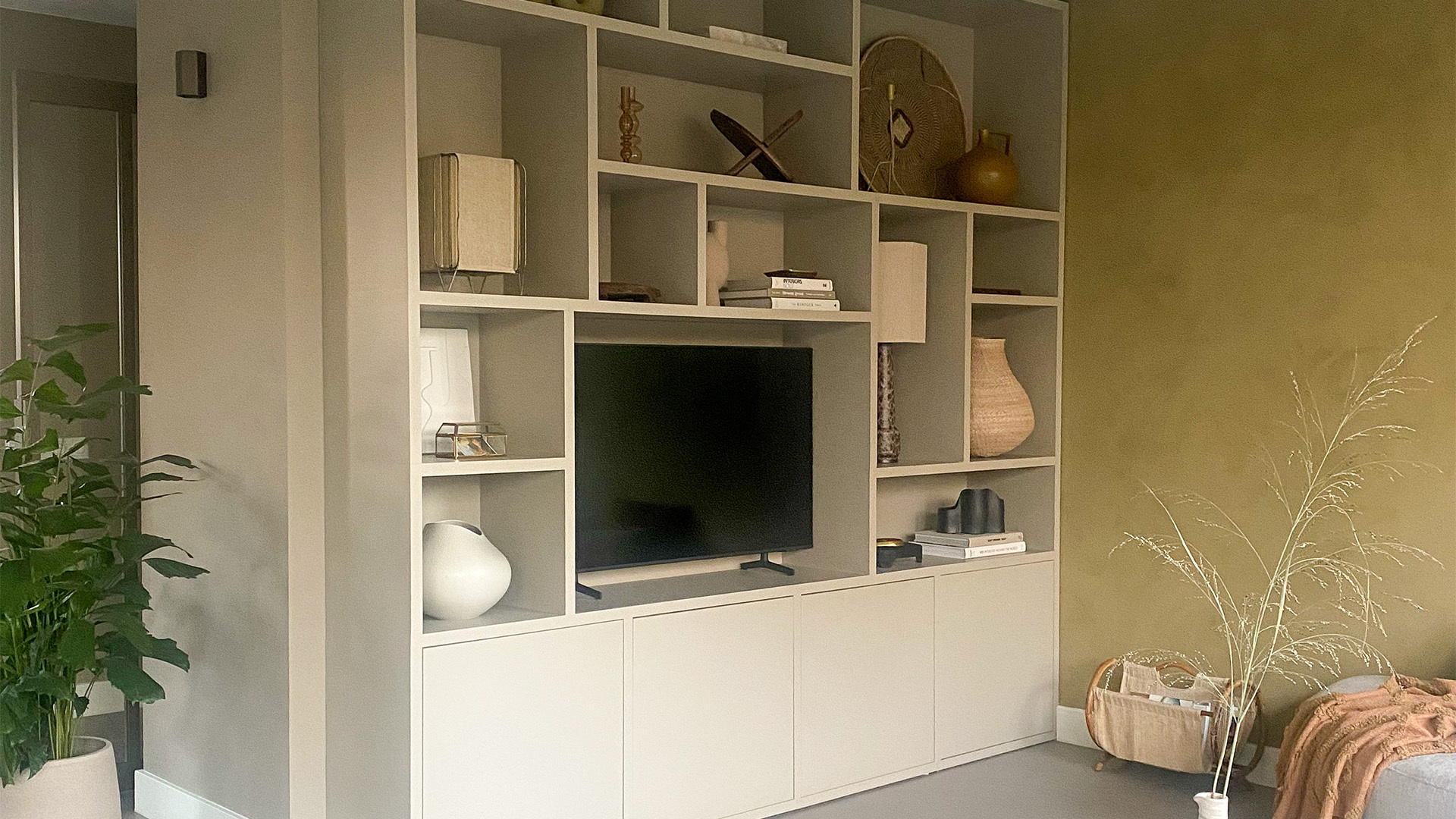 We make jobs even easier!
Easy as a kit at home.
Start designing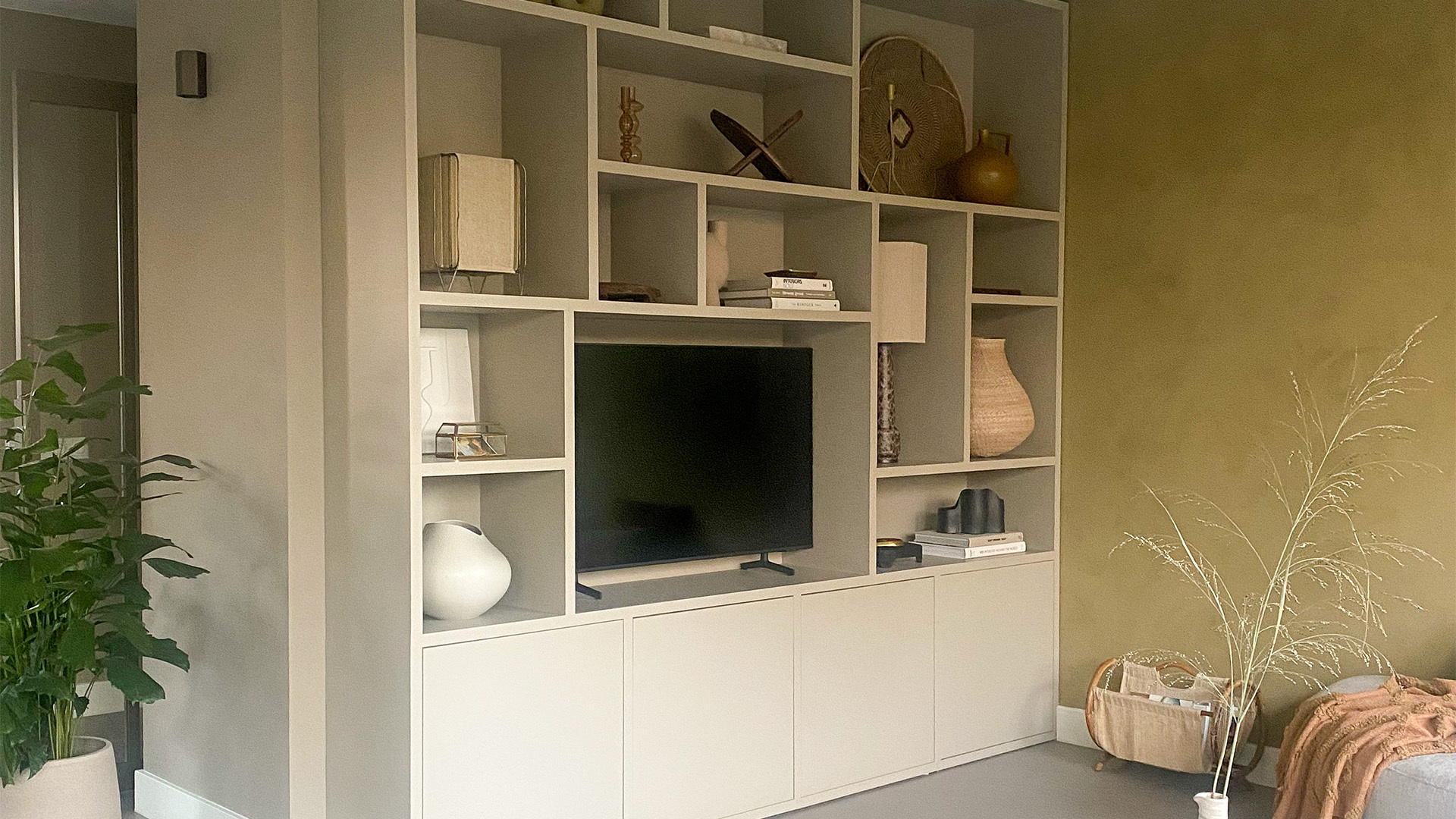 We make jobs even easier!

Start designing
Also check out these similar DIY tips