Customised wooden bathroom furniture
A custom-made bathroom cabinet is a beautiful addition to any bathroom. What fun it is to make your own design that meets all your wishes and that you can even build yourself! Of course, the bathroom is a humid space, so it is important that the chosen material can withstand this. We will be happy to advise you on suitable materials!
The bathroom is a room where changes in temperature and humidity take place. Wood is a material that works under these conditions. Therefore, choose wood or panel material with a waterproof bonding, so that the material does not get the chance to warp, shrink or expand. Which materials are suitable?
Check out all MDF in our webshop!
MDF moisture-resistant V313
MDF Moisture resistant V313 is the best choice for indoor projects in slightly damp areas such as bathrooms and kitchens. MDF falls into the category of fibreboards. The board consists of wood fibres that are compressed under high pressure, and in the case of MDF moisture-resistant, a special type of waterproof glue is used. To enhance the moisture resistant properties, the material is pressed under a higher pressure compared to MDF clear. To identify MDF moisture-resistant, it has been given a green inner layer in the production process.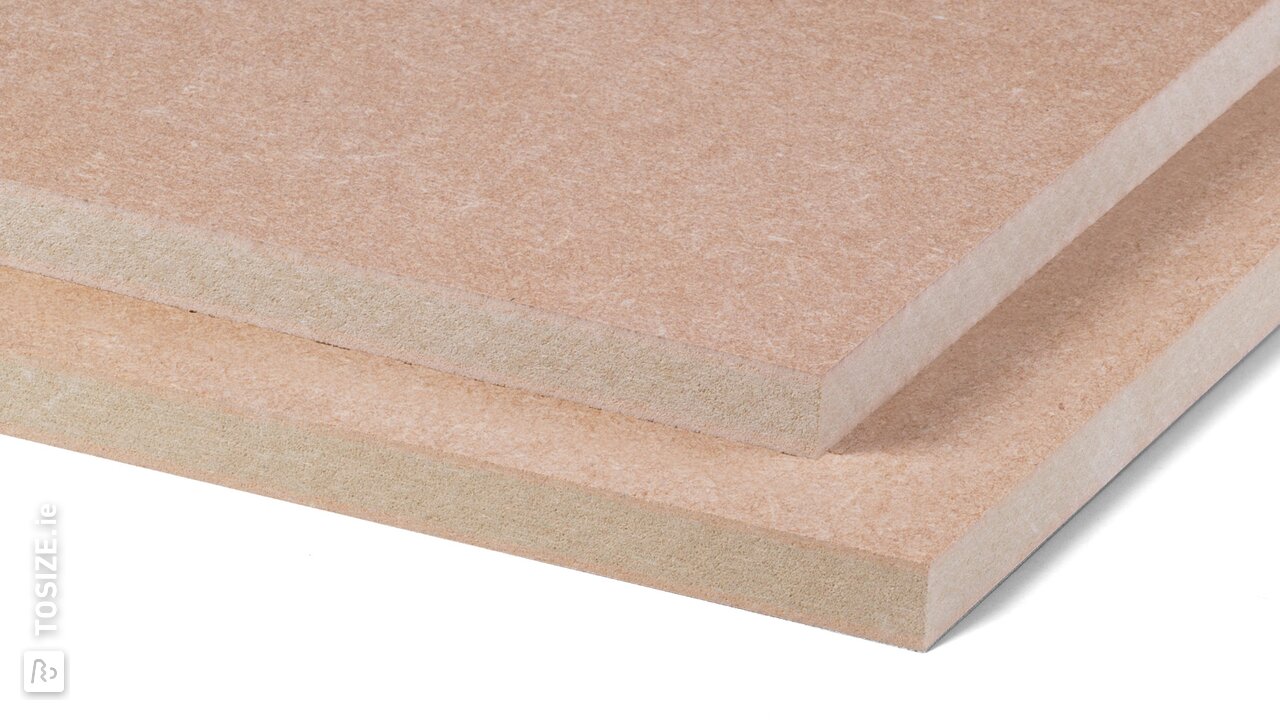 MDF Black V313
You choose MDF Black Water-resistant if you want to finish your project in a dark colour. Finishing in the right colour takes little time as the board is manufactured moisture-resistant and has a colour of its own. MDF black V313 is excellent for use in slightly damp environments, such as for a bathroom cabinet.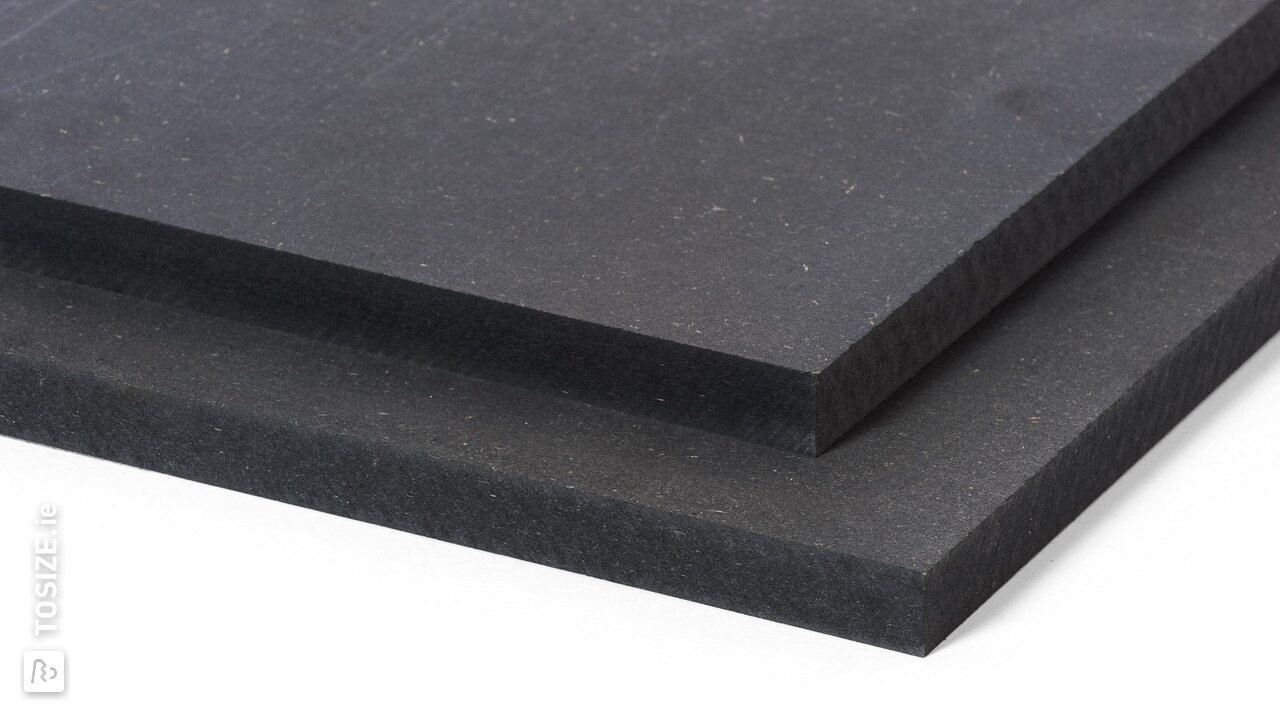 MDF falls into the category of fibreboards. It has a smooth, ready-to-use surface and high wear resistance. The board consists of wood fibres that are compressed under high pressure. In the case of MDF black V313, a special, water-resistant glue is used and it is compressed under higher pressure than in the case of MDF clear, just like in the case of MDF moisture-resistant V313. This makes it a strong board material. The wood fibres are mixed with a black pigment, which gives the board a black colour right to the core. However, this does not mean that the board is jet black, the wood fibres give it a blended appearance. To get the material evenly covered in black, painting is still necessary.
Birch plywood
Plywood sheets can be used for countless different projects. Plywood Birch is the most popular form of interior plywood, as it is the best quality choice. It is waterproof glued as standard and has a clearer wood grain compared to poplar plywood. Moreover, birch is a wood species that is much harder than poplar. It can therefore take a beating! This also makes the material more durable.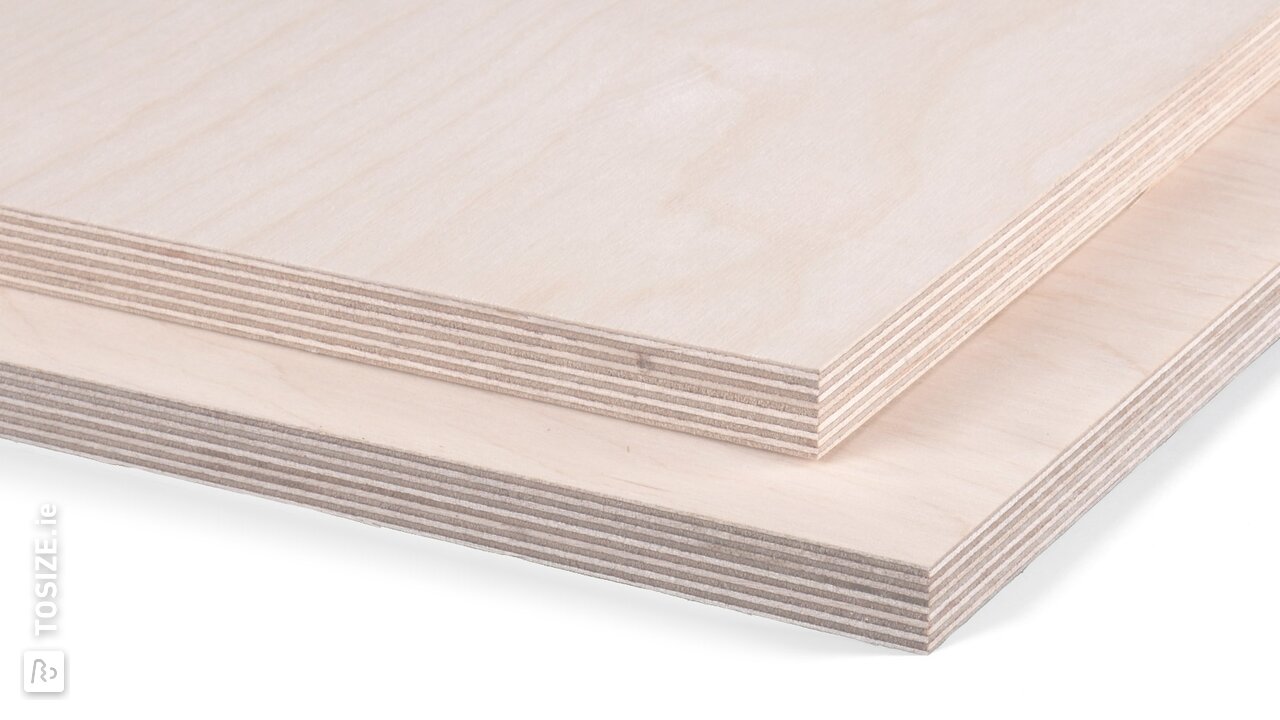 Underlayment
Underlayment Finnish Spruce is a plywood consisting of 7 layers and is made from Finnish spruce. It has strong moisture-resistant properties and is therefore suitable for use in damp rooms. Just like other types of plywood, Underlayment Finnish Spruce consists of several layers of wood veneer. These layers are glued crosswise to each other, which makes the board very strong and hardly works. These are also the advantages of such types of plywood compared to solid wood. The end faces are attractive due to the layers and are often kept in sight.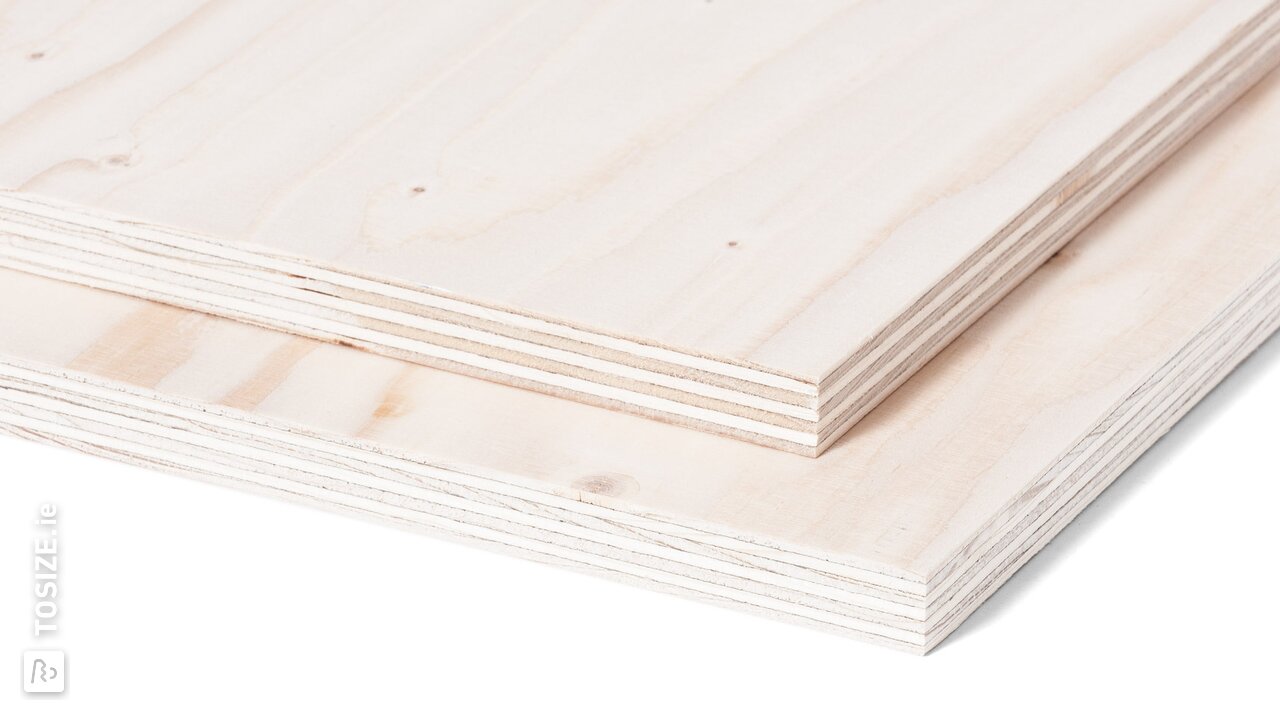 Bathroom furniture design
Do you make your bathroom furniture yourself? Then you can adjust the furniture completely to your personal wishes. Think of dimensions, combinations in material, layout, edge finishes, etc. It's all up to you! Isn't this fun?
Take a blank sheet of paper, a pencil and a tape measure. Start with the tape measure and measure the space in the bathroom where you want to put the furniture. With the measurements at hand, you can start sketching. View a look at the bathroom furniture that our customer Simon made or or get inspired on Pinterest or Google. Use all the inspiration to create your own final design.
Compile saw list
Then get to work on making a detailed saw list. How do you do this? Determine the type of wood you want and then choose the right thickness in our webshop. Go through the order process, because it helps to think about the possible edge finishes you want us to apply. Think mitre, rounded or bevelled edge and more. See all finishes here..
Have you entered all the components for the creation of your bathroom furniture and given them a personal reference (useful during assembly!)? Then you can add accessories such as screws, wood glue, etc. View our range of accessories here.