Making concrete-look boards from MDF
Betonlook boards are characteristic and contribute to the atmosphere in your interior or exterior. Use MDF boards as a basis and finish the MDF with a Betonlook paint. In this way, you create a cool piece of furniture in no time for relatively little money. Are you going for a windowsill or bathroom furniture made of concrete-look boards? Read how to do it!
Concrete-look MDF boards
Are you looking for concrete-look furniture for your living room or bedroom, for the bathroom or for outside? The location determines the best type of MDF to use. For the bathroom, you need a type of MDF that remains beautiful in damp spaces. If you wish to complete your garden or veranda with a concrete-look panel or furniture, waterproof MDF is the best choice. We give you an overview of the different types of MDF we have in our range. At TOSIZE.ie we saw the boards in any format. You can even have them sawn in shapes or choose an Edge trim.
What is MDF
MDF is a popular board material that can be used for countless projects. MDF belongs to the family of fibreboards. The board consists of wood fibres that are compressed under high pressure. This makes the material easy to process: when milling and sawing, the material does not splinter. The fibres are held together by resin. This makes it important to degrease the material properly before painting.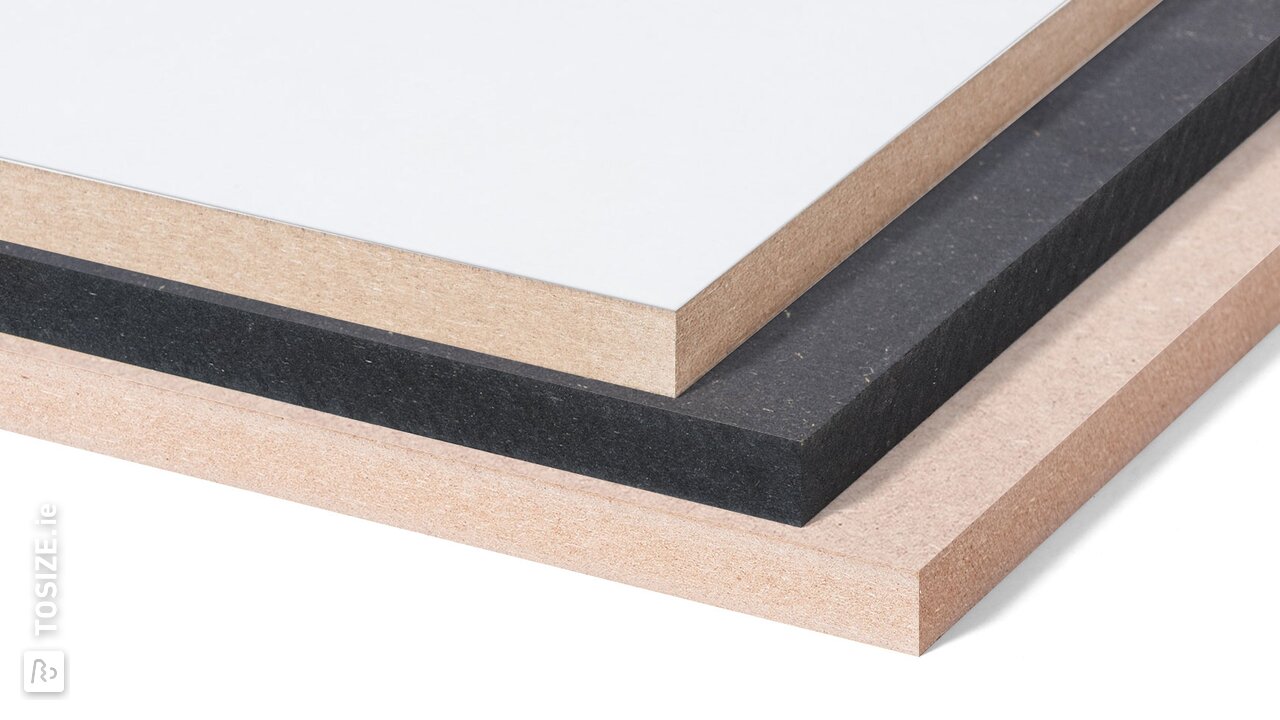 MDF Blank
MDF Natural is the most standard form and is often chosen because of its smooth surface and because it is easy to process. It has not yet received any further finish and can therefore be treated entirely as you wish. It can therefore also easily be treated with a concrete look paint or concrete ciré. MDF Clear is available in many different thicknesses so there is a suitable board for everyone.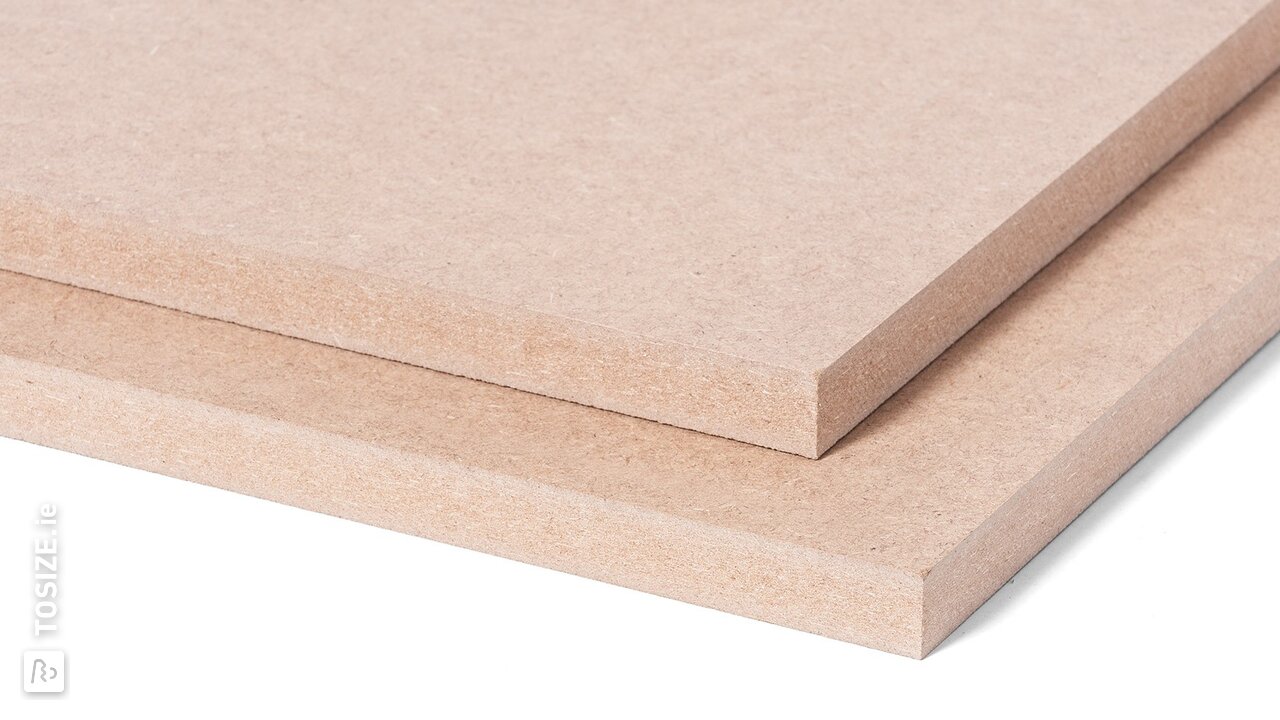 MDF Paint Carrier
MDF Paint Carrier is provided on both sides with a paint-carrying film which makes priming the material unnecessary. The foil greatly reduces the absorbing effect of the material. The foil is on both sides, so that the risk of the material working is minimal. It is therefore very suitable for making, among other things, indoor furniture that you want to paint with, for example, a concrete look paint.
Order MDF lacquer wear to size!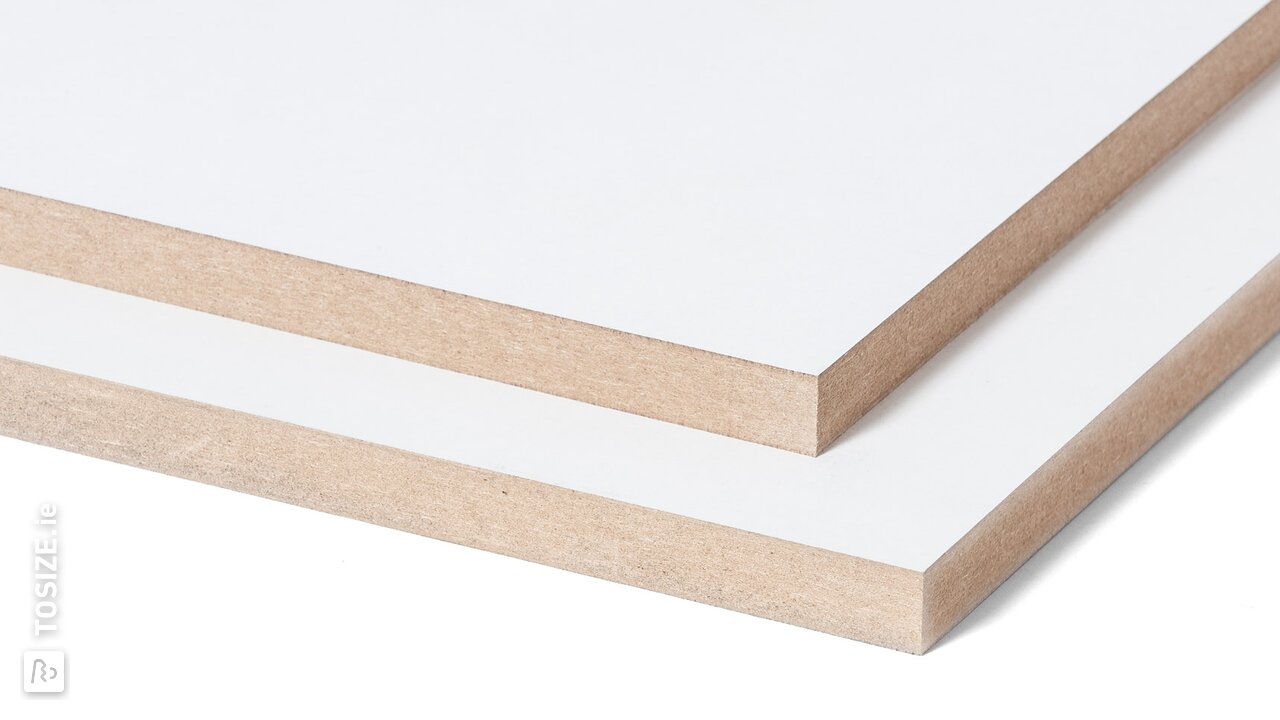 MDF Grounded
MDF Primed is provided with a primer on both sides so that you can immediately start painting or varnishing. The absorbing effect of MDF is also reduced by the primer. It is therefore very suitable for making, among other things, indoor furniture that you want to process and give a concrete look. With MDF Paintable, the top layer is pressed on instead of a primer that is sprayed on, as is the case with MDF Grounded. MDF Ground feels rough and has a light grey colour. MDF Painted Carrier is whiter in colour and has a smoother feel.
MDF Moistureproof V313
MDF Moisture Proof is the best choice for interior projects in slightly damp areas such as the bathroom and possibly the kitchen. In the case of MDF Moisture Resistant, a special type of waterproof glue is used to enhance the moisture resistant properties. Just like MDF Clear, it is important to prime the material well before processing it, this way the paint will be absorbed less and you will strengthen the moisture resistant properties of the material.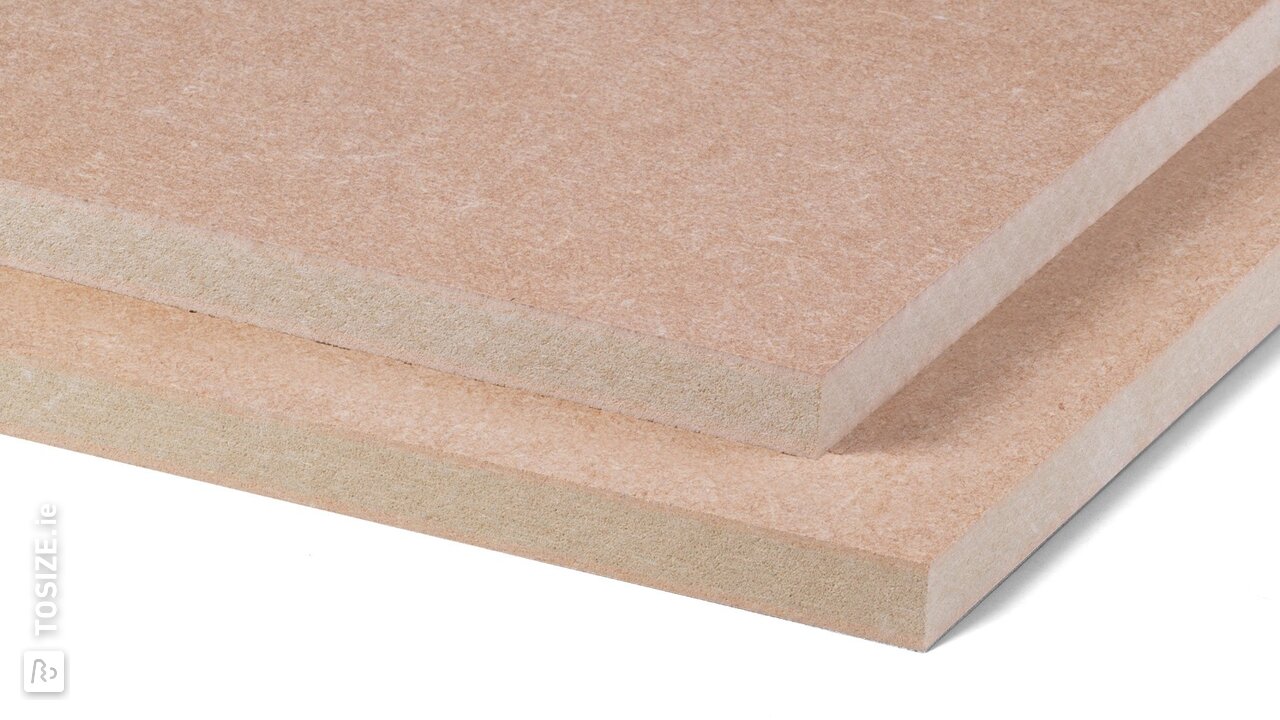 MDF Exterior
MDF Exterior is the best choice for outdoor projects. In MDF Exterior, a special type of waterproof glue is used, the wood fibres are modified for extra water resistance and it is pressed under higher pressure than other types of MDF. This process makes the material resistant to external influences. The treatment of MDF Exterior is very important for the water resistance. This is done by first priming the material and then coating it with a lacquer suitable for outdoor applications. The ends are best treated with edge sealant before priming.
Want to know all the details about the different types of MDF? Watch the video below for text and explanation. See here for a complete overview of our MDF range.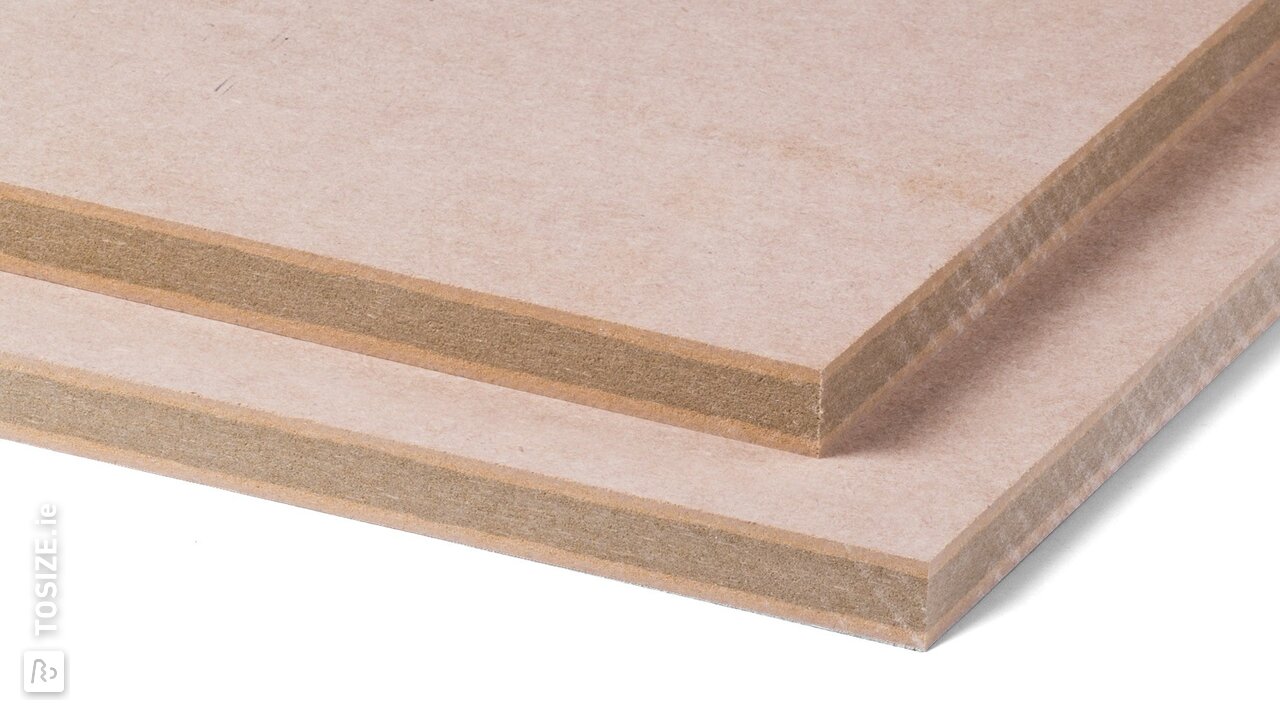 Making concrete-look plates
It is not enough to simply buy a sheet of MDF cut to the right size. Finishing with a concrete-look paint or concrete ciré ensures the desired concrete-look effect. To make concrete-look boards, for example for a wall finish, you follow a number of steps. Starting with finding the concrete look paint in the right colour tone. You can find different types of paint online.
MDF should be well pre-treated before it is treated with concrete look paint. Degreasing, applying a primer, sanding, painting, etc. This process differs per type of MDF. For the specific treatment method, look at the description on the paint packaging and at the product information on our website at Different types of MDF. So you know exactly what to do for a beautiful end result.
Inspiration concrete-look coffee table
Customers of TOSIZE.ie make the most beautiful furniture! René made a coffee table from MDF Natural. He had three 22 mm MDF sheets cut into a circle and received the material within a few days. He mounted the boards on top of each other and finished the material with concrete ciré and placed a steel base underneath. 
The end result
We wish you good luck with your job! Will you share the result with us? We like it! Send it to service@tosize.ie.
Image credits: Rene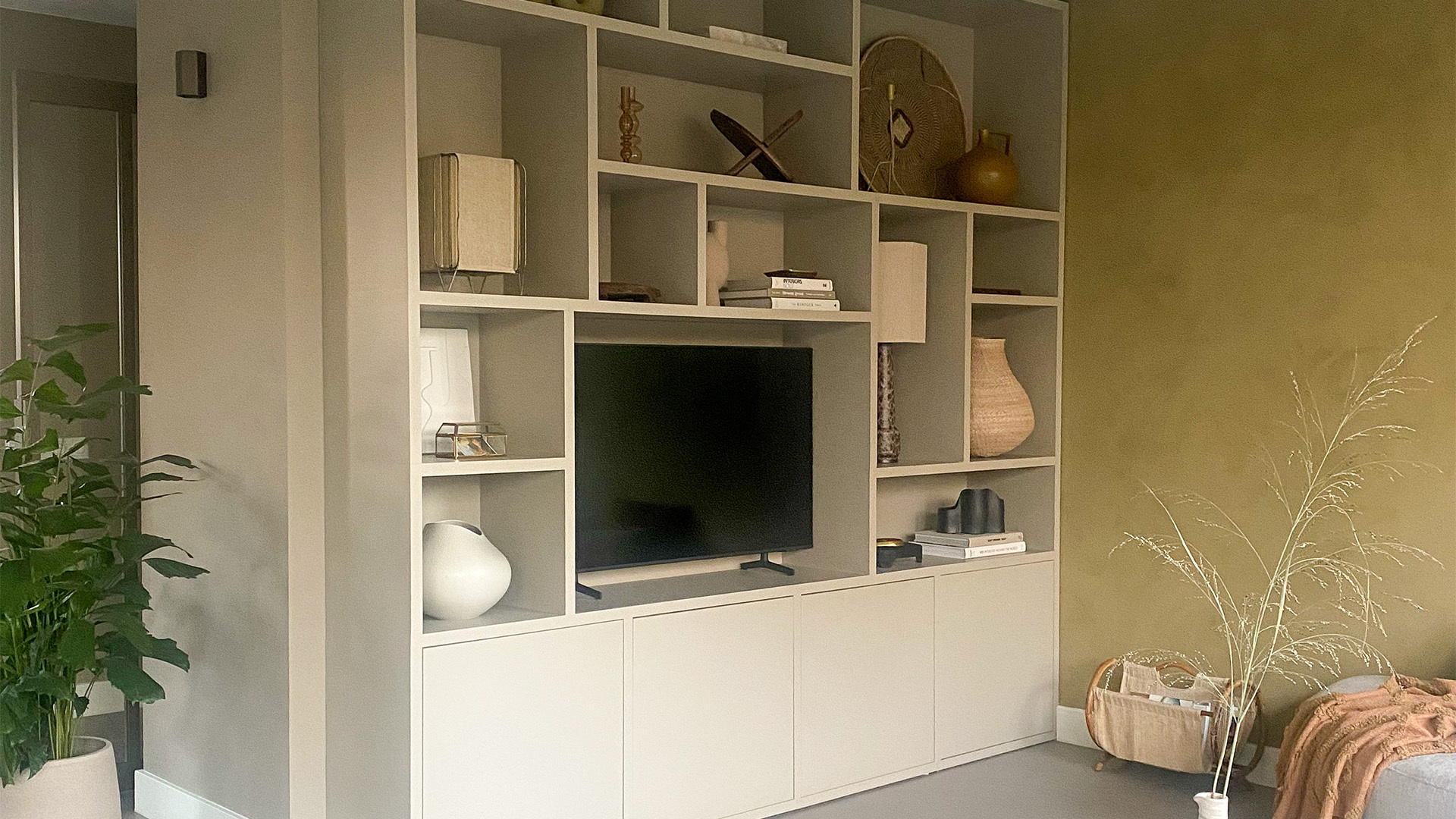 We make jobs even easier!
Easy as a kit at home.
Start designing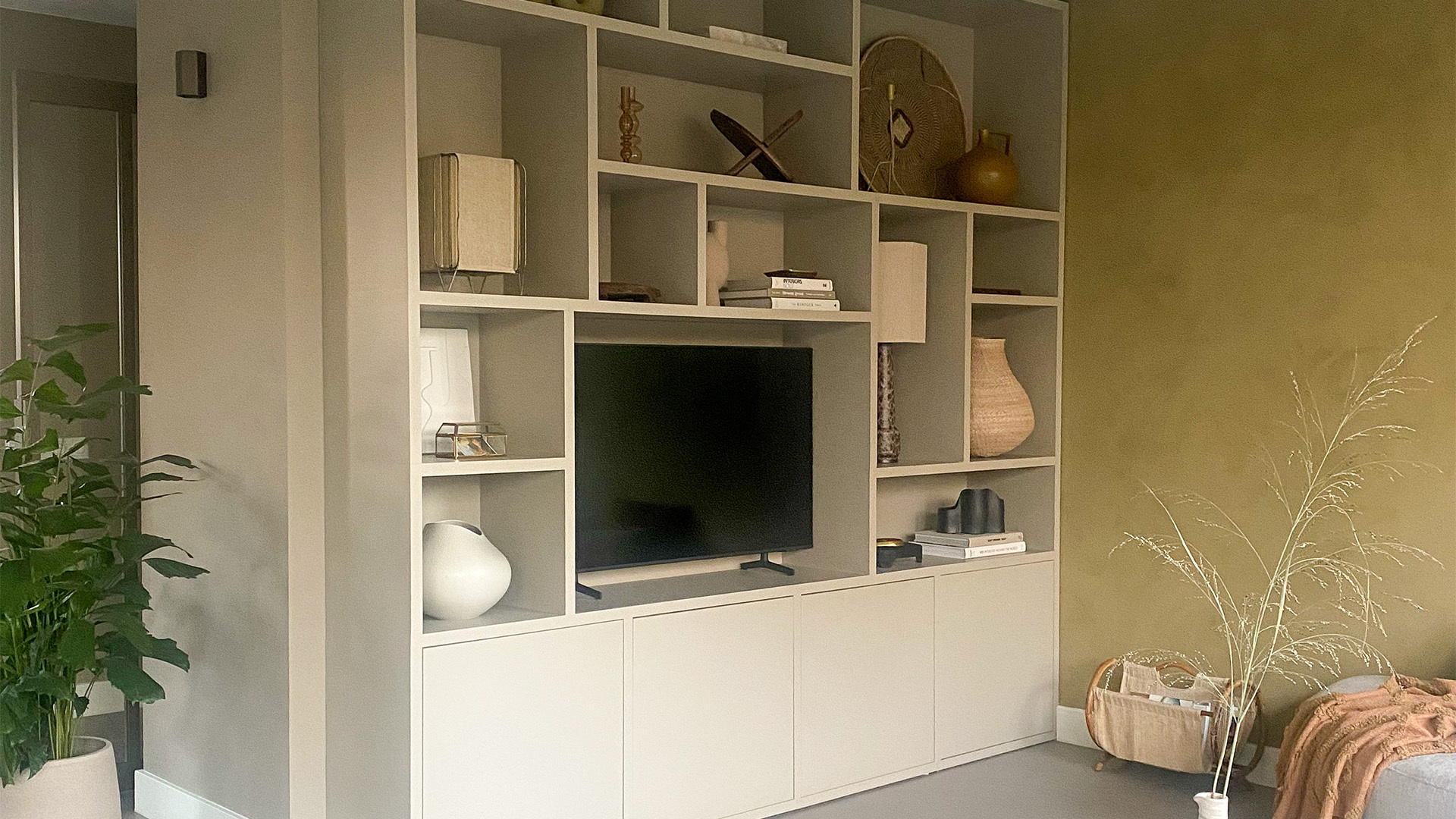 We make jobs even easier!

Start designing
Also check out these similar DIY tips