Customised desktop; find out all about it
A well adjusted desk is important for a correct working posture. This contributes to your optimal functioning. How convenient is it that you can order the material at TOSIZE.ie and adjust the desktop completely to your needs? We've already done some research on how to adjust your desk correctly, so with this information, you can get started on your own custom-made desktop. Are you reading this?
Tailor-made desktop
If you're looking for a desktop that matches the style of your interior, making one yourself is a good idea! A desk is straightforward, but not if you choose to make a desk including frame in your own way. Take a look at the example of Rob, who made a complete desk made of plywood hardwood.
Adjusting the desktop according to occupational health and safety guidelines
A good workplace is created on the basis of the regulations drawn up by the Health and Safety Executive. They have studied the conditions under which you can function optimally at your desk. Good reason to use that as a basis!
When sitting at your desk, it is important to keep the angle between your upper and lower legs at 90°. Determine the height of the desktop so that it is exactly level with the top of the armrests. It is advisable to place the desktop on a stand, preferably an electric stand, so that you can vary its height. That way, you can stand or sit for part of the day. The height of an adjustable made-to-measure desktop should be between 62 and 82 cm, depending on your height.  
If you are going to have a made-to-measure desktop that is not height-adjustable, the 90° angle is often greater or less. This can be remedied by placing the chair higher, but in that case make sure that there is a footrest. The height of the desktop should be between 74 and 76 cm. In principle, it is advisable to sit almost with your stomach against the desktop. Sitting at a distance means that you have to reach out with your arms, which puts strain on your muscles. It is important to ensure sufficient legroom: you should be able to place your legs and feet in a wide angle without having to hit drawers or wastepaper baskets or sit crookedly as a result.
Material of the desktop
There is an endless amount of wood and board material that is suitable for a made-to-measure desktop. Will you choose a solid desktop or a thick one? We will explain the different materials and options below.
View all wood-board material in our webshop
Solid or thickened desktop
When it comes to a solid desktop, you are more likely to choose original wood types, such as a robust oak desktop or, for example, sheet material that is glued together in several layers, such as plywood. A thickened desktop is often made of a simple board material such as MDF, which has a characteristic finish. This allows you to completely personalise your desktop and adapt it to the atmosphere of your interior or work space. We recommend a minimum board thickness of 9 mm for a solid result! Here are some examples of commonly used sheet materials for making a made-to-measure desktop:
MDF
MDF is a popular board material that can be used for countless indoor projects, including a desktop. MDF falls into the category of fibreboards. The board consists of wood fibres that are compressed under high pressure. This material is relatively inexpensive and ideally suited to making a thickened desktop.
MDF Blank
MDF Natural is the most standard form and is often chosen because of its smooth surface and because it is easy to process. MDF Clear has an absorbent effect, which makes it important to treat the material well with a primer before finishing. The ends require some extra attention. In order to counteract the absorbing effect of the ends, there are various possibilities: use diluted wood glue with some water, putty or a special edge sealant. See our handy tip: This is how you varnish the ends of MDF.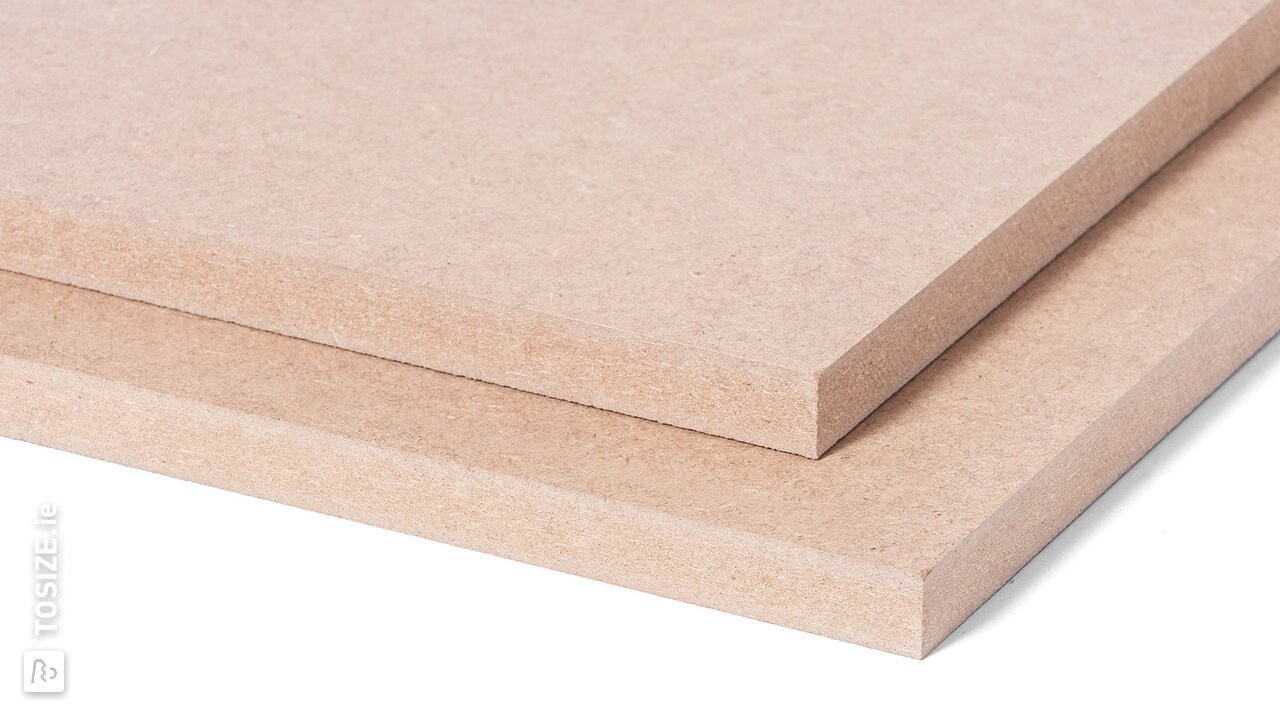 MDF Paint Carrier
MDF Paint Carrier is provided on both sides with a paint-carrying film which makes priming the material unnecessary. The foil greatly reduces the absorbing effect of the material. The foil is on both sides, so that the risk of the material working is minimal. It is therefore very suitable for making a custom-made desktop that you want to finish in a colour you like.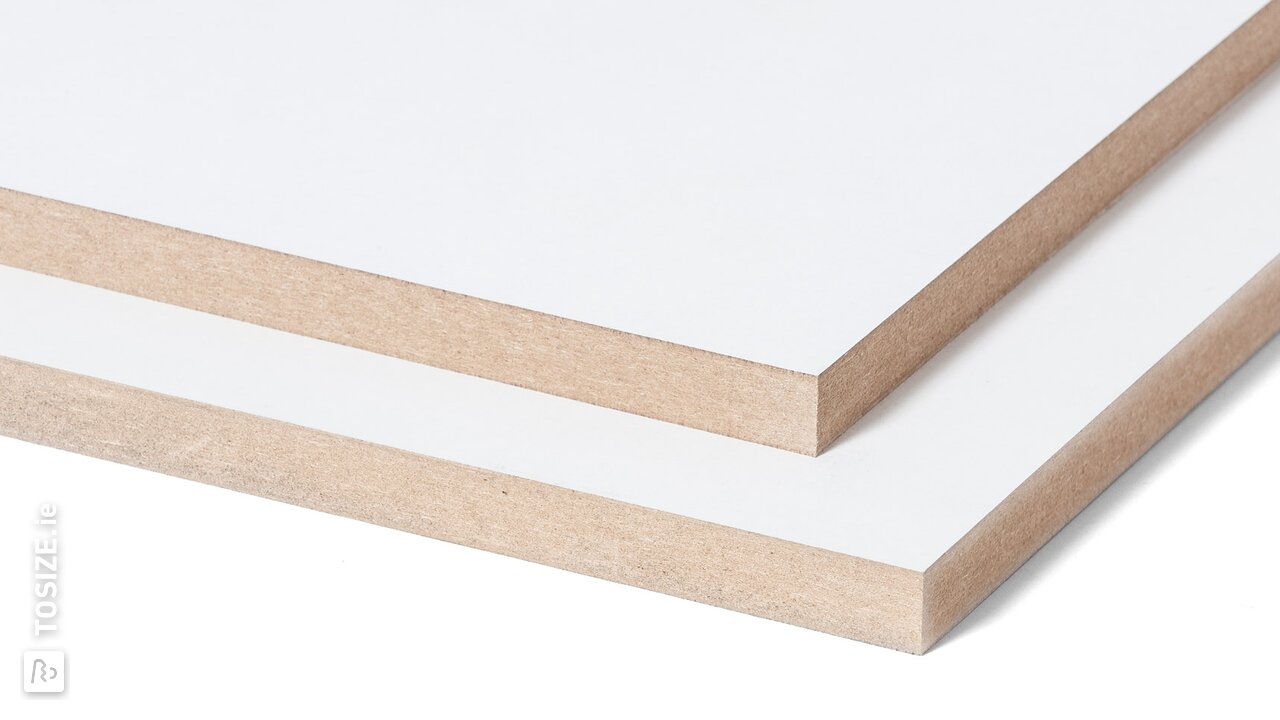 MDF Black V313
MDF Black Water-resistant is a board made of wood fibres compressed under high pressure with a special type of waterproof glue. The addition of black pigment during the production process gives this MDF a black colour. This does not mean, however, that the board is jet black; the wood fibres give it a blended appearance. Finishing in the right colour takes little time, because the board is produced moisture-resistant and already has a dark colour. Lacquer it with a transparent varnish or paint the desktop in a dark colour of your choice. The ends need a little extra attention (and possibly other machined areas, for example when milling). It is best to treat these with an edge sealant.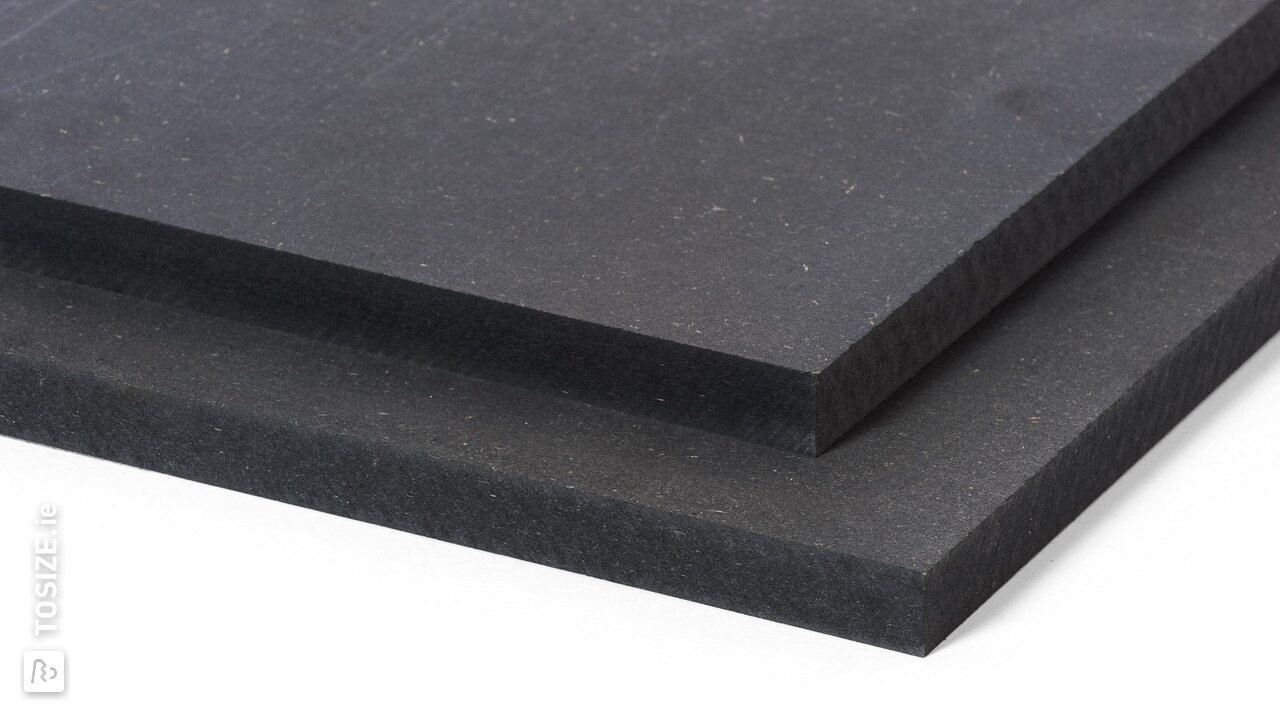 Plywood
Plywood can be used for countless different projects. Plywood consists of different layers of wood veneer. These layers are glued crosswise to each other, which makes the board very strong and hardly works. These are also the advantages of plywood compared to solid wood, and that is why it is often used in constructions, for example for a tailor-made desk. The visible wood grain is also a big advantage. Are you looking for a desktop with a natural look that fits into a space with a Scandinavian feel? Then plywood, in every variant, is a suitable choice!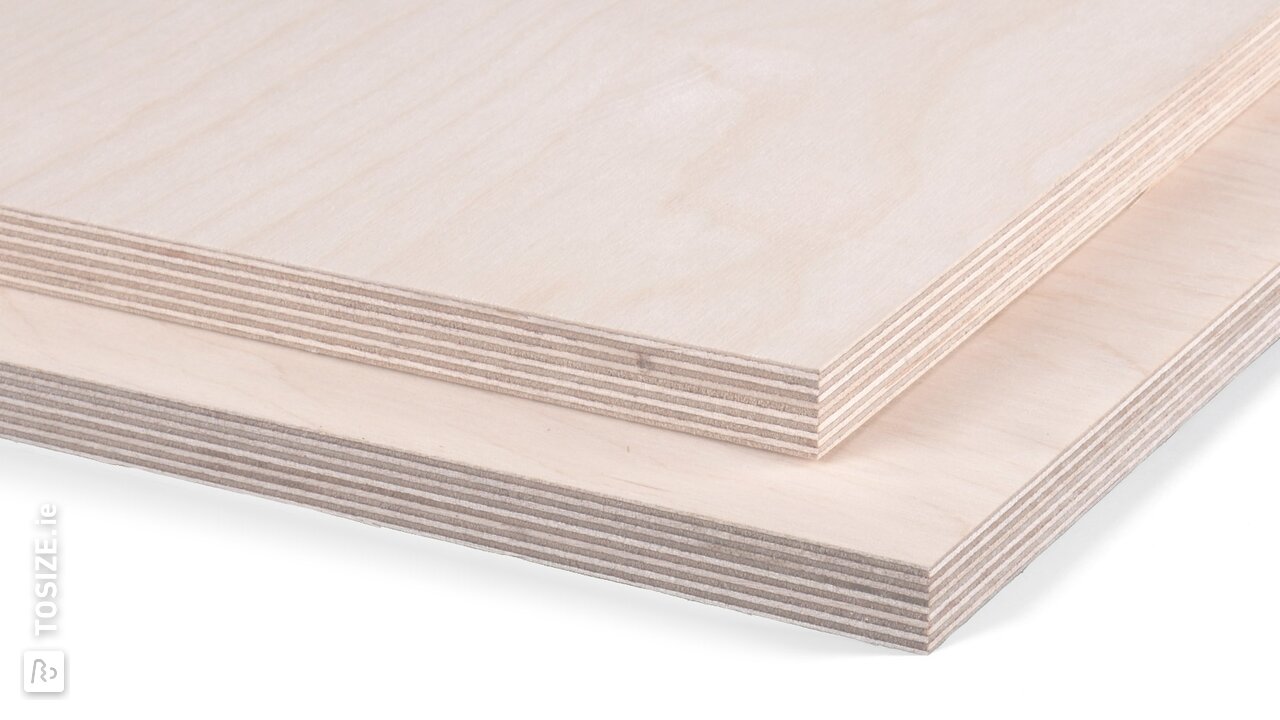 OSB
OSB is a constructively strong board. Due to its industrial appearance, OSB is also increasingly used for decorative applications, such as for a custom-made desktop. Almost no waste is produced in the manufacture of an OSB board. The wood chips are already a recycled product. Therefore, OSB is becoming increasingly popular and is replacing plywood in many cases, because the production of OSB is more sustainable and the material is almost as strong. Because the wood chips are relatively coarse, OSB also contains less glue than chipboard or MDF, making it even more of a natural product than the other two fibreboards.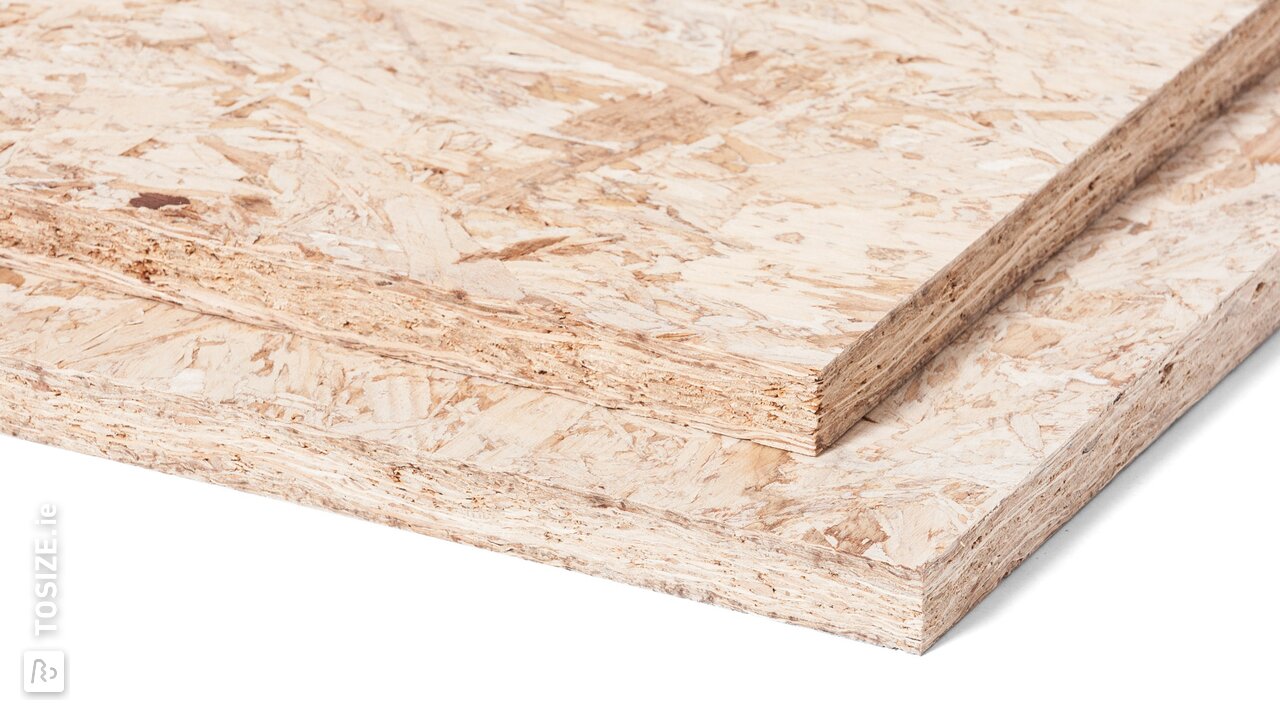 Furniture panel for white custom-made desktop
Furniture panel white already has it in the name. It is ideal to use for making a white custom-made desktop. Furniture panel consists of chipboard with a plastic layer (melamine) pressed onto both sides. The long sides are also finished with a plastic layer (edge banding). This plastic layer makes the panel immediately ready for use, it does not need to be painted!
Order now Furniture panel white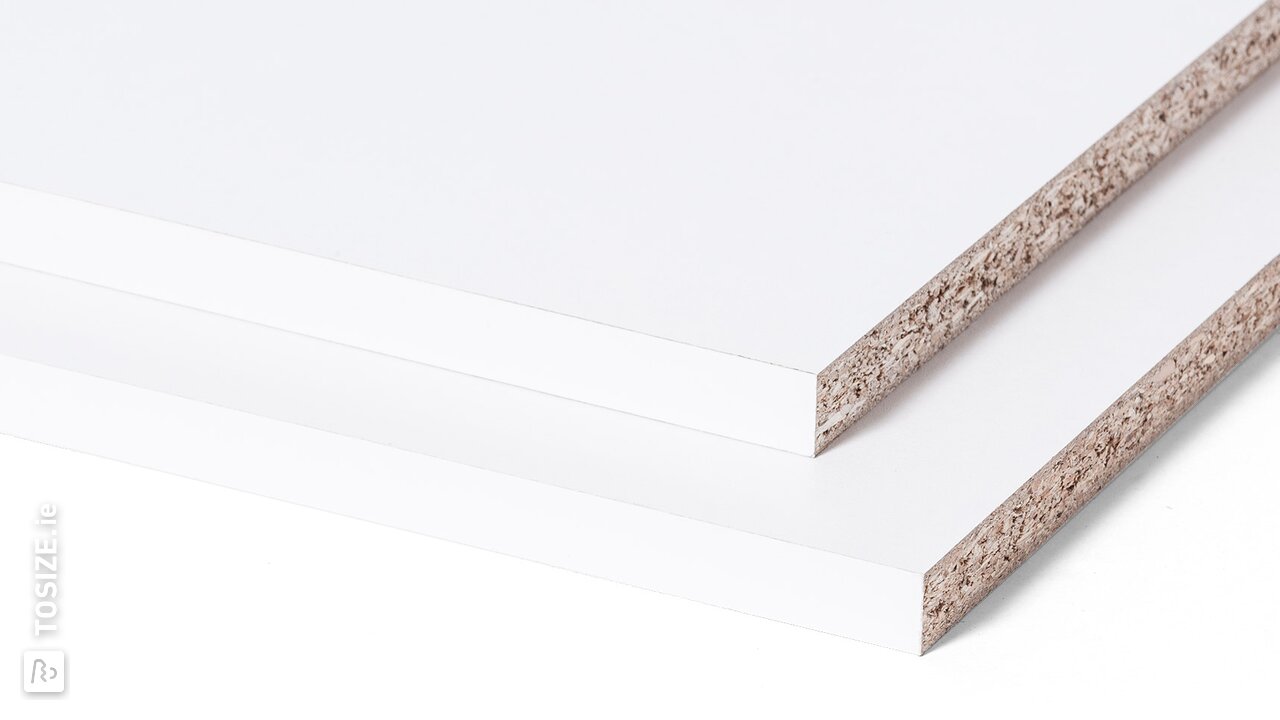 Loose base for adjustable desktop
To make the best use of your workspace and your own performance, a "sit-stand desk" is very functional. This means that the desk is height adjustable and you can adapt it to the different tasks that arise during a working day. You could have a desktop cut to size by TOSIZE.ie and combine it with a separate base that is height adjustable. The wide range of wood and board material allows you to choose the material that best suits your interior. If you order your custom-made material from TOSIZE.ie, you can have it millimetre-precise, even in shapes and with different edge finishes.
Desktop in all shapes
A desktop that fills a corner, for example, is possible thanks to the triangular shape we saw. A desktop in an unconventional shape is also possible, for example a trapezium or a square. In short, we can saw almost any shape for you!
Edge finishes
To work comfortably on the desktop, it is nice if the edges are slightly rounded. This feels better when you lean on it with your arms and it gives the whole thing a soft feel. You can have the edge rounding from 1 mm to 15 mm per side.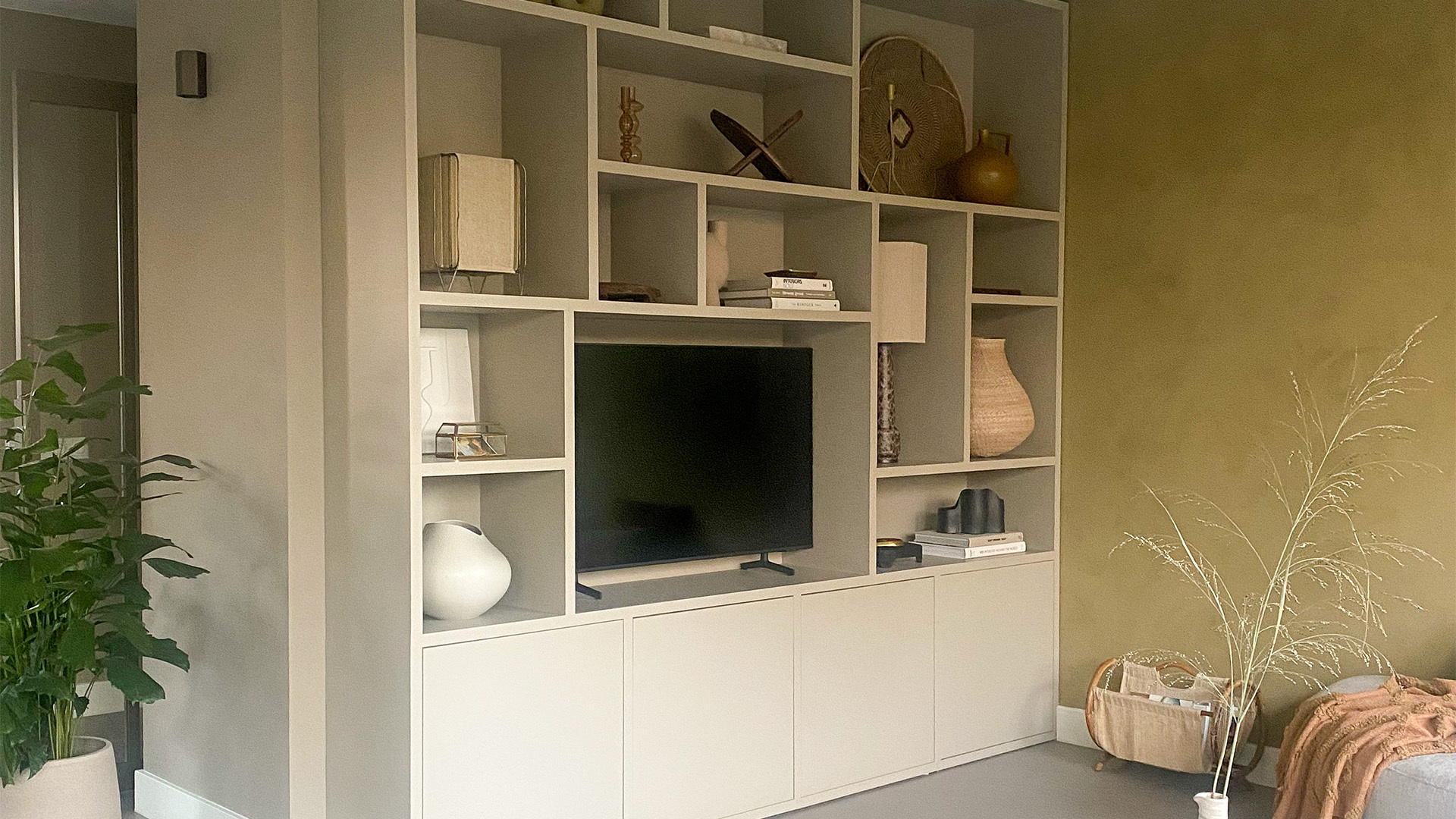 We make jobs even easier!
Easy as a kit at home.
Start designing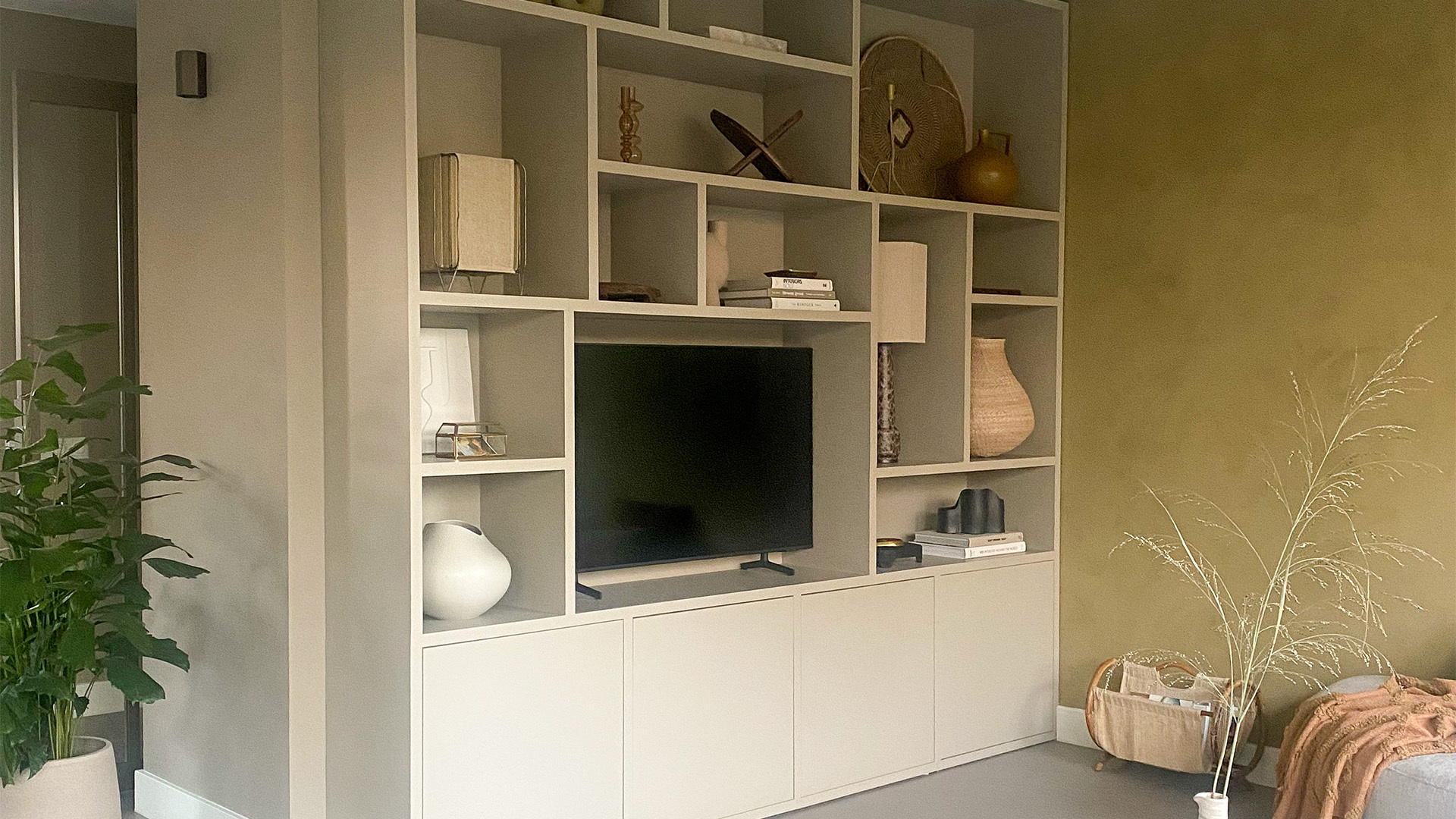 We make jobs even easier!

Start designing
Also check out these similar DIY tips