DIY: making a notice board from softboard
Making a softboard pinboard yourself is very easy! With a softboard in the desired size, some paint or a nice fabric and of course some unique drawing pins or clips, you can get started. Softboard as a pinboard is a cheap and original solution to give your best photos, cards or quotes a place in your home.
What is softboard?
If you are going to make a notice board from softwood fibreboard, it is good to know what material you are working with and how you can use it. Softwood fibreboard is a thin sheet material (10 mm) originally used for levelling floors, panelling ceilings and as a filling for doors and partition walls. Because of its structure, it has an insulating effect. It is easy to process. Nailing and stapling are examples of processing that are often used. Ideal for a notice board. Softboard can only be used indoors, because it has an absorbent effect and is therefore not moisture-resistant. However, it is possible to paint the material. In that case, make sure that you have a larger amount of paint in stock, so that you can paint it at least two or three times. If you want to know what you have to pay attention to when painting softwood fibre, read the paragraph 'How to paint softwood fibre'.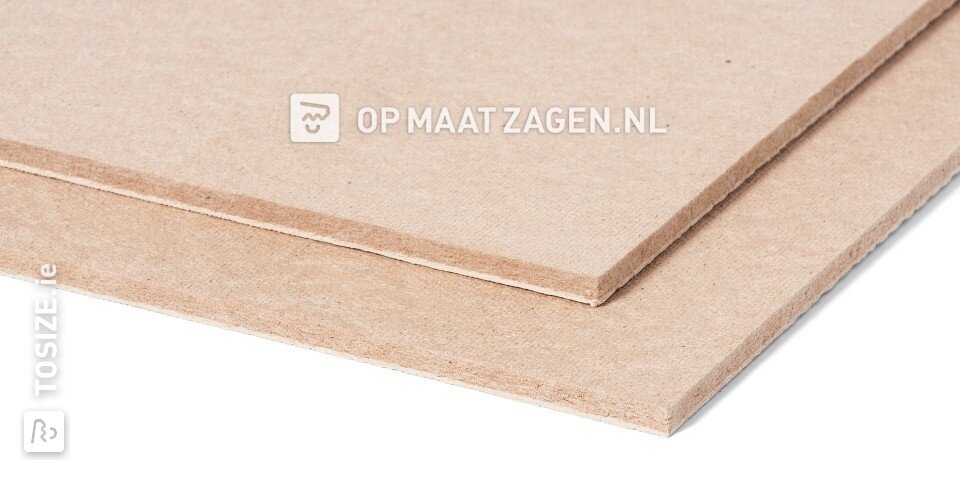 Step-by-step plan for making a notice board from softboard
Now that you know what material you are working with, you can get started with the softboard as a pin board. Follow the next steps and you will be ready before you know it!
Step 1: Determine shape, size and finish
At TOSIZE.ie you can order softboard directly in the format you want. You will then receive it sawn and ready for delivery! Did you know that we can also saw your softboard into shapes? Think of a triangle or even a wobble. See the complete overview of shapes here. Please note that we do not saw circles and semi-circles from softboard. Think carefully about what suits your interior best.
Step 2: Painting or upholstering softboard
There are plenty of examples of inspiring softboard pinboards on Pinterest. You can find them with a layer of paint or with a cheerful or cool piece of fabric combined with ribbon. Which option will you go for?
Create softboard noticeboard with fabric
Are you using softboard for a notice board with fabric? Then look for a matching fabric at the (Patches) market or at an online fabric shop. In order to stretch the fabric around the softboard with a stapler, it is important to add about 5 cm to the size of the softboard and use that size for the fabric. This gives you plenty of space to staple the fabric to the back of the softboard. Do you choose a stretch fabric? Please note that this will pull you to one side more easily and is therefore more difficult to attach.
You can get rid of the fabric at the corners by folding it as if you were wrapping a present.
By wrapping a few ribbons around the board, you immediately create an opportunity to add photos or cards. Of course, you can also buy cool drawing pins or use furniture/upholstery nails like we did.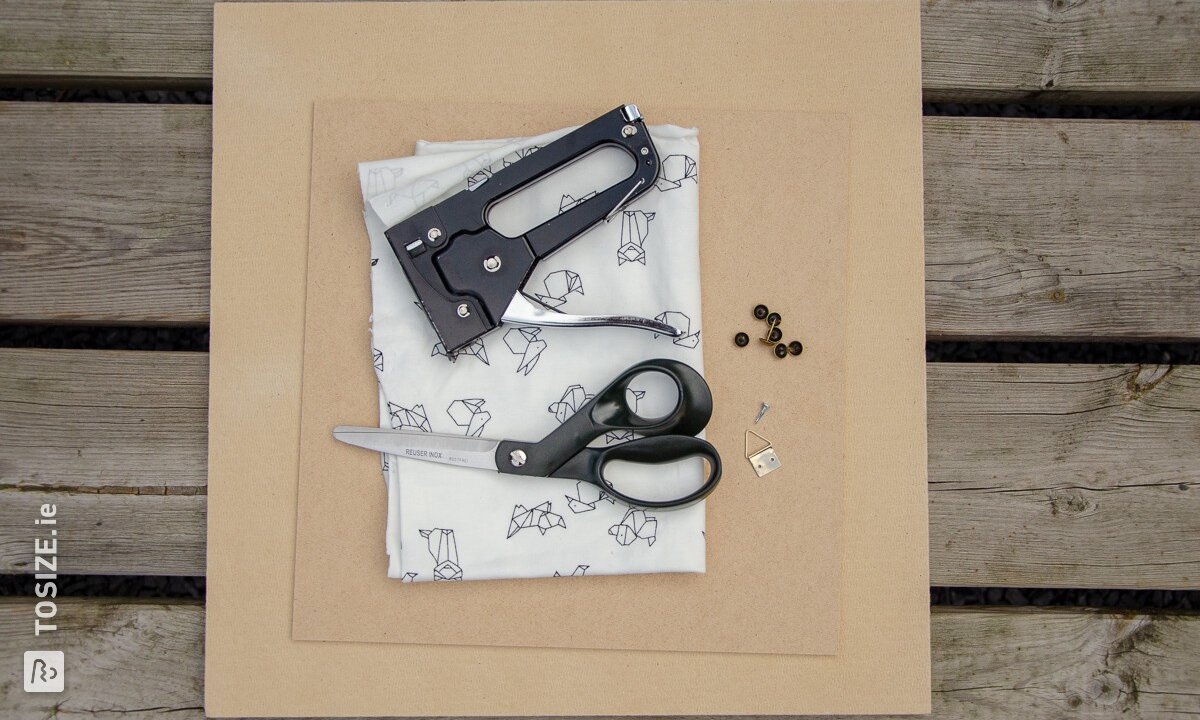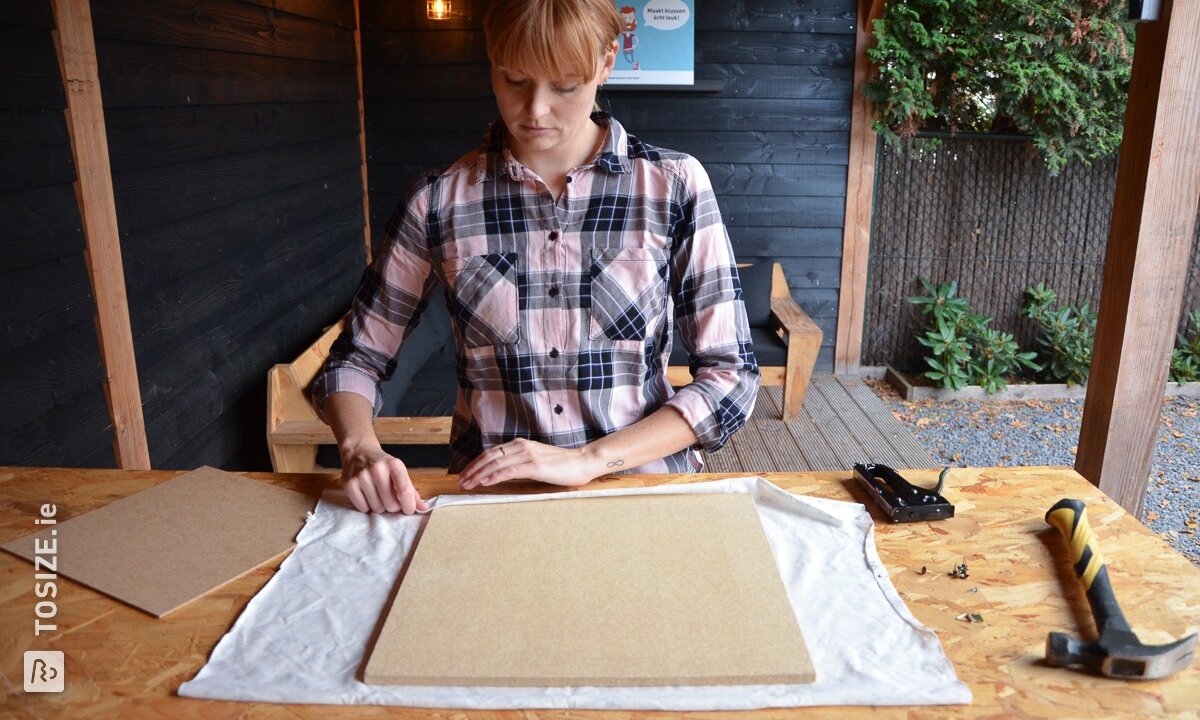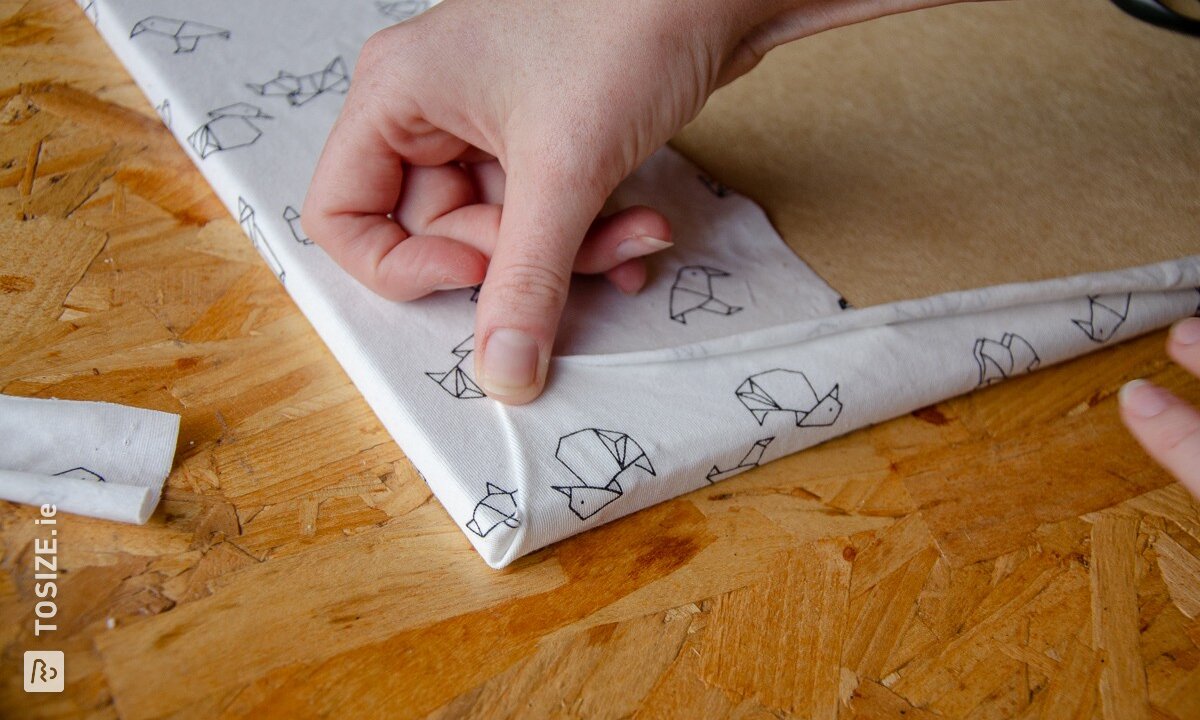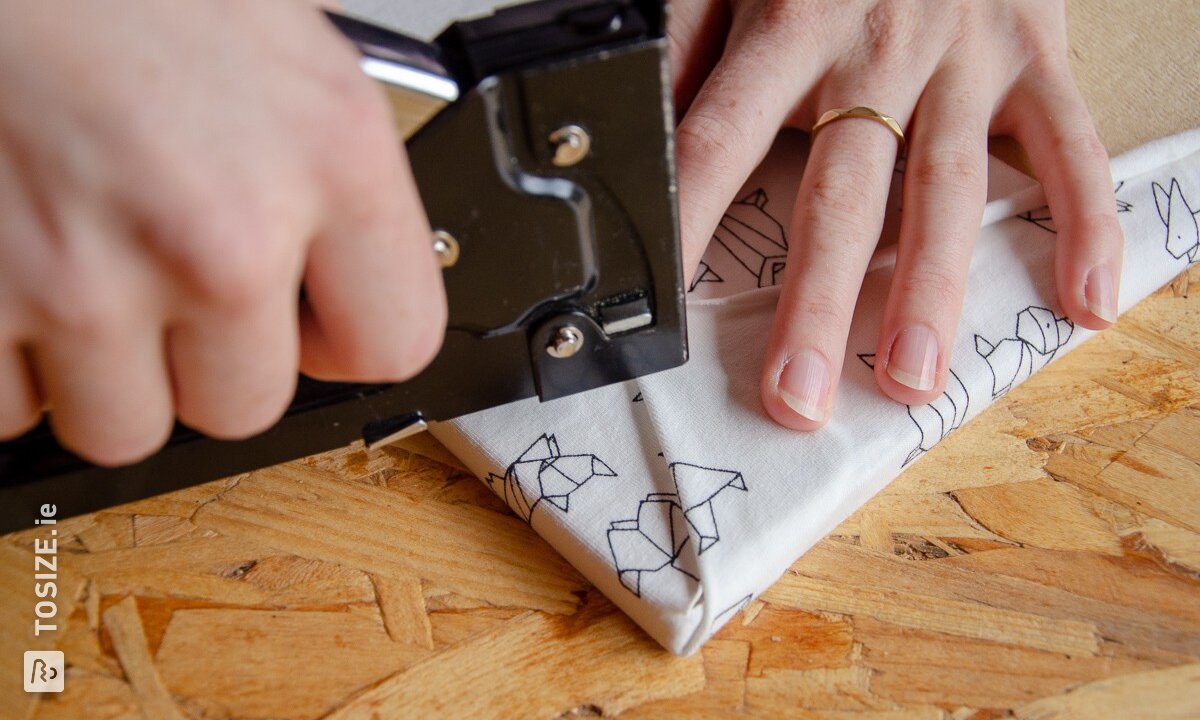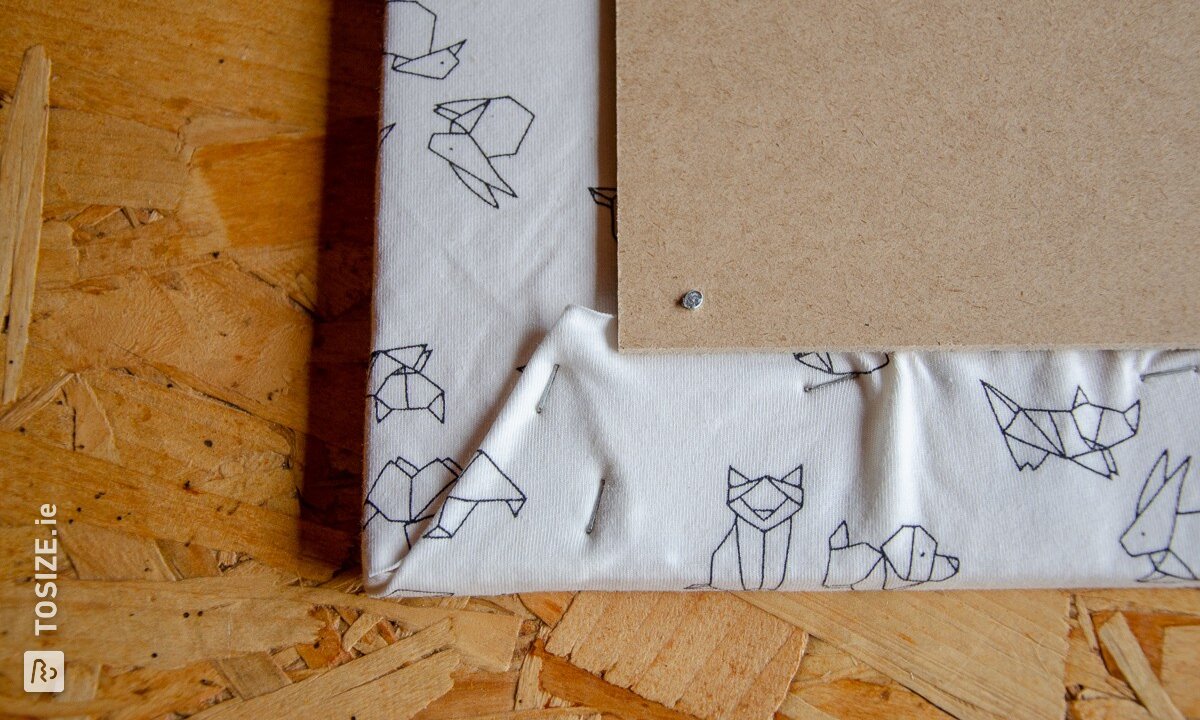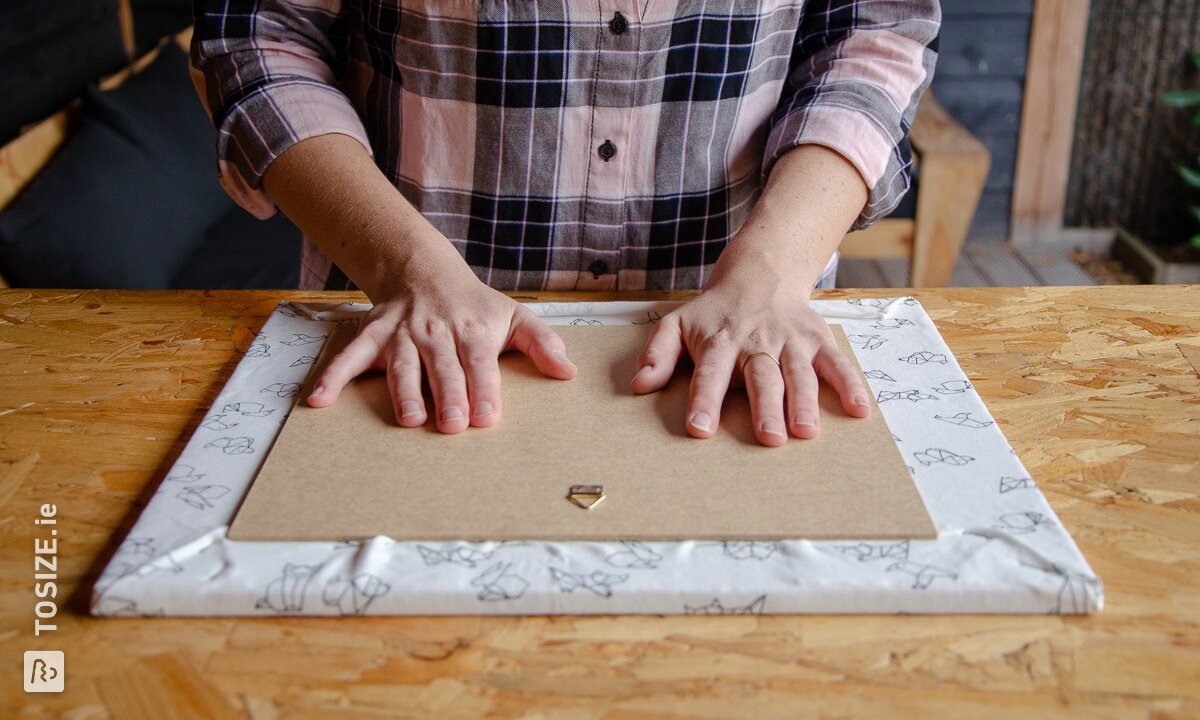 How to paint softboard
Softboard is a board material with a suction effect. This means that the material absorbs moisture like a sponge. If you are going to paint softboard, you will therefore need more paint in order for the paint to cover the surface well. You can assume that you will have to paint a softboard noticeboard two or more times. Do this carefully because softboard is fairly vulnerable when it comes into contact with a moist substance such as paint.
A great advantage of painting softboard is that you can match it perfectly to the colour of your interior. If you paint it in the same colour as the wall where you are going to attach the notice board, it will even become part of the wall. This gives a unique look! Order some nice drawing pins for a contemporary look!
Step 3: Fixing to the wall
You can of course place the softboard as a pinboard on a cosy wall shelf, but you can also attach it to the wall. Depending on the size of the pinboard you can use strong double-sided tape. However, we recommend gluing the softboard to a piece of hardboard. You can then attach a picture hook to it to secure it to the wall. Do you choose this option? Then don't forget to add hardboard in the same format directly to your shopping basket at TOSIZE.ie!
The end result to match your interior
Are you proud of the end result? We are very curious to hear how you made a notice board from softboard. Will you send us pictures of the result?