Making your own dressing table
The morning ritual of women is often more elaborate than that of men. Think of applying make-up and styling the hair. How convenient is it if the bathroom is not endlessly occupied for this, but can simply be done from the bedroom or dressing room? A dressing table with mirror is the perfect solution. Do you make the dressing table yourself? Then you can completely adapt the layout to the things you or your daughter want to put in it. That is really handy!
Design dressing table
When you think of a dressing table, you see a mirror with all kinds of lights around it or a table with an oval mirror above it. Right? With a little creativity, you can create a unique dressing table that suits your interior. And then the dressing table can suddenly look completely different. Do you like retro, modern or classic? Start by making a nice sketch of the dressing table and measure what the ideal dimensions should be. Write them down and create your own cutting list with ease.
Shapes and edge finishes
Did you know that at TOSIZE.ie you can also have wood and sheet material sawn into different shapes? For example, you can have a circle sawed to fit the mirror. This is no problem for us to saw and it saves you a lot of hassle! We can also round off the edges of the material, mitre them or chamfer them. Ideal for finishing your job project down to the last detail. The details, that's what it's all about! View all shapes and edge finishes here.
Material selection
The choice of material also determines the look of the dressing table. This way, you can easily strengthen the atmosphere of your interior or deliberately add a different look to it. In the end, you choose the mix you like and in which you feel comfortable, whether it is the trend of the moment or not. For the construction of a dressing table, we can recommend a few types of wood:
MDF Paint Carrier
MDF Paint Carrier is provided on both sides with a paint-carrying film which makes priming the material unnecessary. The foil greatly reduces the absorbing effect of the material. The foil is on both sides, so the risk of warping of the material is limited. It is therefore very suitable for making, among other things, indoor furniture that you want to finish. MDF is one of the most popular types of board material. This is because it is very easy to process and also very affordable.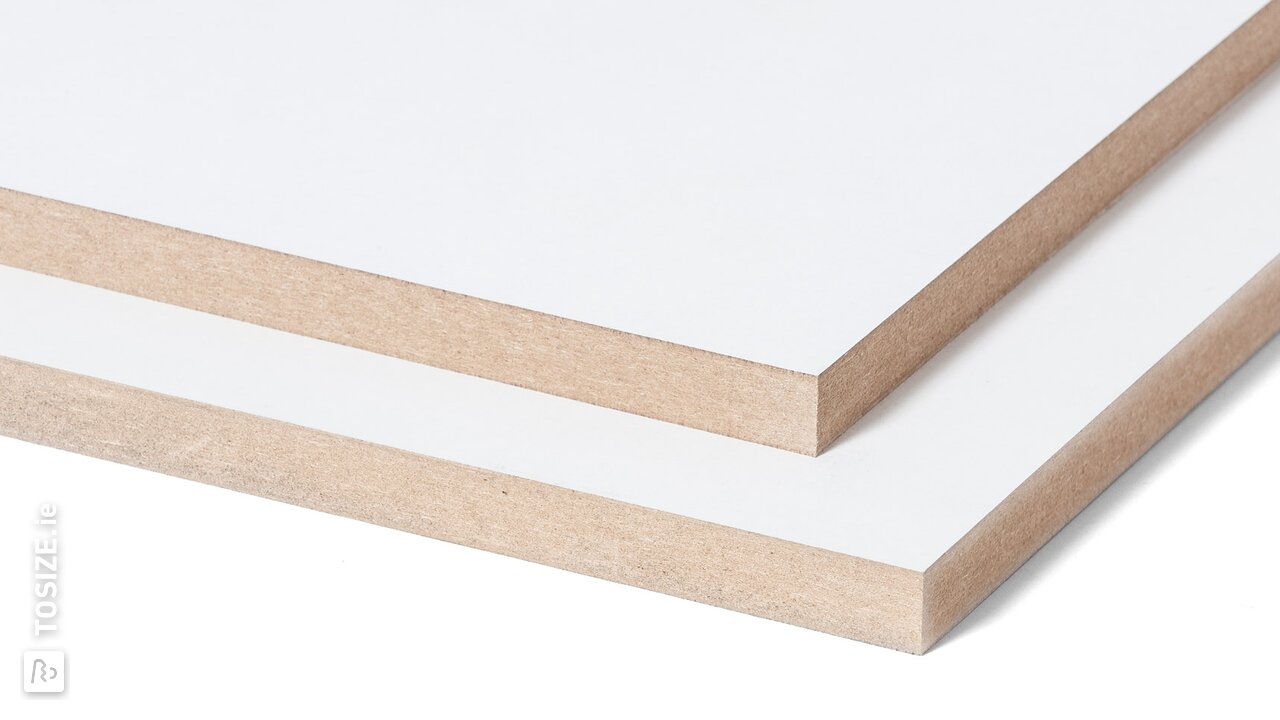 Poplar interior plywood
Plywood consists of different layers of wood veneer. These layers are glued crosswise to each other, which makes the panel very strong and hardly works. These are also the advantages of plywood compared to solid wood, and therefore it is often used in constructions. Because of the layers, the ends of plywood are beautiful to see and are often kept in sight. With plywood, a wood grain is visible. Plywood panels can be used for countless different projects. Multiplex Interior Poplar is the lightweight variant of plywood.
View all our MDF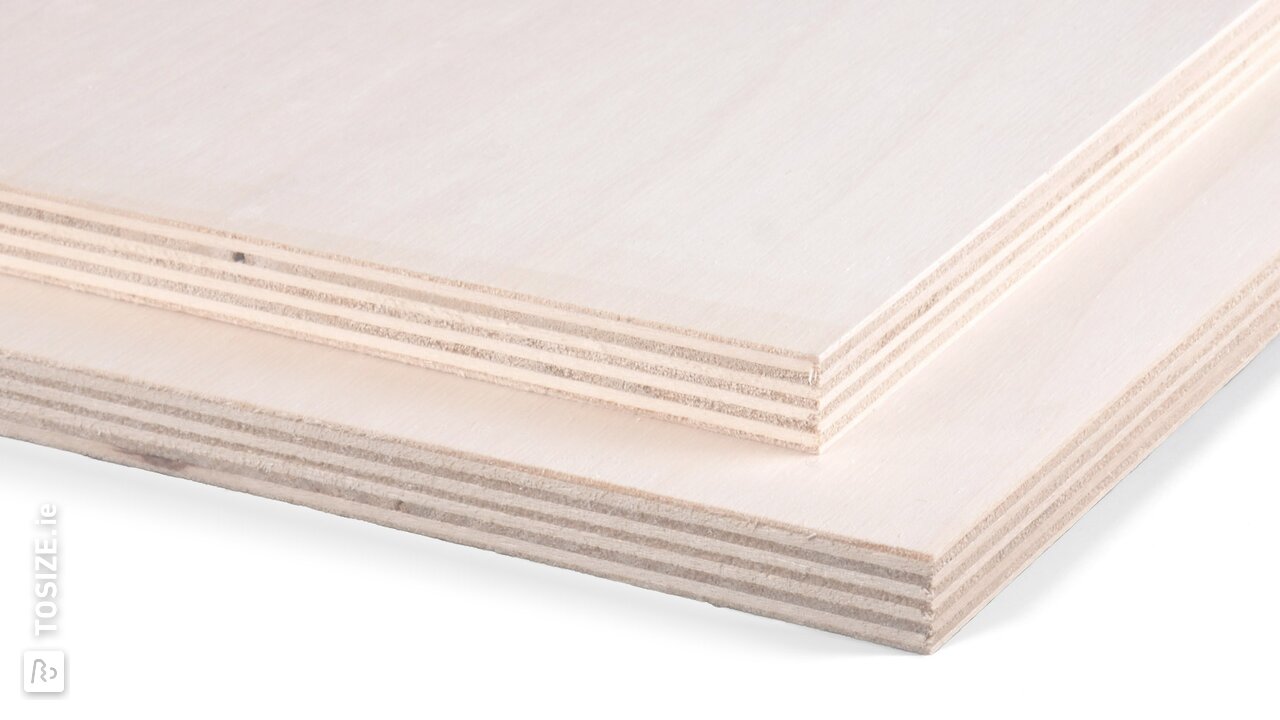 Underlayment
Underlayment Finnish Spruce is a plywood consisting of 7 layers and is made from Finnish spruce. Like other types of plywood, Underlayment Finnish Spruce consists of several layers of wood veneer. These layers are glued crosswise to each other, which makes the panel very strong and hardly works. These are also the advantages of such types of plywood compared to solid wood. The end edges are beautiful because of the layers and are often kept in sight. The only thing to consider when working with Finnish pine underlayment is the risk of splitting. For this, read the DIY tip: Professional hole drilling in sheet metal. For decorative applications, Finnish Underlayment can also be left untreated. It has a nice neutral appearance that makes it a popular material.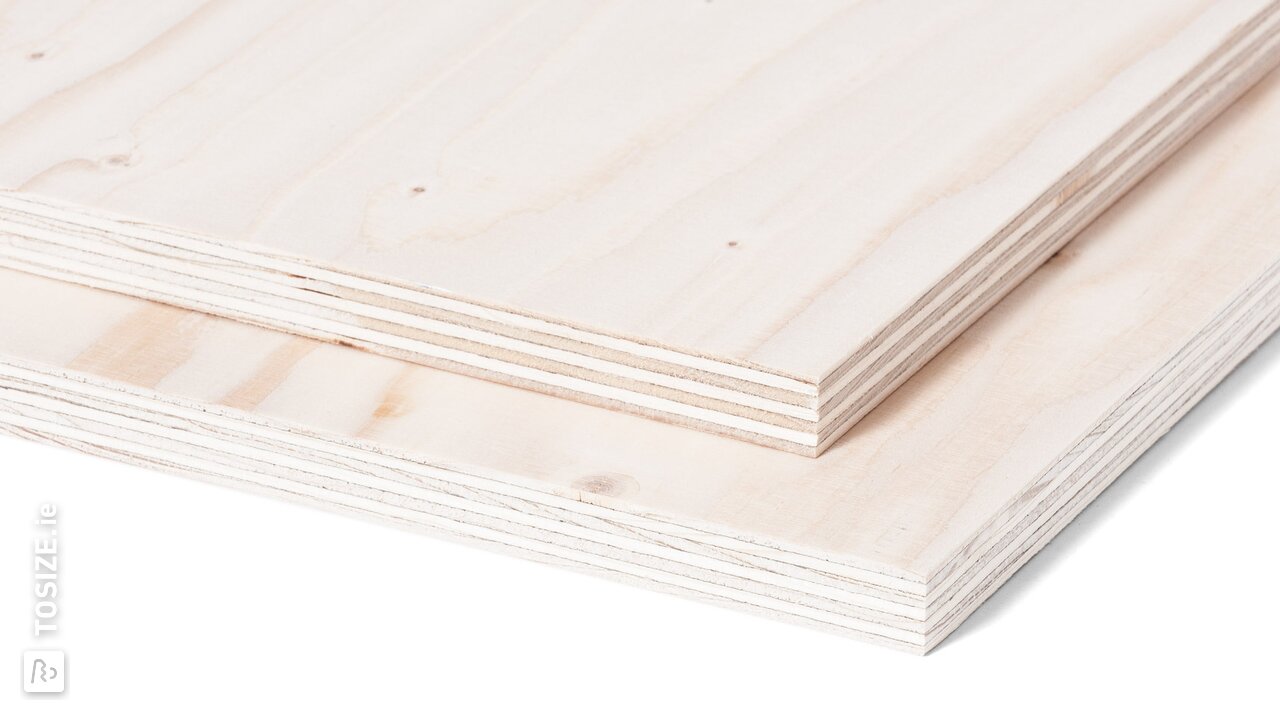 Timber panel
Carpentry panels are available in two wood types, pine and spruce. Although they look very similar, there are also visible differences.
Carpentry panel Light pine and Dark Pine are mainly used for making indoor furniture. It is a solid wood panel and they both have a warm and natural look, as the wood grain is visible. Spruce wood has a light colour whereby the knots and flames are noticeable. Compared to pine, spruce is slightly softer and lighter in colour and weight.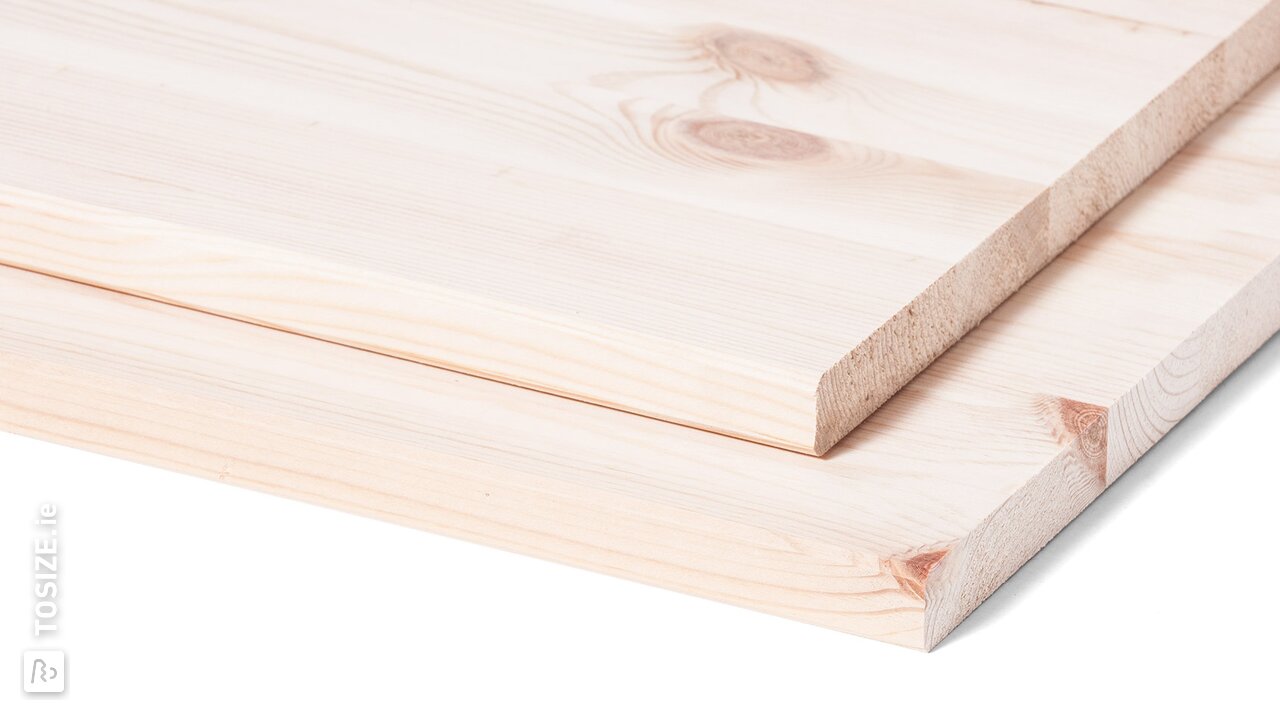 Ordering sheet material to size
Have you decided what you want your dressing table to look like and are you excited about a particular board material? Order the material for your dressing table in our webshop in a few steps.  Choose the thickness of the material, the shape, the size, the finish, and then give each board its own attribute. This way, you will know exactly which part it is from your project; your own construction kit! Now it's your turn to assemble the individual parts into a smashing whole! The last step before you can set up and use your dressing table. And once the mirror is up, take a look at yourself and what you've pieced together - that deserves a pat on the back!
Your result online
Are you proud of the result of your dressing table? You may! Send us a picture, so we can inspire others with your handyman project! Send the photo to service@tosize.ie. We love it!